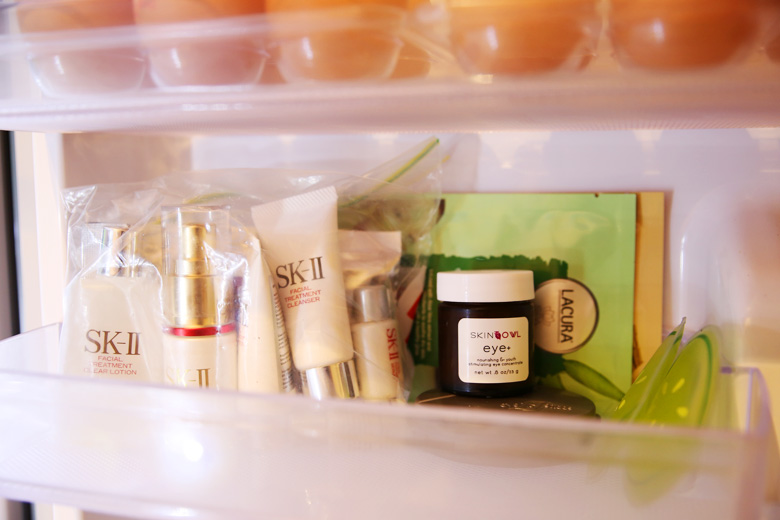 I love our new big fridge. No longer do we have to squash our veggies together from the lack of space; we could even space our food out. Heck, the outside of the fridge is big enough for all of my Instagram magnets! Another good thing about having a bigger fridge? The space for keeping my beauty products.
Yep, you heard me right. I keep some of my beauty products in the fridge. Oh yeah.
I grew up with heaps on skincare stored in the fridge. In fact, I don't remember a time when the fridge we had at home didn't keep my mum's skincare products. Mum would store all of her skincare in the large veggie compartment of the fridge. Gifts with purchases that are skincare will go in the fridge too. The items she was currently using would stay on her vanity area.
As time went by, her skincare stash went from one veggie compartment to two veggie compartments. Mum denies this of course, but I'm pretty darn sure we bought a bigger fridge after that because she ran out of space to store her skincare. 😛
Why the fridge? You see, it's hot and humid all year long in Malaysia and in order to maintain the skincare products' efficacy as long as possible and for them not to go bad, it's better to keep them in the fridge than in a drawer. Unfortunately, Mum's also a bit of a hoarder when it comes to skincare (hello, where do you think I got my beauty hoarding traits from, eh?) so she's had skincare in the fridge that's at least 5 years old. Once, I had Mum go through all of the skincare products in the fridge and she had to get rid of at least half of them because they were so old. Some of them had been discontinued for years!
Mum's not the only one who stores her skincare products in the fridge. When I was in high school, a friend's aunt actually had a minibar in her bedroom. It wasn't used to store drinks. The minibar was solely there to keep her skincare products and perfumes. My jaw dropped when I saw that minibar and the abundance of skincare goodies, and swore that I too would have a minibar in my bedroom when I grew up. Well, there's no minibar there … yet. 😉
These days, I store my SK-II facial sheet masks in the fridge. In summer, I'd even pop a facial sheet mask in the freezer for 10 minutes just to get it nice and cold to battle the stinking hot day. As my house is relatively cool even during the summer months, I have no problems storing my skincare products in my beauty cupboard. But if I was still living in Malaysia, I don't think the veggie compartments would be enough for my stash. I'd probably need a whole fridge for it! Tee hee hee!
What about you? Do you keep any beauty products in the fridge? Do you *gasp* own a minibar in your bedroom just for skincare? *jaw drops*