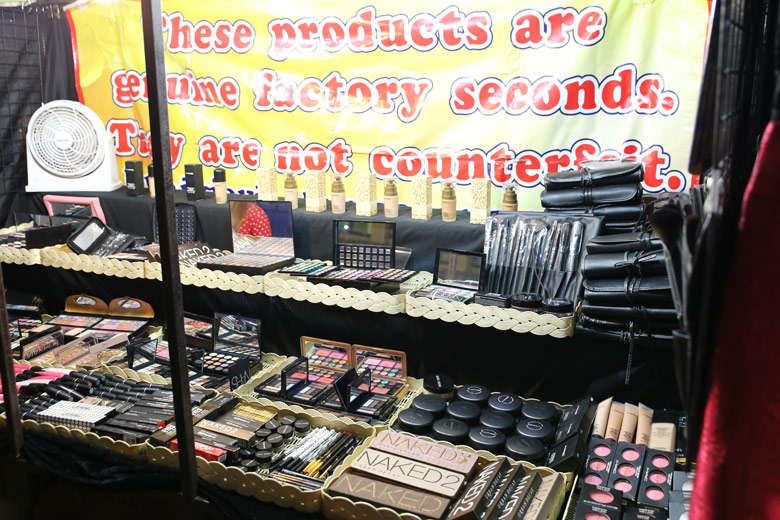 What if I told you you can buy MAC makeup very cheaply online? By very cheaply, I mean you can buy a Ruby Woo lipstick for less than US$2.00 a piece. Would you buy it? Or would what I tell you ring the alarm bells that something doesn't sound right when a MAC lipstick is really that cheap?
The photo above was taken when I was perusing a night market in Chiang Mai, Thailand. The vendor was none too pleased when I tried to take a picture of her wares close up with my phone so I had to get Tim to photograph this for me from a distance. I found it amusing that she had to place such a large sign above her products that the makeup she was selling wasn't counterfeit and that they were just factory seconds. Many stalls like hers sold exactly the same items yet didn't have a similar sign. Plenty of tourists, particularly female tourists, flocked these stalls purchasing a heap of cheap makeup that were presumably from MAC, Chanel, Urban Decay, Dior and much more.
I wish I was able to snap a quick photo for you just to show you what the makeup was like close up. At one point, one of the vendors angrily told us that if we wanted to take a photo, we had to pay and that was when we skedaddled out of there. The popular items were the Urban Decay NAKED palettes. They looked pretty darn authentic, if you ask me. But I'm 99.99% sure they're not (fine, I'll give them 0.01% of the doubt). The packaging for the rest of the products, especially MAC and Chanel, were riddled with spelling mistakes. The MAC lipsticks smelled funky. The Chanel blushes looked odd. The makeup were left open like that with flies swarming over them. I heard tourists trying these makeup out and asking the vendors if these makeup were genuine, to which the vendors enthusiastically said "OF COURSE! REAL THING! ONLY 1000 BAHT!". To which, I had to raise an eyebrow. Really, what would these tourists expect them to say? If those Urban Decay NAKED palettes they were selling were the real deal at less than US$10 each, I'd eat my best bag.
It's not just night markets like these that you'll find heaps of heavily discounted "genuine" makeup. Just go to websites like Aliexpress and you'll find plenty of such makeup. Most sellers don't even mention the words "genuine" or "authentic" anymore. They pop photos of their products with the proper brand name printed on the product and it's up to you to decide if they're the real deal or not. Most if not all of these products come from China. Just search for "MAC lipstick" on Aliexpress and you'll know what I mean.
These days, it's not so easy any more to find much counterfeit makeup on eBay but websites like Aliexpress are rife with them. I found a lot of sellers selling NARS makeup brushes on Aliexpress for less than US$5.00 a piece. When it comes to makeup brushes, I'm not too bothered about them because they're not lotions and potions that go directly on my skin, particularly my eyes and lips. I've purchased generic makeup brushes from eBay that resembled NARS makeup brushes and they were scratchy to say the least. I worry more about those who purchase these so-called "genuine" lipsticks, mascaras, etc for a song because goodness knows what these makeup are actually made of. You'll be literally consuming the makeup and who knows what's going into your system?!
It may be fun to see these makeup stalls at night markets but I would strongly advise you against buying any of them because there's a very high chance that these are counterfeit makeup even if there's a large sign that says they're not. If the makeup item is so cheap and too good to be true, it most likely is. Your health and wellbeing are too important and not something to take a risk on simply because that big-brand lipstick is less than a fiver. Similarly, please don't buy cheapie makeup from Aliexpress either. Sure, they may be cheap as chips, but I'd rather you eat actual hot chips than use those goodness-knows-where-they-came-from makeup.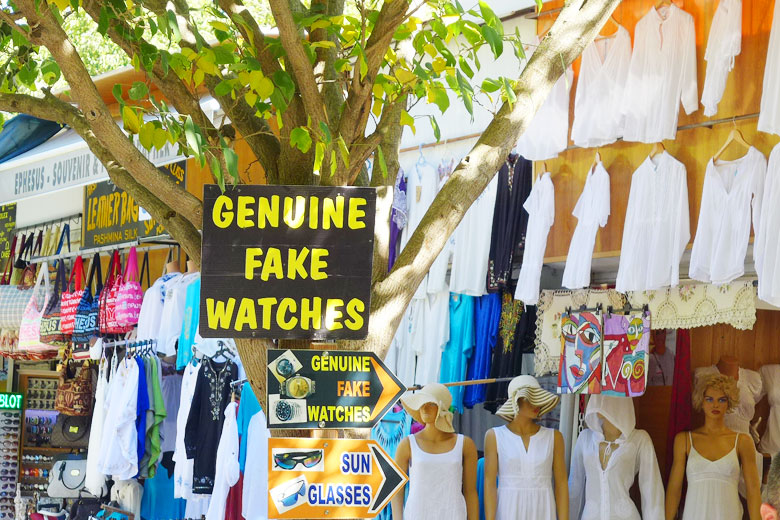 Image courtesy of my dad on a visit to Turkey
Really, those night market vendors might as well put this sign up for their makeup. No lies there. 😉
Have you seen or purchased any sort of questionable makeup before? No judgement here, heck I'd done it before too. Big mistake!