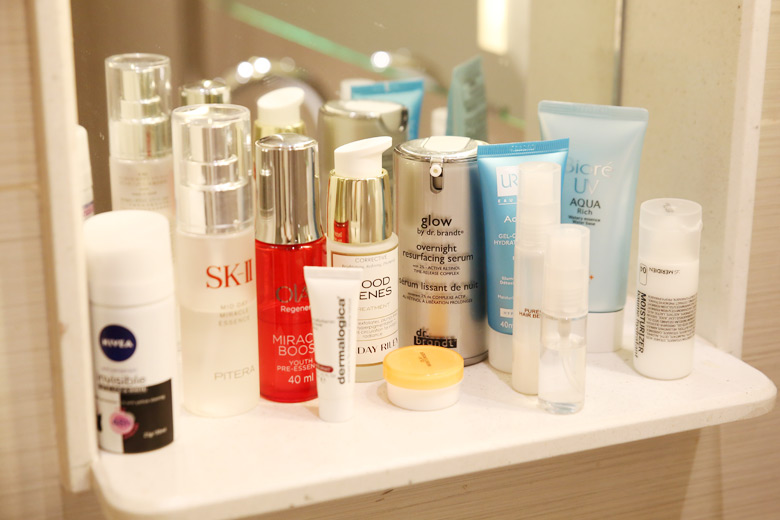 I brought these full-sized items with me during my recent trip to Malaysia and Thailand
I'm a sucker for travel-sized products. Major sucker. I wrote about awesome travel minis a while back and many of you love mini, travel-sized products too despite them being more expensive per ml compared to buying the full-sized version. The same product in miniature packaging? Sold! That sneaky product placement of travel minis when queueing up at Sephora or Mecca? How can I resist popping them into my shopping basket? 😛
Sometimes when I don't have the travel-sized version of my favourite product, I'd decant them into small travel-sized tubes, bottles and jars that are aplenty at pharmacies, DAISO and Muji. I've stopped using most of the sample sachets that come free with products I buy or stuck to a magazine. Unless I've used the product before, they're not going on my face, not when I'm traveling. My skin can be a real bitch when I'm traveling and out of nowhere, it would either break out in pimples, come down with very dry and peely skin or worse, both. I've certainly learned my lesson that when it comes to traveling and my skin, I really need to stick to what I was using prior to traveling and absolutely nothing new. Even if I have to decant the products into jars and bottles and tubes.
Having said that, there are products that I don't decant and bring the full-sized versions with me when traveling, even when they're heavy, glass jars/bottles. These are the non-negotiables that I have to bring with me, e.g. serums and sunscreen. To maintain full efficacy of the ingredients in the product as much as possible, I don't decant them into open jars or even translucent bottles.
I don't recommend decanting sunscreens. I've searched high and low for expert advice on whether it's safe to decant sunscreens or not but so far, I haven't been able to find a definitive answer. Mind you, it's my observation and hypothesis that sunscreens are not meant to be decanted or, at least, stored in a transparent or translucent jar/bottle as no sunscreens come in anything but an opaque tube or bottle. This is to protect the ingredients as much as possible. As such, I never decant sunscreen and bring the full-sized tube or bottle with me.
As for serums, any serum that doesn't come in at least a translucent tube does not get decanted. What's the point of decanting a good (an sometimes expensive) product if it doesn't work just as well just because I didn't want to bring the full-sized version with me? When it comes to my skin, call me vain but it's something I don't want to risk, not when I'm traveling. I mean, think of all of the selfies I won't be able to take during my trip, eh? Tsk tsk. 😛
If the added weight of the full-sized bottles of serums and sunscreen means that I have to bring one less pair of shoes, I'd do it. Bring one less bag? I'd do it. It's all for the love of the skin, people. All for the love of the skin. 😉
What about you? Are there any full-sized products you'd bring with you when traveling that you just won't decant?