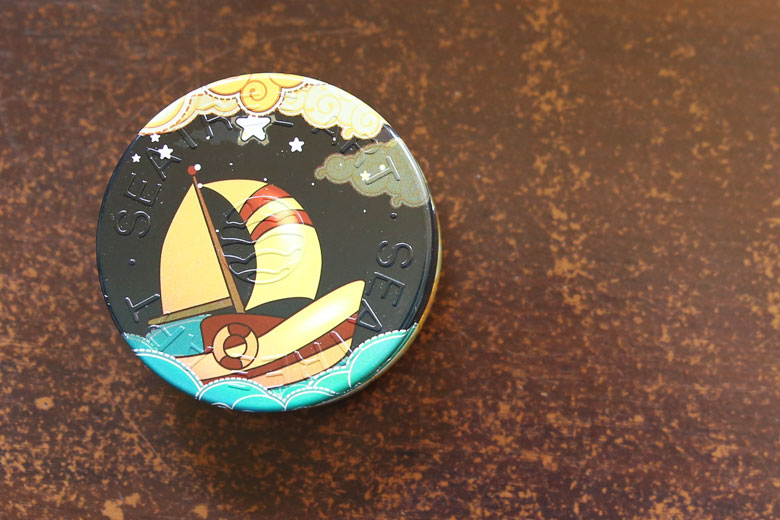 I must admit that in my ignorance of Korean beauty brands, I've never heard of Seatree. During my last Korean beauty shopping haul, I, erm, only picked this up purely for the packaging. It's no secret here on the blog that I'm a massive sucker for gorgeous packaging (heck, most of my makeup choices were based solely on how good they looked on the outside 😛 ).
The design of this tin is so pretty; I knew I had to have it. 😉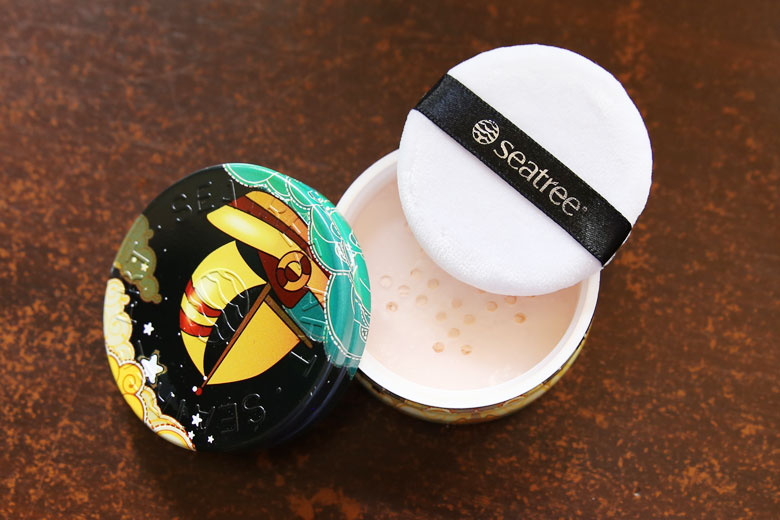 Initially I thought this was pressed powder but to my surprise, this is a translucent loose powder. It comes with a small powder puff and the sifter holes were sealed with a plastic seal. When it comes to cushion foundations, I would recommend keeping the seal on but in this case, I had the powder puff to keep the powder together so I just chucked the seal.
This is a very finely-milled loose powder. It almost feels velvety to the touch, that's just how fine the powder is. It very thinly veils the skin with a light, matte finish. It's not so matte that it makes makeup appear cakey, but just enough to coat the T-zone and prevent the oilies. I find myself not needing to blot often when I have this powder on.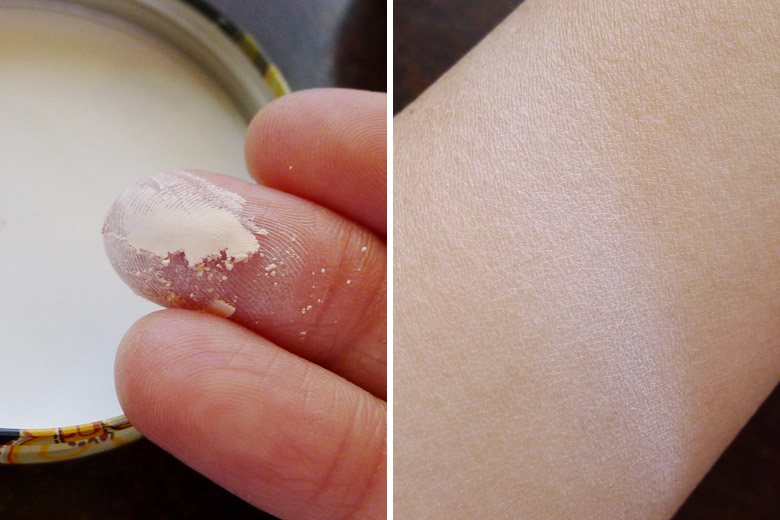 It looks pretty thick here but I swatched it heavily for this photo just to show you what the powder looks like. In reality, a light sweep of the powder will not make the skin look white.
There is only 1 shade for this powder, assumably because it's a translucent loose powder. It has a hint of a pinkish tone to the powder, which actually complemented my warm yellow skintone well. It's nowhere near as pink as Hourglass' Ambient Lighting Powder in Mood Light but there's still a subtle coolness to the powder.
A plus point of this powder is that it contains an SPF of 28. Now I know that this alone is simply insufficient UV protection so I always have a separate sunscreen on under my makeup. An extra – albeit very thin – layer of UV protection doesn't hurt.

Ah but let's talk about the packaging. I know I always mention packaging prior to an in-depth product review but I've decided to save the best for last. This powder comes in a metal tin with a screw top. If you're familiar with Steam Cream moisturisers, then you'd find this very familiar because they're incredibly similar in packaging, even down to the embossed name on the cover. The design is incredibly pretty and once I'm done with this powder (or when it expires), I'm definitely keeping the tin for my many trinkets.
If you're looking for a good-quality and affordable translucent loose powder, might I suggest checking this Seatree UV Cut Powder out? I picked this up for US$8.09 from Beautynetkorea (aka f2plus1 on eBay), which is cheaper and better quality than most drugstore loose powders I've tried.
What I like about it: Good quality loose powder, finely-milled, feels velvety to the touch, the matte finish it gives the skin isn't overly matte nor cakey, gorgeous design on the packaging.
What I do not like about it: It's not physically available in Australia (unless you check out those tiny Asian beauty stores in Chinatown or Asian suburbs. I wouldn't bother with those as the price will be terribly marked up anyway).
Have you tried this or anything by Seatree before? Is there anything else from the brand that I should check out? Any more pretty, pretty goodness that I've missed?