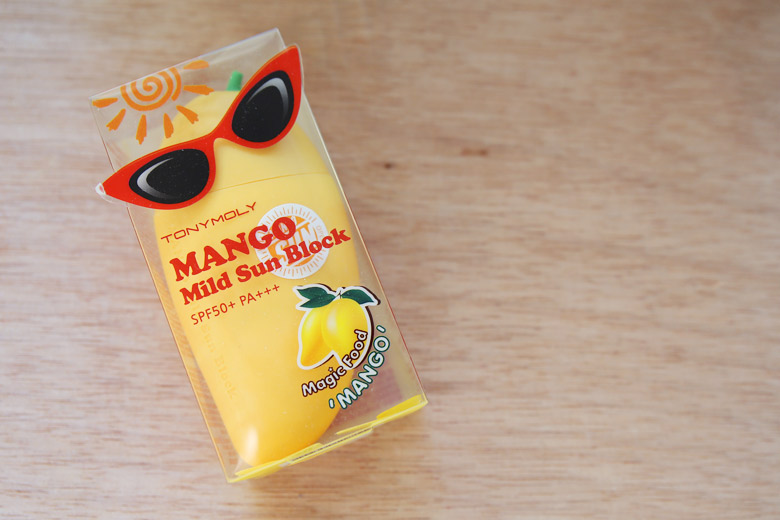 I'm a fan of fruity scents, particularly anything that smells like limes, lemons, oranges and mangoes (er, but not mashed together, please!). When I saw a picture of the Tony Moly Mango Mild Sun Block online, I knew I had to give it a go. A sunscreen that doesn't smell like sunscreen but mangoes? Yes please. The packaging? YES PLEASE!
Can we just pause right here and take a look at the packaging? The whole bottle of sunscreen is in the shape of a freakin' mango. A mango. I mean, come on! That's cuteness overload right there. Trust the Koreans to come up with something like that. Who wouldn't want to use a mango-shaped sunscreen? 😛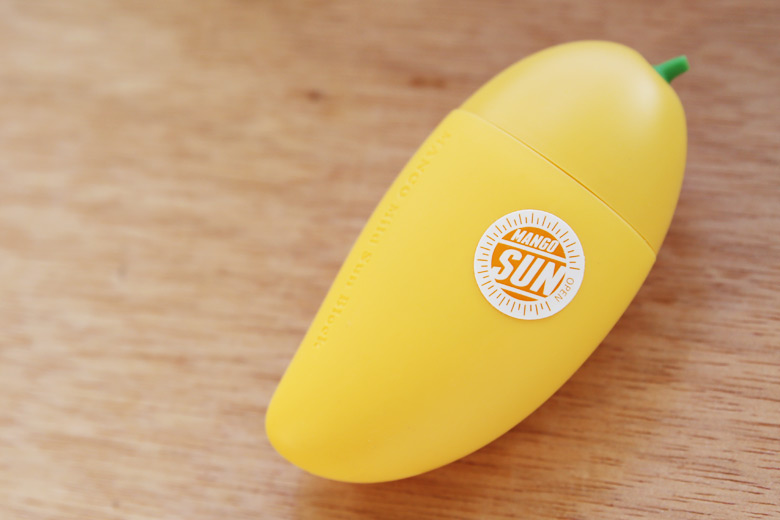 Ingredients:
Water, Ethylhexyl Methoxycinnamate, Butylene Glycol, Ethlhexyl Salicylate, Butyl Methoxydibenzotlmethane, Phenylbenzimidazole Sulfonic Acid, Homosalata, Alcohol Denat, Octocrylene, Phenethyl Benzoate, Amunomethyl Propanol, Bis-ethylhexyoxyphenol methoxyohenyl triazine, Mango Seed Butter, Banana Fruit Extract, Orange Fruit Extract, Mango Fruit Extract, Coconut Fruit extract, Kiwi Fruit Extract, Glycol Stearate, PEG-2 Stearate, Glyceryl Caprylate, Caprylyl Glycol, 1,2-Hexandiol, Ethylhexyglycerin, Carbomer, Disodium EDTA, Phenoxyethanol, Fragrance.
The sunscreen doesn't only look like a mango, it smells deliciously of mangoes too. It's like slathering summer on my skin, even though we've officially entered winter. The sunscreen is a lightweight lotion that spreads easily and absorbs quickly onto the skin. It's thicker than the ultra-lightweight watery Japanese sunscreens I'm used to but even so, most of the time, I have no issues with this sunscreen. It's not as good a makeup base like typical watery Japanese sunscreens though. Still, it's no thick-as-goo Aussie-style sunscreen, that's for sure.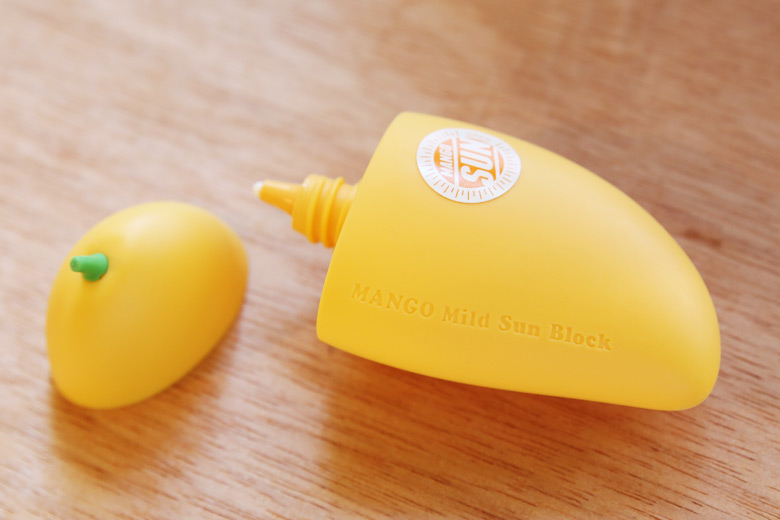 A question I get often is "what's the difference between a sunscreen and a sun block?" Sunscreens are basically chemical sunscreens that contain a combination of two to six of these active ingredients: oxybenzone, avobenzone, octisalate, octocrylene, homosalate and octinoxate. These chemical filters absorb the UV rays that touch our skin. Sun blocks are physical sunscreens that contain active ingredients like zinc oxide and titanium dioxide that reflect and block UV rays as they touch our skin. As a side note, the FDA in the US no longer allows sunscreens to be called sunblocks. Sunscreens in Australia are only called sunscreens, not sunblocks. In the case of this Tony Moly sunscreen, it's a chemical sunscreen, not a physical one.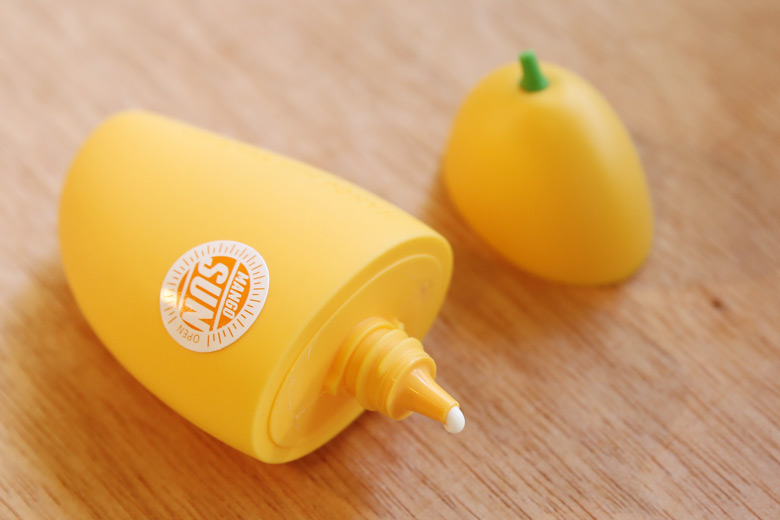 This sunscreen contains a high SPF of 50, which is good. The PA+++ makes this a broad-spectrum sunscreen. I've used this on my face, arms and legs without any breakout issues.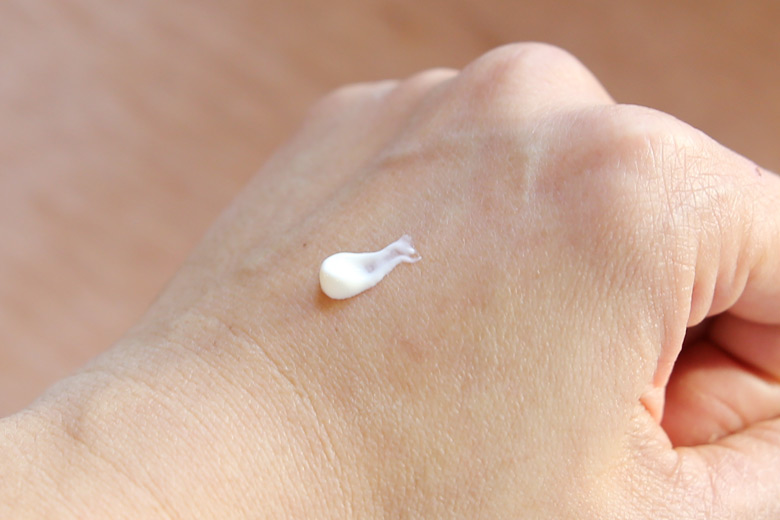 If you're a fan of light sunscreens, love mangoes or are very drawn to cute packaging like I am, this Tony Moly sunscreen will not disappoint. Definitely worth repurchasing!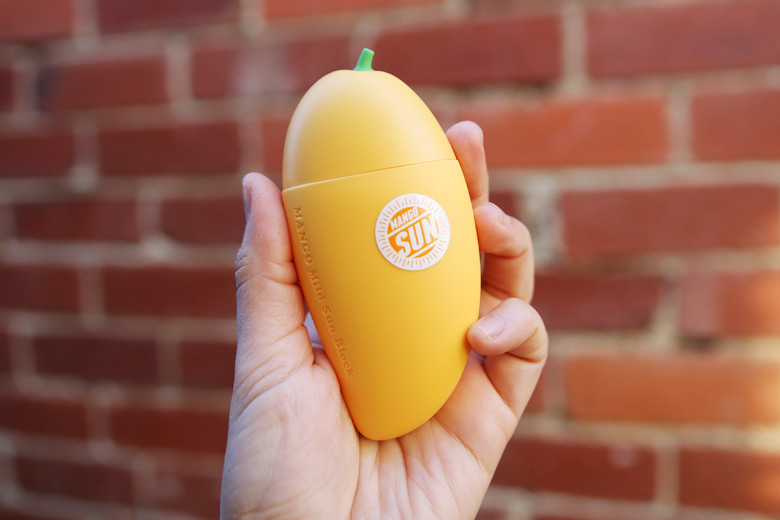 I bought the Tony Moly Mango Mild Sun Block SPF 50 from the Beautynetkorea eBay store (just search for f2plus1 on eBay) for US$10.40. Cheap as for a good-smelling and cute-as-a-button sunscreen!
What I like about it: Affordable sunscreen, lightweight, non-greasy, smells deliciously of mangoes, very cute packaging. Have I mentioned that it looked like a freakin' mango?! 😛
What I do not like about it: It sometimes feel a tad rich on my skin during warmer periods despite the lightweight nature of the sunscreen (only if you're accustomed to typical ultralight, watery Japanese sunscreens). It's not available in Australia, unless you buy it online.
Have you tried this sunscreen or any other sunscreen by Tony Moly? Are there any other Korean sunscreens you'd recommend? So far, I've only tried one by Banila Co and it was good too!