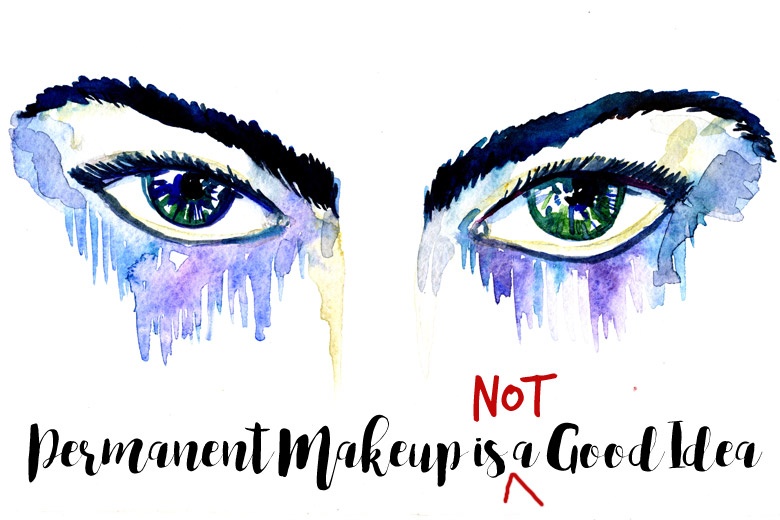 When I wrote about my big brow mistake back in 2013, I didn't expect to open a can of worms for people who have gone through eyebrow embroidery and absolutely hated their decision for doing it. In a way, I'm glad that it created open conversations as to why eyebrow embroidery and permanent makeup are not good ideas. I've received a lot of emails from readers who stumbled upon my blog when they Googled "bad eyebrow embroidery experience". One of them regretted the decision so much that it was affecting her day-to-day life, to the point where she had lost appetite to eat because the eyebrow embroidery was done poorly and that she's now unfortunately stuck with it unless she goes for laser removal.
In recent months, the Australian beauty industry has jumped on permanent makeup and lauded it as "the next big thing in makeup". They claimed that these expensive beauty treatments like eyebrow and lip-tattooing will give your face a subtle yet improved change in appearance. It's also a time-saver from having to do your brows and line your lips in the mornings, they said!
Now facial tattoos are popular in Asia. By tattoos, I don't mean pictorial ones but the ones that changes how your face looks. I have aunties in my family who have had eyebrow tattoos. I knew several teachers in college who had black eyeliner permanently tattooed onto their waterline. Heck, even Mum and I have had eyebrow embroidery done. It's not a new trend at all.
Coming from someone who has had a form of tattooing done on her brows more than just once and have regretted it since, I've said it back then and 3 years later, I'll say it again: eyebrow embroidery or any sort of permanent face makeup is not a good idea.
Our face shape changes as we age
This is something not many of us realise. The shape of our face changes as we grow older. Depending on our lifestyle, it could be a subtle change or it could even be a dramatic change. If we lose weight, our face narrows. If we gain weight, our face balloons. As we age, we begin to lose collagen and elasticity in our skin. As our face shape changes, so does our brows and lips. As the skin on our forehead begin to slowly but surely droop as we age, so does the shape of our brows. Our lips will slowly begin to thin out.
I know I've probably freaked you out there but it's the reality of the human condition. We age. And it's okay! The thing is, permanent makeup doesn't change together with age. Highly arched tattooed eyebrows may look good in our 20s or even 30s but what about when we enter our 40s? Or 50s? Would we still like that same brow shape we had that many years ago? How would that highly arched brows look on our slowly-but-surely sagging forehead?
Hang on, it lasts that long?!
They take a long time to fade
Depending on the level of tattooing and embroidery, oh yes it can last that long. The first time I had eyebrow embroidery done, I thought it looked fantastic. I never need to get my brows groomed and tidied, ever again! Money saved! The next year, I went back to "top up" the embroidery. The beauty therapist followed the shape that was created the previous year but she extended the "tail". The brows looked rather strange on me and as months went on, I started to hate it. The lady said it will fade in 1-2 years' time. It's now been 7 years and if you look closely at me, you can still see the embroidered lines. My brows have grown back to its natural shape, which is shorter than the "tail" the beauty therapist embroidered on my face. You'll still be able to see the brown line above my natural brow line and taper 1 cm longer than my natural brows. I always look as though I've done a poor job in filling in my brows with a brow pencil/powder because of those lines. Seven years, people. Yep, those blasted lines are still there.
Trends change. So do our tastes.
We may like the Instagram-and-Pinterest-worthy thick, arched brow look and dark-rimmed eyes now, but what about 5 years down the road? Ten years? Our tastes change as we grow older. Who knows, one day you may prefer thin brows. You may prefer thick, straight brows like the Koreans do. You may prefer thinner lips instead of thicker ones. You may not like that dark-rimmed-eyeliner look anymore. The thing is, you wouldn't know what you'd like many years down the road. When you have permanent makeup on, you're stuck with it.
You're screwed if the beauty therapist makes a mistake
Beauty therapists are humans too and they can make mistakes. Even the very experienced tattoo artist can slip every now and then. Regular tattoos can be filled in with different colours or designs to hide the mistake but facial tattoos and permanent makeup mistakes are far harder to fix and hide.
Laser removal is a pain in the arse
Okay, at the end of the day, if you really don't like what's been done, you can always get the permanent makeup lasered off, right? Yes you can. However, it's going to cost far more than the tattooing and embroidery, and it's going to hurt a lot more.
I could go on and on about why permanent makeup is not a good idea but I reckon you get the gist. Sure, it saved me time at first but after a while, I was bored with those embroidered brows. They always looked the same. If they're embroidered thinly, I can fill them in with a brow pencil/powder later on but how's that saving time, eh? And if they're too thick, I can't go back to making them appear thinner if I wanted to.
Makeup application is fun. With the stroke of a pencil or brush, you can create thin or thick brows. You can create thin or thick lips. You can make your eyes appear bigger by using an eyeliner to line your waterline. Best of all, at the end of the day, you can remove all of them and start again the next day. And you can do it differently if you want. You can't do this with permanent makeup.
What do you think of the permanent makeup trend? Is it something that you'd consider? Or would you not even touch it with a ten-foot pole?