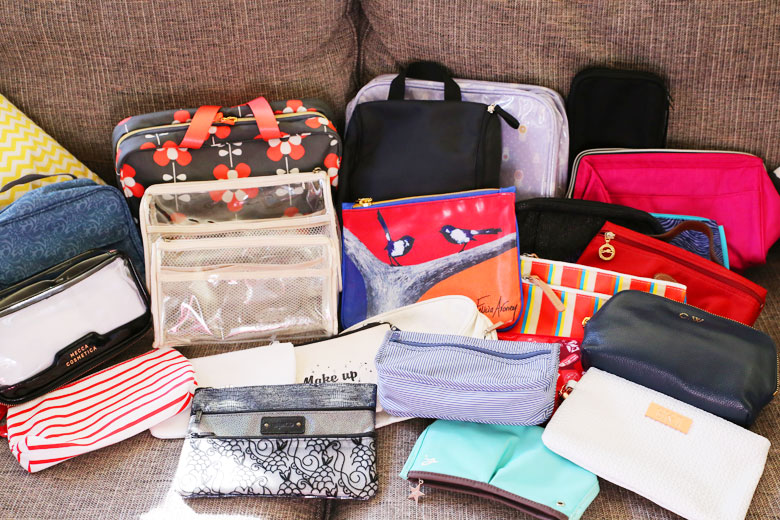 Okay, by now, if you've followed BA long enough, you'd know that I'm a collector of things. I envy those who lead the minimalism lifestyle but I know me. I'm the sort of person who just needs STUFF around her. I always have, and I most likely always will need to have lots of stuff around me.
On top of the collection of makeup, skincare, stationery, notebooks, bags and more, I have another confession to make. There's another category of items that I hoard like nobody's business, and that's makeup and toiletries bags.
The funny thing is, I don't actually use a makeup bag to put makeup in there. My makeup bag in my everyday bag contains only one item of makeup, and that's lipstick. Everything else is generic-but-essential-in-case-I-need-them items like a foldable hairbrush, lipbalm, hand sanitiser, tiny vial of perfume, facial blotters, etc. So it begs the question, why the heck do I need that many makeup bags when I don't even bring makeup out with me?
Beats the hell out of me, I tell ya. 😛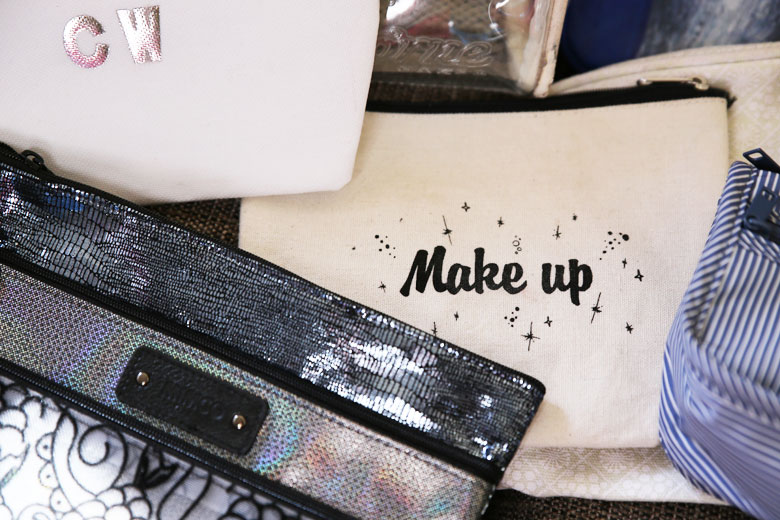 Like a moth to a flame or a magpie to shiny objects, I'm drawn to makeup bags. Or cosmetic pouches, however you like to put it. I see a cute one, I buy it. I see a pretty one, I buy it. It's a ridiculous and expensive habit that I can't seem to shake off. I know, #firstworldproblems. Tsk tsk. 😛 Toiletries bag is another weakness of mine, especially the ones with plenty of compartments.
It was a lot of fun taking all of my makeup bags, cosmetic pouches and toiletries bags to photograph for this blog post. But it's scary too because it made me realise just how many of these I have collected over the years. I actually have more than these but I've Mari-Kondo-ed about half of my collection. Even though I've given away half of my makeup bags, I still have that many left so you can imagine just how many of these I actually had. To be fair, some of them were gifts and I don't like giving away gifts that were given to me. As for the rest, they were gifts with purchase and boy, do they stack up after a while!
My favourite makeup bag at the moment is the one I'm using in my bag, which is from Monpurse. It's also by far the fanciest makeup bag I've ever had as this is the first time I'm using a proper leather makeup bag when before it was always polyester makeup bags. Another one I like and use a lot is a Longchamp cosmetics pouch that was a gift from a dear friend. I also like the one I got from Tintamar many years ago, which I used so much till it's grotty (the stains wouldn't fade even after washing it several times). As for my favourite toiletries bag, it will have to be the one orange and brown floral one I got from Priceline. It's very Orla Kiely but without the Orla Kiely price tag.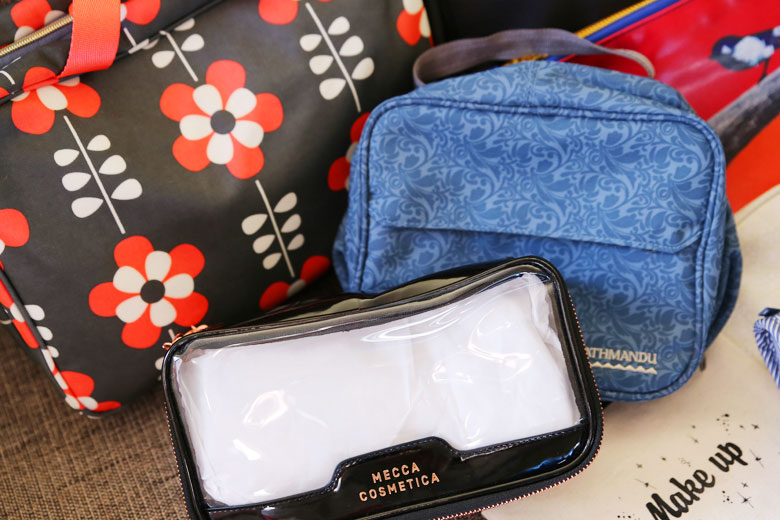 There were some that I thought I'd really like but ended up not using. The Mecca Cosmetica Jet Set bag was gorgeous and good to use at first but for some reason, the zip became really tight and it became a chore just opening the bag. The blue Kathmandu toiletries bag with the pretty damask design looked good on the outside and even has a good number of compartments but after using it on one of my travels, I realised that it cannot hold anything too heavy or else it'll wear the bag down quickly.
Sigh … what can I say? I guess I really like my makeup bags. Even when I don't actually keep makeup in them. 😛
Tell me I'm not the only one who has a problem hoarding makeup and toiletries bags. Do you collect them too?