Here's another cushion foundation to add to my discovery of good cushion foundations. I wish I discovered Seatree makeup earlier because this Korean beauty brand is smashing it in terms of affordable makeup and better yet, very pretty packaging. Maybe it's a good thing I'm only discovering it now because I would have easily handed my money to them for a much longer time with the goodies they offer. 😉
I must admit that I bought this cushion compact purely for the packaging when I had no idea the brand (and its products) existed. The design? So pretty!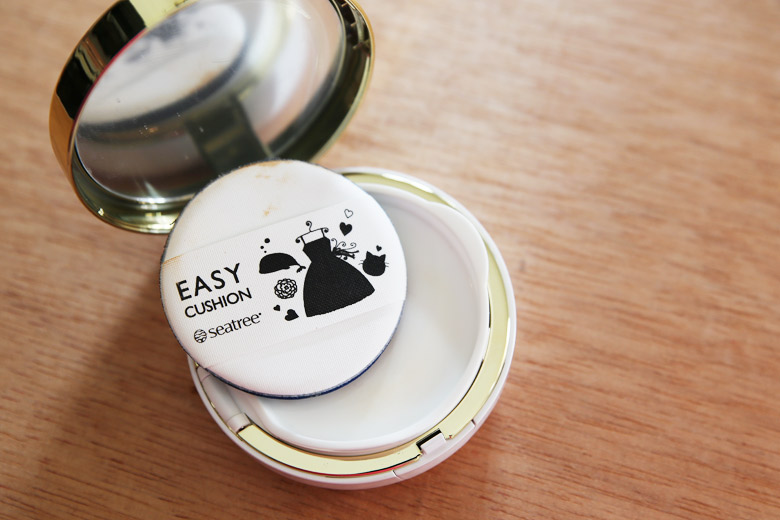 Packaging-wise, it's typical of all cushion foundations. The plastic shell is sturdy and it comes with the standard-issue puff that comes with all conventional cushion foundations. I do like that the puff has the design on the outside printed on the finger holder thingy. The littlest of details make an impact, y'know? The lid closes tightly, which reduces as much air seeping through as possible. As with all cushion foundations, I recommend keeping the seal on after after each use as it helps to keep the cushion from drying out as much as possible. As the labels says "Please use after take the film"; I'm assuming it also means "keep the damn seal on", in more polite terms. 😛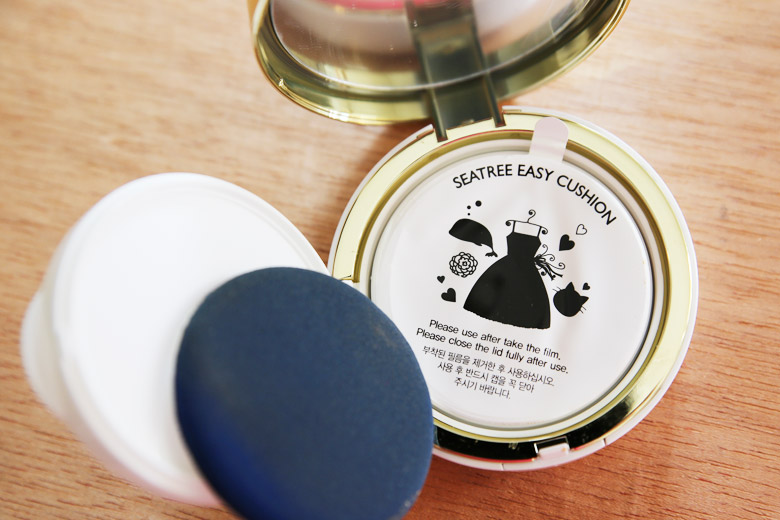 Typical of Korean cushion foundations, this cushion foundation doesn't come in many shades. There are only 2 shades available and I chose the one in Natural Beige, which suits my skin tone well. It has neutral tones with just the right combination of warm and cool tones. In terms of finish, it doesn't have a moist finish on the skin like the one by IOPE but it isn't matte either. It leaves a semi dewy, satin-like finish on the skin. In fact, it's pretty similar to what Sulwhasoo's Perfecting Cushion foundation offers, which is exactly what I like. As for coverage, I'll say it's a buildable medium in about 2-3 thin layers. Not to worry though, it's so light on the skin that 3 layers won't even feel as though you've got much foundation on.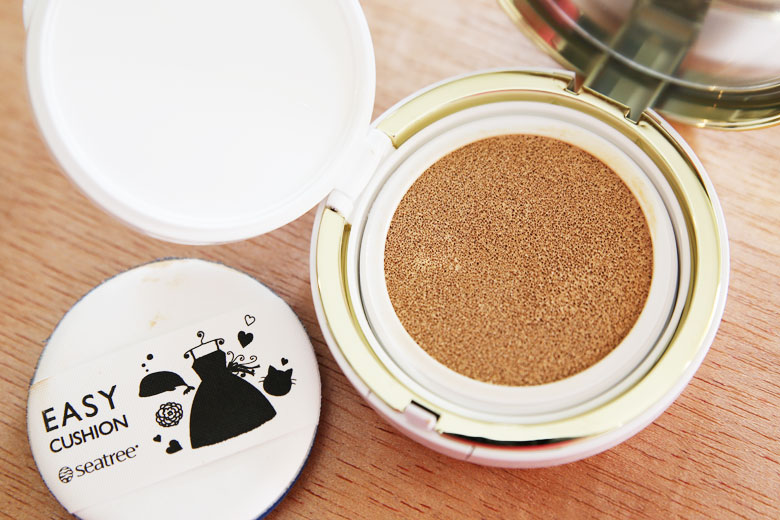 Just like many good-quality foundations, this looks better on my skin as the hours go by. The longer I've had this on, the more glowy and natural this makes my skin look. Longevity is pretty decent too. It's not something you'll go for if you're going to need this to last 10+ hours but for 6-8 hours, this doesn't fade much.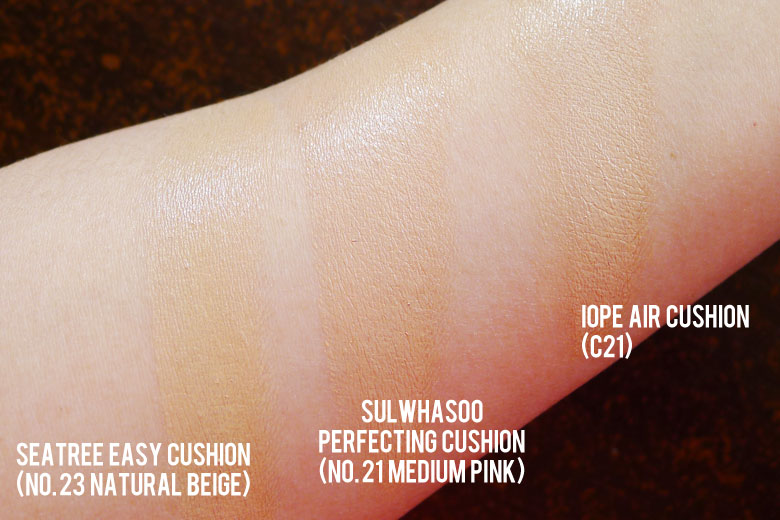 Unfortunately, with the glowing physical aspects of the foundation, there is something I'm not entirely happy with about this foundation, and that's the scent. This foundation has a good amount of floral fragrance in it and it's strong enough to be cloying and sickly sweet especially after I've applied the 3rd thin layer. If fragrance – even a subtle amount of it – in foundations bother you, you won't like this at all.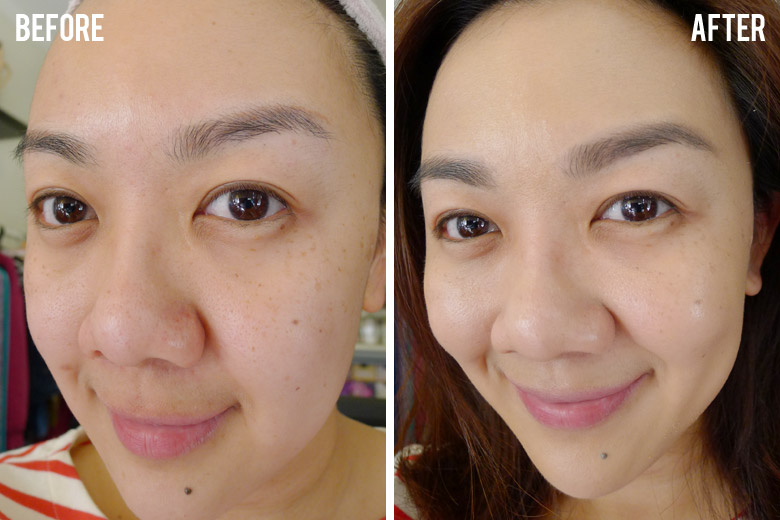 All in all, despite the strong fragrance, it's a good cushion foundation. Even though this doesn't come with a refill, at US$14.99 a pop, it's more affordable than cushion foundations from IOPE, Sulwhasoo and those Western brands that are jumping on the cushion foundation bandwagon. And it performs just as well in my opinion. Maybe it's just my cushion foundation, but the sturdiness of this packaging surpasses the ones by those popular brands even though internally, they look the same.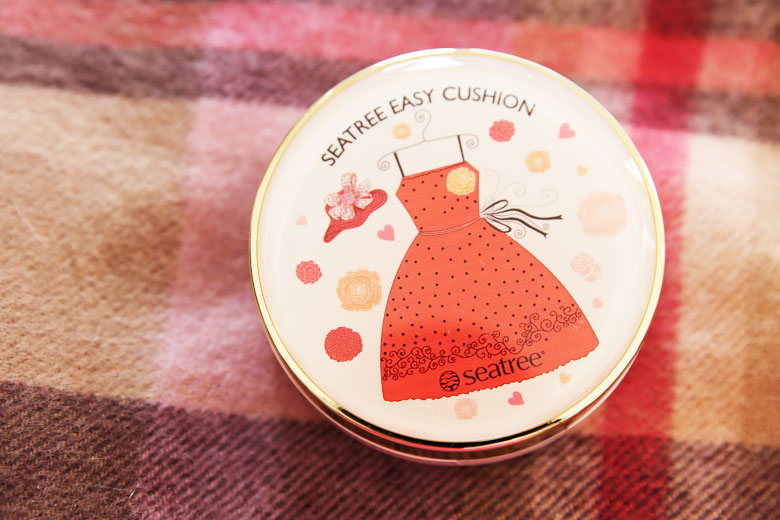 I bought the Seatree Easy Cushion foundation from the f2plus1 store on eBay. If you're interested in checking out Korean beauty products that don't break the bank, that eBay store is a cornucopia of all beauty things pretty. And affordable too!
What I like about it: Pretty (and sturdy) packaging, lovely finish on the skin.
What I do not like about it: The foundation is heavily scented. It's also not easily available in Australia.
Tried any new cushion foundations lately? What's good? Better yet, what's not?