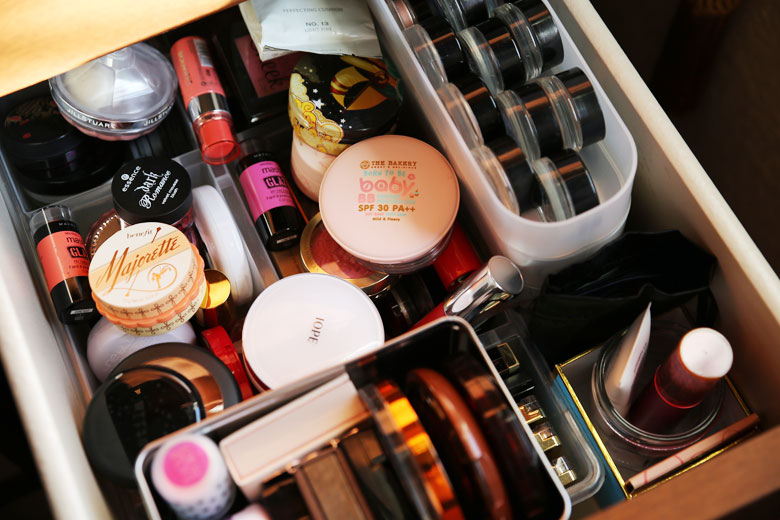 For the past number of months, I've been asking myself if I've fallen into what I call a beauty slump. By slump, I don't mean I'm neglecting my skincare routine or if I've stopped wearing makeup altogether. It's that I haven't had the interest to actively seek out new skincare and makeup to try out because looking at the state of my beauty stash, there really was no need to.
I'm really happy with my skincare routine that I've carefully curated over the past couple of years. I've found great skincare that works very well on my skin and I love the positive results they give me. You know how they say, don't fix what ain't broken? This is the reason I'm very reluctant to try anything new because I don't want to "break" anything!
Having said that, I must admit that once in a while, it does get boring, especially when I was using the same skincare products and makeup all of the time. Instead of venturing out to seek for new beauty products to try out, I decided to shop in my own stash to see what I could use. These products were tried and tested at some point and I've kept the ones that I liked. Some were rather old so I decided to repurchase the same products to use. And I'm so pleased to rediscover some of the old loves I've forgotten.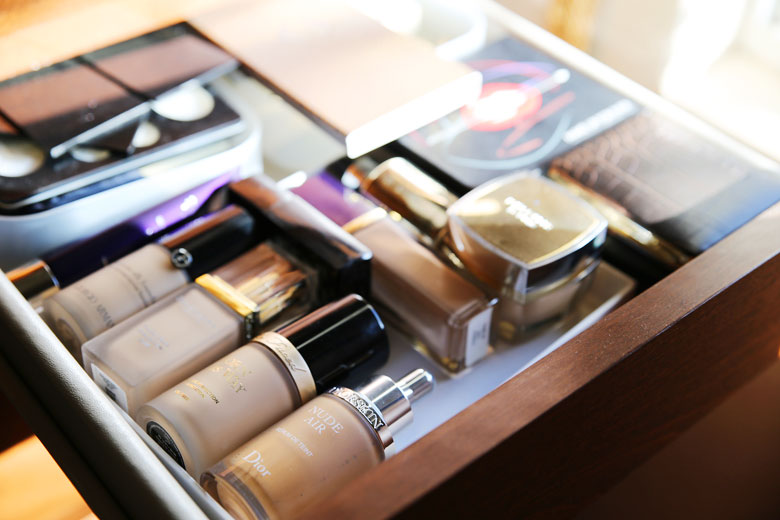 Garnier BB Cream for oily to combination skin
I've forgotten how much I really liked this BB cream. The first Garnier BB cream I used was the one I got in Malaysia and I adored that BB cream, so much that I actually purchased several tubes of it to bring home to Melbourne with me. The original Garnier Australia BB cream is nowhere near as good as the one formulated for oily to combination skin. The latter's formula is very similar to the Asian version, which is why I like it so much and repurchased one recently. And to think I used to spend a lot of money discovering great BB creams when I already had a fab one sitting in my beauty cabinet the whole time.
Uriage AquaPrécis Moisturising Refreshing Cream Gel
I've lost count to the number of AquaPrecis moisturisers I've purchased over the years. It's such an underrated range in the brand and this moisturiser is so good to use. This is my go-to moisturiser for traveling and I always pick one up during Priceline's sales. I didn't realise Priceline had dropped the price of this moisturiser from AU$49.95 to just AU$10! During the last 40% off skincare sale at Priceline, I picked this up for just AU$6, which was an absolute bargain. I just hope they're not discontinuing this range because it would be a real loss if they did.
Origins Ginzing Energy-Boosting Moisturiser
This was another moisturiser I recently repurchased. Technically, I didn't shop this in my stash because I had already used up the ones I had in my stash ages ago. I was perusing Mecca Maxima one day, laid eyes on this and remembered how much I enjoyed using this deliciously orange-scented moisturiser years ago. I decided to get another jar (to date, it's my third repurchased jar) and the scent and feel of it on my skin was just as good as I remembered.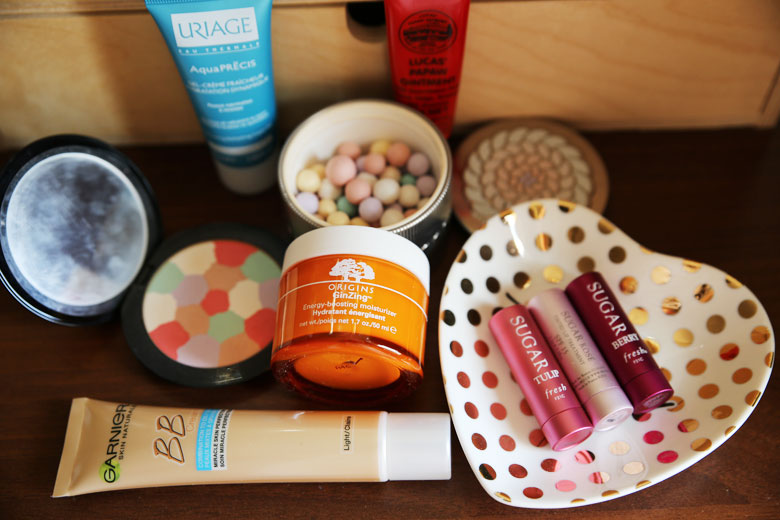 Guerlain Meteorites
You'll notice that I've been reviewing several translucent and blotting powders lately. That's because I've been trying out pretty powders I ordered in from Korea and during that time, I've stopped using my Guerlain Meteorites. Mind you, the translucent powders were good; I have no problems with them at all but to be honest, they don't give my skin the same appearance and subtle but glowing finish Guerlain's Meteorites does. I decided to put my current powders away and took out my trusty ol' balls for a good go and voila! Beautifully glowy skin! Why I even stopped using them altogether for a while is beyond me. Oh all right, I blame the distraction on pretty Korean makeup packaging. 😛
Lucas Papaw Ointment Lipbalm
For quite some time now, my go-to lipbalm is the, well, Go To Lips! lipbalm. I have several of these lying around in my house and bags. Several weeks ago, I was cleaning out my lipbalm drawer and I found this lipbalm lying at the bottom of the drawer. It's pretty much the Lucas Papaw Ointment with a slanted lipbalm-type tip. I've forgotten how good this feels on the lips. I still love the Go To Lips! lipbalm but sometimes I don't need all that gloss on my lips nor do I want that watery texture on my lips. That's where this rich and moisturising balm comes in. I've replaced the Go To lipbalm in my makeup bag with this one.
Sugar Fresh tinted lipbalms
Here's another lipbalm I forgot I had and loved ages ago. LeGeeque introduced this to me years ago and it was a staple in my makeup routine and even makeup bag for quite some time. Over the years new lipsticks, lip lacquers, lip stains, tinted lip balms and more took away and held my attention that I forgot about the Sugar Fresh lipbalms. During a recent "shop in my stash" session, I discovered these mini tubes of Sugar Fresh lipbalm that I forgot I had. They still looked as good as I remembered it. But I've had them for a long time now so it's time to repurchase fresh new ones.
There are more beauty products that I rediscovered the past few weeks but I'll stop here for now or else this will turn out to be a very long blog post. It feels great to find these ol' gems that I've loved yet forgotten due to discovery of new ones. It was exciting to find items I thought I'd lost and then go "oooh I used to love this!" and "oooh I gotta dust this off and try it out again!" (maybe not so much the latter and also probably a sign to just buy a new one instead).
During the shopping-in-my-stash session, I also discovered products that I didn't love anymore but was still keeping. Thankfully, I've had most of them for a long time now, which meant that they were long expired so they went into the bin. It was a good way to declutter old beauty products too.
If you're feeling uninspired with new beauty products these days or it's not financially feasible to be spending on new beauty products, why not try shopping in your own beauty stash instead? You're bound to rediscover all those gems you've loved but have probably forgotten about. As long as they aren't expired (or at least, haven't expired too long. Shh!), they're good to go AND you'll be saving money too. 😛
Have fun shopping in your stash!
If you've been shopping in your stash and have rediscovered old loves, do share with us what they are!