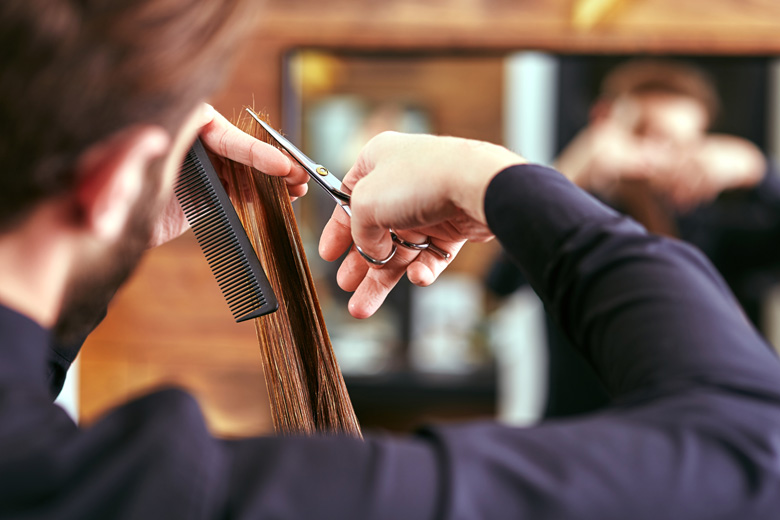 There are a few relationships in the world that are important to keep. I'm not talking about romantic relationships or relationships with your family. For me, there are a few relationships that I make sure I keep, and they're my GP, the employees of my local post office, the people who take care of my dog Janey when we're away, my regular phlebotomist (oh yeah, I have one) and my hairstylist.
Ahh … those relationships. You get what I mean now, don't you? 😉
Before I came to Australia, there was a hair salon I'd go to regularly for blowdries, haircuts and hair colour work. It's not a fancy salon. It's a cheap, neighbourhood salon that is often overcrowded with people and cluttered with hairstyling paraphernalia. Even though I could get better haircut and hair colour work elsewhere, I always go back to that salon because as a regular customer and also someone whom they've watched grow up, I always received special treatment from them. My head massages are often slightly longer than the rest, the staff secretly use better hair products on me than the generic stuff, and I always get a bowl of sweet dessert soup during my hair appointment. It was with a heavy heart that I had to say goodbye to them (and their RM10 – approximately AU$3 at that time – blowdries) when I moved to Australia.
It took me a while to find a good hairstylist when I came to Australia. When I finally did, I thought I'd hit the jackpot. Going for my hair appointments was a lot of fun because my hairstylist, hair colourist and I would chat for hours on end during my hair appointments. I was a regular customer for 3-4 years before I stopped going to them, mainly because they were getting far too expensive for me. It's not their fault; it's first and foremost a business to run. I've since found another hair salon to frequent but it took me a long time to get over the feeling as though I was cheating on my hairstylist.
So what makes one go back to their hair-person other than just for good haircuts? In my experience, it's the service and the familiarity with the staff that makes me go back, even if I may get better haircuts and colour elsewhere. I went to the same hair salon for years because of the good service I received, even though the haircuts were really just mediocre. My dad went to the same Indian barber for 30+ years because he didn't only give very cheap haircuts, he gave my dad fantastic neck twists (scares me shitless but dad insists they're great, even though the barber doesn't have any formal, er, head twisting training). He was devastated when he found out that the old barber had passed away and to keep up with the tradition of good haircuts and neck twists, he now goes to that late barber's son for haircuts.
On the other hand, if the haircuts and colour are very good but the service is mediocre, I'm happy to never return to that hair salon. I'd rather find another salon to go to than having to endure lousy service, even if I do look like a million bucks when I leave the salon. The thing is, what's the point of looking like a million bucks if I don't feel like a million bucks when I walk out of the salon? If I end up feeling resentful and angry at the lack of service I received, then it's clear that the salon will not receive any future business from me. That's how important good service has become. Of course, if the service is very good but the hair job is terrible, then that's a different story altogether. I mean, I love good service but not that much!
But hey, that could just be me, of course. Different people have different criteria when it comes to frequenting the same hair salons and what makes them go back for more. Personally, I put great service in higher importance than a fantastic haircut and colour job. I may look like a hundred thousand bucks instead of a million, but if I came out feeling like a million, then that million is what I'd go back for.
A hundred thousand bucks ain't too bad. 😛
What about you? Do you have a regular hair-person you go to? What makes you go back to him/her repeatedly? If you have to choose, would you prefer great cuts/colour over service? Or great service over not-so-fantastic cuts/colour?