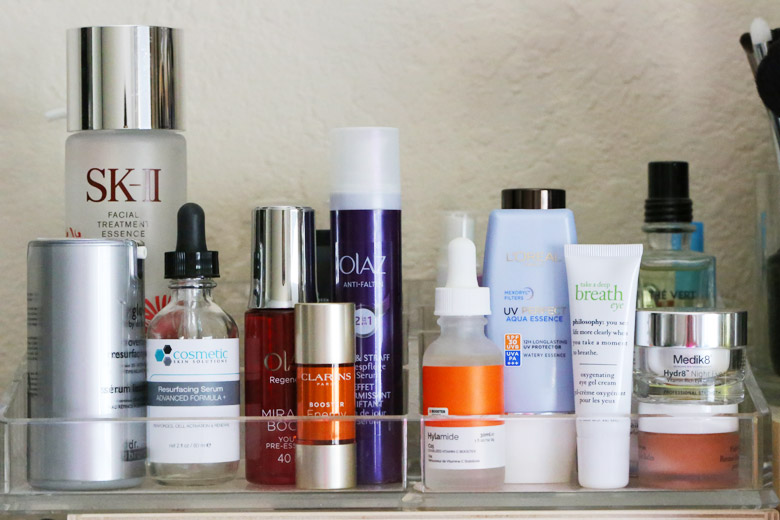 Even though the weather is Melbourne is slightly crazy at the moment, there's no doubt that the days are slowly but surely getting warmer. With the change in seasons and temperature, it also means that it's time I make some changes to my skincare routine and bid adieu to rich creams for the next few months.
My skin has changed a lot over the past few years, especially after entering my 30s. Even though my T-zone is still oily, it's not as oily as it used to be compared to my 20s. It tends to get dehydrated quickly and every now and then, it would develop dry, flaky and rough patches that feel like fine sandpaper. It becomes worse in winter and thankfully not so much in summer. When the weather gets warmer, I tend to use light creams and favour gels. Nothing heavy goes on my skin; in fact, summer months is the time I don't touch facial oils at all because for some reason, my skin don't like them. Having said that, there are still some products that are non-negotiable and remain in my skincare routine all year long.
Here's what I've been using lately. My skin is loving the change and hasn't given me any grief so far. I'd call that an improvement, wouldn't you? 🙂
Day:
SKII Facial Treatment Essence
Olay Regenerist Miracle Boost Youth Pre-Essence (I normally use a hyaluronic acid serum e.g. Paula Choice's RESIST Hyaluronic Acid Booster or Hylamide Low Molecular HA Booster but this serum works just as well).
Hylamide C25 Stabilised Vitamin C Booster
Philosophy Take A Deep Breath Eye Cream*
Olay Age Defying 2-in-1 Anti-Wrinkle Day Cream + Serum (this range is currently not available in Australia. I picked this up in Vienna, hence the German name. Interesting how it's called Olaz there and not Olay).
L'Oreal UV Perfect Aqua Essence SPF30 (unfortunately, this isn't available in Australia too. I bought this in Malaysia. Wish it was available in Australia because it's a great sunscreen and makeup base).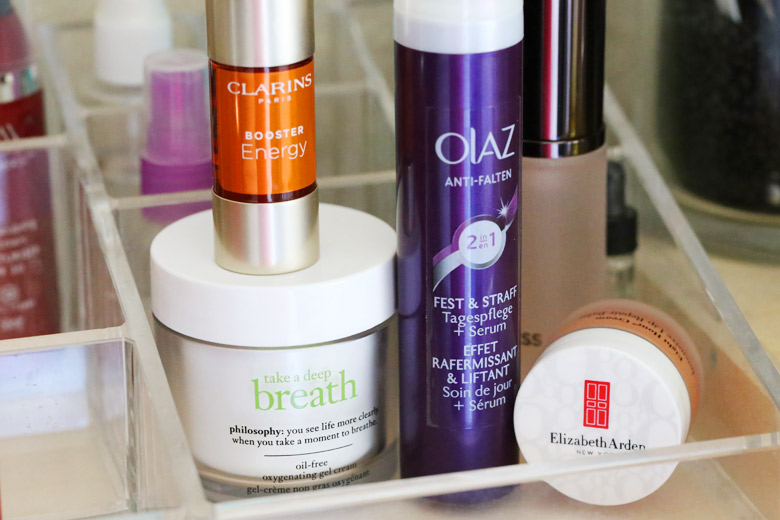 Evening:
It's not a life-changing skincare routine but so far, it's showing positive results on my skin. The Philosophy moisturiser is light enough for the warmer months but still hydrating enough (especially when mixed with a few drops of Clarins' Booster Energy) to keep my skin well moisturised throughout the night and not having to wake up to dry and tight skin.
Come at me, summer. My skin is ready for you!
Does your skincare routine change when the seasons change? For my Northern hemisphere readers, now that the weather is getting cooler for you, how does your skincare routine change to accommodate the cooler temperatures?
Products marked with * were provided for editorial consideration. For more information, please read our
disclosure policy
.