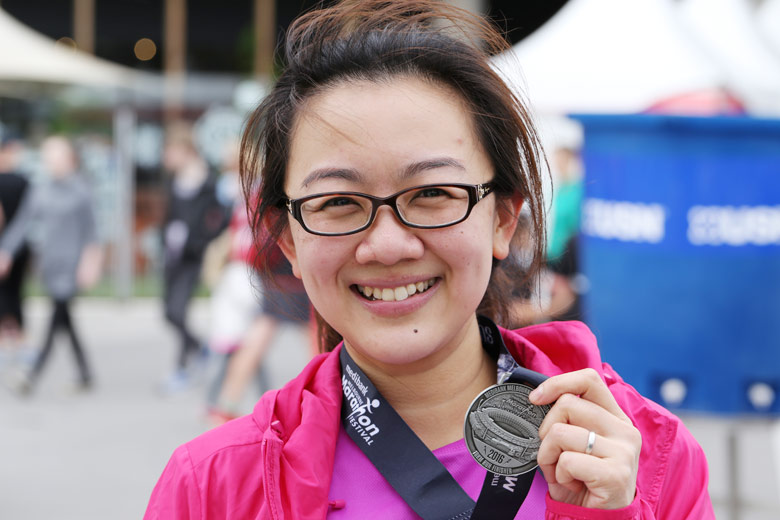 I'm writing this on the high I'm still feeling from Melbourne Marathon 10km race I did yesterday. After months of training, I finally hit the 10km mark. I knew that after last year's first 5km race, this year I wanted to do the 10km. And I did!
Compared to my first 5km race last year, I kept this year's race pretty low key. Unfortunately, I didn't do any fund-raising this year and I didn't mention on the blog that I would be running the 10k at the Melbourne Marathon. To be honest, I didn't think I'd be able to do the race because three weeks leading to the race, I was hit with the worst cold I've had in many years and it left me completely depleted of energy. I stopped training for almost a month because I could hardly walk, let alone run. I was seriously *this* close to pulling out.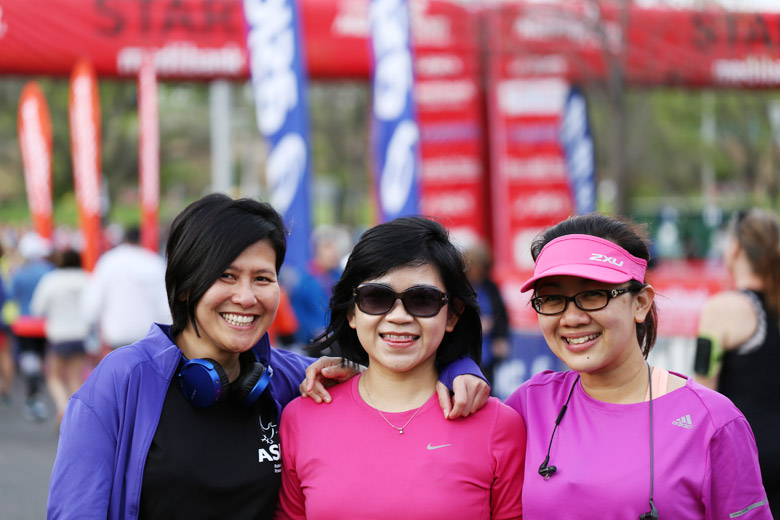 Norlin, LeGeeque and I before the race started
I was a bundle of nerves a few days leading up to the race. Heck, I couldn't even sleep the night before! Still, come race day morning, I was suddenly overwhelmed with excitement and adrenaline, and I knew that even if I had to walk the last 2km (I had only trained up to a maximum of 8km then, so running the 10km would be the longest I've ever run so far), I will cross that red finish line.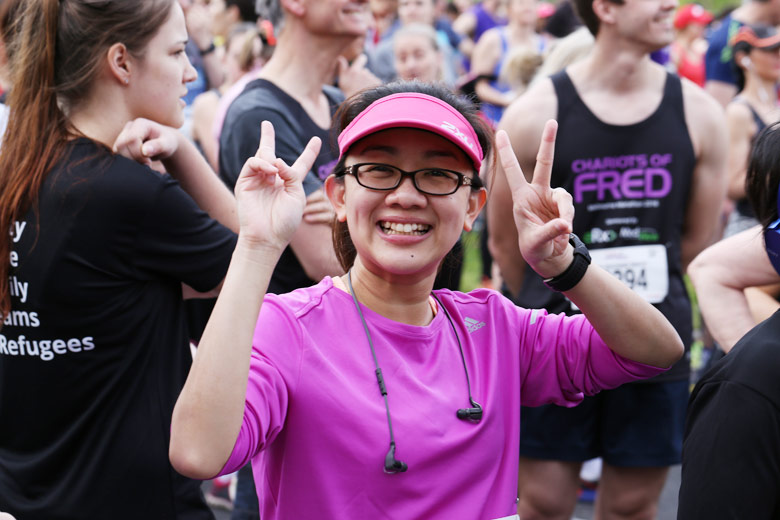 Race day conditions were perfect. It wasn't warm but it wasn't cold either. It was very windy the day before and some of that head wind continued on during race day, but it was tolerable. It was an overcast day with threats of rain but not a drop fell out of the sky throughout the entire marathon.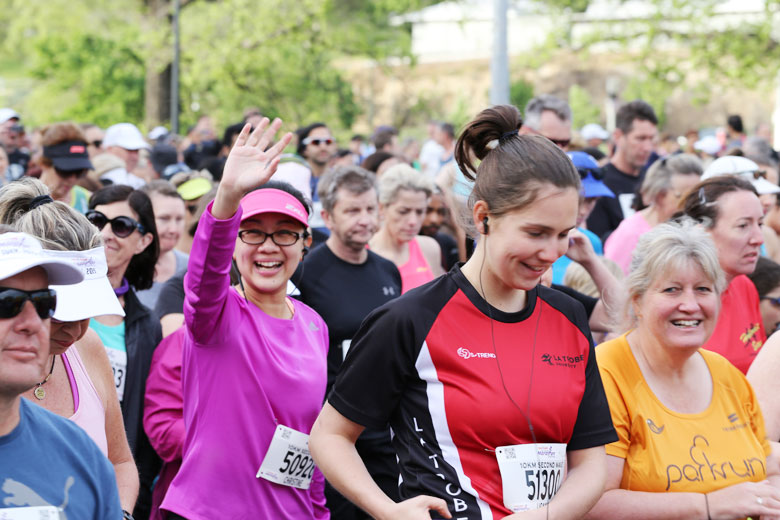 The atmosphere at the race was absolutely fantastic. Strangers were cheering strangers, motivating them to keep going. I high-fived a lot of kids during the run, ate a jelly snake handed out by a lady giving out free sweets to runners and laughed out loud at many of the motivational signs people were carrying (one said "Imagine Liam Hemsworth waiting for you at the finish line holding a puppy". Another said "it's a lot of work for a free banana". Mind you, I didn't even get a damn banana. 😛 )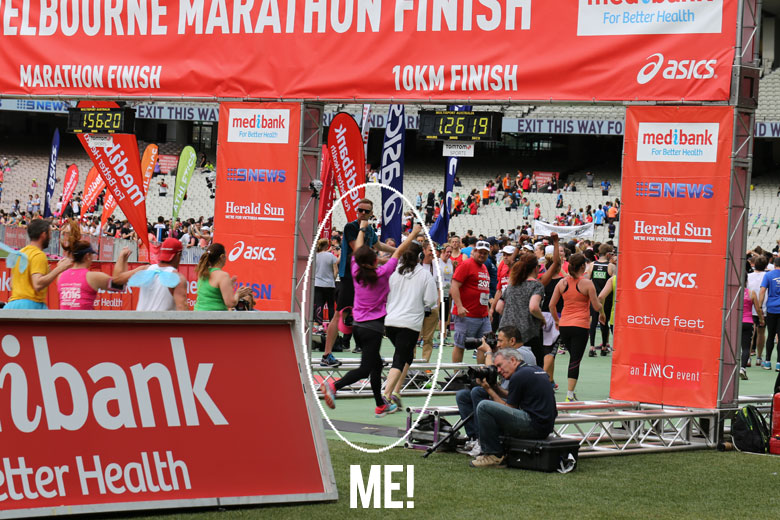 I was pretty tired by the time I hit the 8km mark but I could see the Melbourne Cricket Ground (MCG – where the finish line is), so I pushed myself with whatever fuel I had left. When I finally entered the MCG, oh, hearing the cheers from the crowd and seeing the finish line, seeing Tim waiting for me close to the finish line, I sprinted as though my feet was on fire. 😛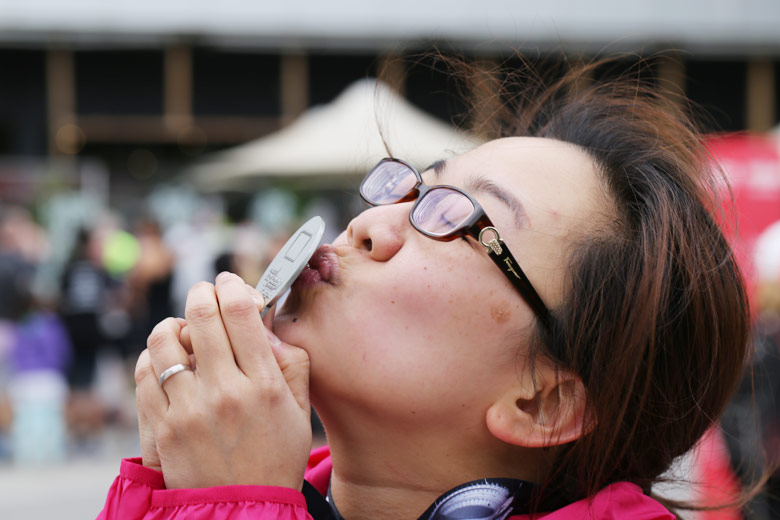 Even though my pace wasn't as good as I expected, I'm so glad I ran the 10km race. This is why runners are addicted to running; that high feeling you get when you've reached the finish line … I can't even describe how freaking awesome it is. The energy of the race, the cheers you get from strangers, giving your all as you shout "YES!" when you reach the finish line … that's why I do this.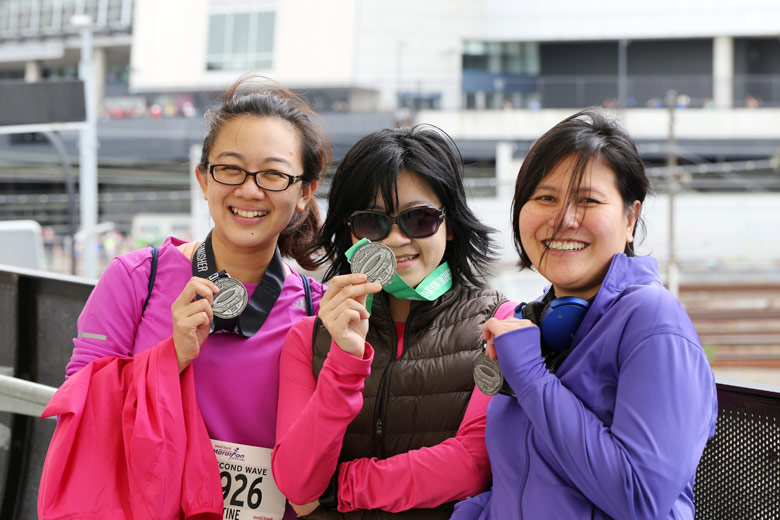 The best part of the run yesterday was running it with Norlin and LeGeeque. Norlin and I ran the 10km and LeGeeque did her first half marathon. Even though we weren't running together, it was motivation enough that we were running the same race. After Norlin and I had finished our 10km, we waited for LeGeeque to enter the MCG and screamed ourselves silly cheering her on as she reached the finish line.
I have another 10km race coming up in December, and that will be my last race of the year. Next year, I'll be training for the 15km race and hopefully, by the time I hit 40, I'll be able to run the half marathon. Fingers crossed, eh? 🙂
Ahhh … someone bring me down from the clouds now. I'm still high as a kite. 😛
Are you a runner too? What was your first race like? If you've never run a race before, I can't recommend it enough!