As a beauty blogger, are you encountering any of these from brands, PRs and potential advertisers?
Are brands and potential advertisers reaching out to you?
Are they asking for your blog's monthly statistics?
Are they asking if you write sponsored posts on your blog?
Are they requesting for a copy of your media kit?
Are they requesting for a copy of your rate card?
If you're not sure or have no idea what a media kit and a rate card are and how the heck to create them, well, this ebook is for you!
Introducing Beautyholics Anonymous' newly updated and improved ebook – A Beauty Blogger's Media Kit.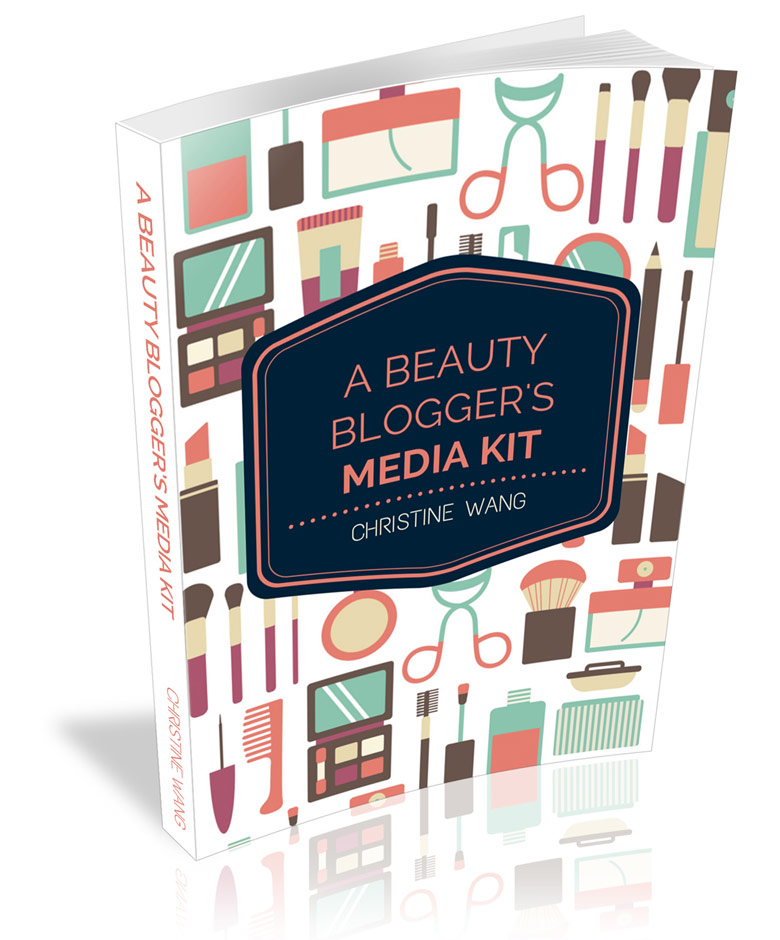 Here's a look at what the ebook offers
What is a media kit?
Why do you need a media kit?
What is in a media kit?
Social media the heck out of your media kit
Services you provide Writing the media kit
Okay you've created an awesome media kit. Now what?
Exercise common sense Example of a media kit
Let's talk about rate cards
What goes in a rate card?
How much do I charge?
How to create a rate card?
Get your terms and conditions in order
Invoicing
And so much more!
Here's also a little sneak peek of what's in the book: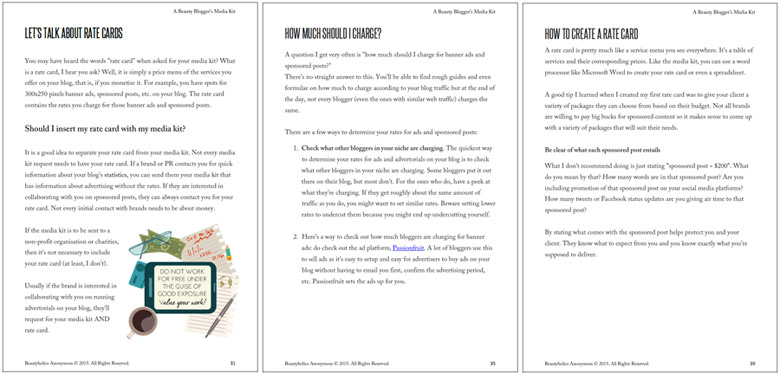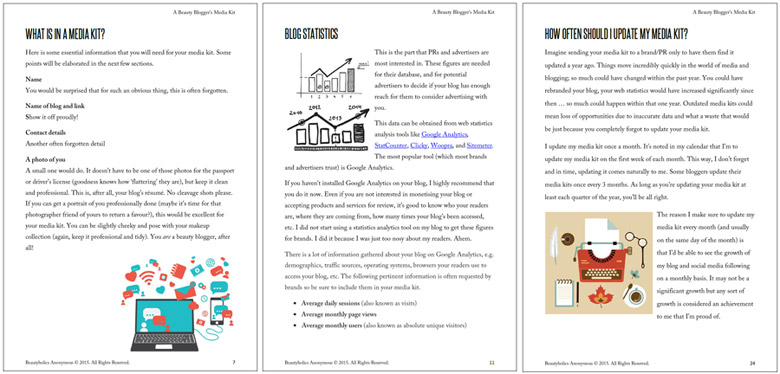 As it's not a physical book and I can't actually flip the pages of the book to show you, here's me (well, my finger) showing you how it would look on the iPad!

This video doesn't show the whole book. There are over 50 pages!

How does this ebook differ from the original A Beauty Blogger's Media Kit? This new book contains a whole lot more content compared to the previous one (at least 50% more). It contains updated information and new chapters on rate cards that the previous book does not have.
Here's how the ebook can help you:
It will show you what exactly you need to include in your media kit (essential information, the type of web stats you need to include, etc)
It will guide you on how to style and format your media kit.
It will give you an example of how to introduce yourself to new brands and PRs that you'd like to potentially work with along with showing them your media kit. And how NOT to do it.
It will tell you what rate cards are and how you can create one.
It will guide you on setting your rates for sponsored content on your blog.
It will give you very important tips on setting terms and conditions for your sponsored gigs.
It will set you up with a fabulous media kit without taking hours and hours so that you can continue to create your great content.
Here's how the ebook cannot help you:
It cannot give you 100% guarantee that you will score plenty of sponsored gigs.
It cannot make you a gazillion dollars.
It cannot auto-magically turn your blog into an instant success just like that *snap*.
But what it can do is help you build your media kit and set you up with a worthy rate card when you work with brands. It will help you showcase your blog that you've worked so hard on. The rest is up to you!
Do you need a special reader to read the book? Nah. The book comes in PDF and all you'll need is a PDF reader like Adobe Acrobat Reader. You'll be able to read this on your computer, tablet and even phone.

Here are what some of my favourite beauty blogger pals have to say about the book:

CHRISTINA @ HAIR ROMANCE
"A media kit is your blog's CV. Even if you have just started blogging, you need to write one. Tine covers everything you need in a media kit, plus what to do with it. Her tips for working with brands and PRs are perfect for any blogger and will help set you up for professional success."

PARIS B @ MY WOMEN STUFF
"Although titled 'A Beauty Blogger's Media Kit' this book is an invaluable resource for any blogger who is serious about taking their blog to the next level. Tine succinctly covers the what, why, when and how of preparing, writing and sending your blog media kit and engaging with PR and brands. Written in a simple to read and engaging style, the Beauty Blogger's Media Kit will set you on the right track to giving the right impression of you and your blog. It'll be the best US$9.95 you'll spend on your blog!"

LING @ THE BEST BEAUTY BLOG
"Every beauty blogger (and their dog!) needs to get their paws on A Beauty Blogger's Media Kit! This ebook is a highly informative guide into creating your media kit which is essential if you want to take your blog to the next level. This can open up doors to working with brands where they send you products for editorial consideration and / or they choose your blog for a sponsored collaboration. With a fantastic media kit to match your fantastic blog, the blogging world is your oyster! Tine is virtually holding your hand every step of the way so what are you waiting for? Run, do NOT walk!"

NORLIN @ BAUBLES, BUBBLES & BAGS STYLE FILE
"A Beauty Blogger's Media Kit has a comprehensive list of do's and don'ts that will help not only newbie bloggers but even bloggers who have been at it for a long time. It really opens up your eyes on things you might have missed or not know you should include to make your media kit a much more informative piece of document."

YISHAN @ YISHAN CHAN PHOTOGRAPHY & BEAUTY SWATCH
"Media kits are a topic that is rarely explored in the depth of detail that Christine covers in her ebook, written in her signature style that's informative and personable. This ebook will boost your confidence in writing a standout media kit from the get go."
How to pay:
Just click on any of the BUY IT NOW buttons on this page and it will bring you to the shopping cart.
Payment is done securely via PayPal and you don't even need to sign up for an account to use PayPal.
Once you've paid, you will receive two emails from Beautyholics Anonymous along with your receipt.
The book will be available for instant download.
If you have any problems, please email Tine at tine@beautyholicsanonymous.com.

Have fun creating your media kit. Remember to show your awesome blog off!
Here's to your blogging success!