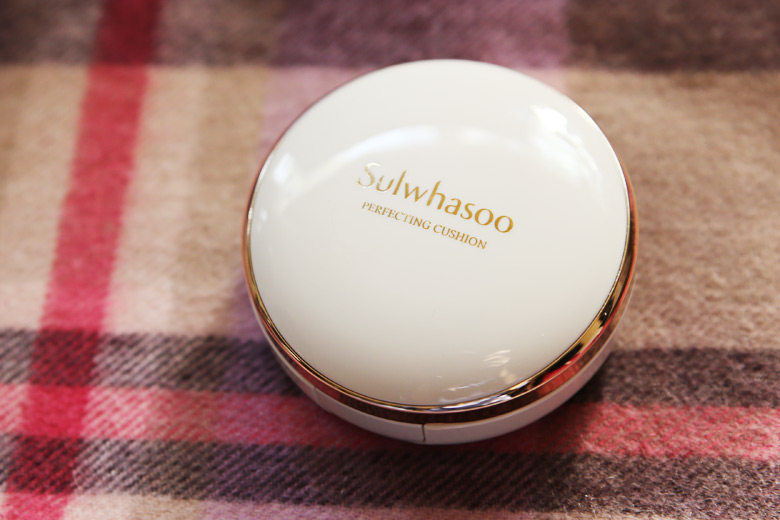 Cushion foundations are all the rage now and it's no wonder why. It's easy to use, it's relatively mess-free and it looks very natural on the skin. The Koreans really know what they were doing when they came out with this concept, huh? Heck, even Western brands like L'Oreal Paris, Lancome, Mecca Cosmetica, Bobbi Brown have come up with cushion foundations of their own.
It's funny how I actually didn't like cushion foundations before I stumbled upon Sulwhasoo's Perfecting Cushion. I didn't like the uber popular IOPE Air cushion foundation (claimed to be the cushion foundation of all cushion foundations, based on the rate and high number of sales). It wasn't my cup of tea at all. At first, I blamed myself for not applying the product properly; instead of patting the product in, I swiped left, right and centre. But even after I started doing it correctly, I still didn't like how moist my skin looked. It was just too dewy for my liking. Because of that, I decided that I didn't like cushion foundations after all.
Right … where's that humble pie, because this woman's gotta eat a slice of it. 😛 When I tried this cushion foundation by Sulwhasoo, I fell head over heels in love. It's been a couple of months since I've touched liquid foundations; that's how much I love this one. When I used what was once a favourite liquid foundation of mine, I was shocked when I found out how dry it made my skin look. I hadn't experienced that before with that liquid foundation. I guess I really got used to how dewy and naturally radiant my skin look like now with this cushion foundation.
Anyway I digress. Let's talk about what the Sulwhasoo Perfecting Cushion is about and why I love it so much.