This year marks my 8th year as a beauty blogger but I've actually been blogging for longer than that. Although I'm not formally educated in computer science and IT, after going through years and hair-tearing moments of coding and techie things, I'm proud to say I'm pretty all right when it comes to working with blogs and, well, techie things.
I've helped a number of friends set up their blogs in the past with transferring of domains to webhosts, WordPress installation and so on that I thought I'd open up my services here too. Now you've heard me go on many times that I shouldn't work for free (goodness knows how many people have told me not to work for free!) and as all of these do take up a good portion of my time, I can no longer do this without charge. However, it's important to me that I make my services as affordable as possible to you too so if this is something you're interested in, please read on.
If you're looking to set up a new blog, transfer your old blog from Blogger, Tumblr, etc to WordPress, install WordPress and transfer all of your existing content from your old blog to the new one but don't have the time to do so, I'm here to help. If you're having any trouble with your blog at all, need to troubleshoot it but don't have the time nor energy to do so, I'm here to help.
Services
Here's what I can offer you:
DOMAIN TRANSFER
Transfer of a purchased domain name (purchased via Godaddy.com, Blogger, WordPress.com, etc) to a hosting provider. (I highly recommend Hostgator)
If you need help purchasing a domain name or hosting provider, I can order them for you on your behalf.
The package price does not include the purchase of domain name and hosting plan. As an estimate, a domain name is usually less than $20 a year depending on the type you're going for (.com, .net, .org, etc) and the hosting plan can start from US$4/month).
INSTALLATION OF WORDPRESS
Installation of the latest WordPress version.
Instructions on how to upgrade when the latest version is available.
INSTALLATION OF NECESSARY PLUGINS
Installation of popular and useful plugins.
Plugins included are Akismet, Google Analytics Dashboard, CommentLuv, Google Analytics for WordPress, Google XML Sitemaps, nRelate Related Content, an SEO plugin, a contact form plugin, social media plugin, mobile theme plugin, etc.
If you would like me to install any specific plugins for you, please let me know.
I use WordPress' standard commenting system as it works just fine but if you'd like me to install 3rd-party commenting systems like Disqus or Lifefyre, please let me know.
IMPORT OF CONTENT FROM EXISTING BLOG (if necessary)
Transfer of your blog from Blogger or WordPress.com to your new self-hosted WordPress blog.
All content from your existing blog will be imported to your new blog. This includes the blog entries, images and sidebar content.
Redirection setup from your existing blog to the new one. Anyone who lands on your old blog link will automatically be redirected to the new one.
BASIC THEME & CUSTOMISATION SETUP
A basic WordPress theme will be installed. I'll transfer your current logo/header and colours as your starter theme.
All of your existing content on your sidebar, footer etc will be transfered from the existing blog to the new one.
If you've purchased a premium theme that you'll like to use for the blog, I'll be happy to install the theme along with your existing content for you.
At the moment, I'm not offering customised theme designs. However, after prior consultation of specifications on existing themes, I may be able to build upon the theme (any modifications that require a significant amount of time to work on will incur an additional charge).
WIDGET SETUP
Setup of basic widgets, e.g. links to social media platforms like Twitter, Facebook, Instagram, Pinterest, etc.
If there are any specific widgets you'd like me to install on the blog, please let me know.
GOOGLE ANALYTICS SETUP
I highly recommend setup of Google Analytics on your blog from the get-go as it will be able to track your web statistics from day 1. If you have a Google account, I can install Google Analytics on your blog.
FEED SETUP
As Feedburner's APIs continue to be discontinued, you will not be able to use Feedburner to deliver your blog updates via email anymore.
If you would like a similar service, please check out services like Feedblitz or Mailchimp. Please bear in mind that these services may be free to begin with but when your traffic increases, you will be charged a fee. I'm currently using Feedblitz for Beautyholics Anonymous. This package does not include these services.
However, if you have already purchased any of these services and would like me to install them on the blog, please let me know.
EMAIL SETUP
If your webhost has allocated you free email addresses with your domain, I can set up the email addresses for you.
SOCIAL MEDIA ICONS
These packages include a set of 120 social media icons that I've created.
If you'd like me to add these social media icons on your blog (sidebar, footer, etc), please let me know.
TECHNICAL SUPPORT
This package includes 30 days of technical support via email.
This will ensure you have everything up and running smoothly before and after you've launched your blog.
LEAD TIME
Lead time of each blog's setup varies from site to site. It can range from 24-48 hours to do the installation. If you're starting from scratch and would like to transfer your domain from a free webhost to a paid webhost (e.g. Blogspot to Hostgator), propagating of DNS alone can take up to 72 hours (depending on the webhost). For WordPress installation alone, it shouldn't take more than 3 business days. This time frame is subject to change as it will also depend on the number of projects I'm working on. Please contact me for a specific time frame on when you'll need your website to be up and running.
TESTIMONIALS

PARIS B @ My WOMEN STUFF
"While I'm not unfamiliar with the back-end of WordPress and coding, I needed someone who could help me switch the theme platform and implement what I needed to have my blog looking the way I wanted, without my having to tear my hair out, or costing an arm and a leg. Tine did all that, and more, by making it as painless for me as possible. She kept up regular communication as work progressed, and was receptive to suggestions, tweaks and new requests as the design progressed. I'd unhesitatingly recommend her for your blogging back-end needs! "

YISHAN @ BEAUTY SWATCH
"When you run a blog on your own, it's easy to feel overwhelmed by all the things you need to know to run a website that looks half decent in this social media savvy era. When it comes to the technical side of blogging I found it isn't always worthwhile fiddling with things outside of your comfort zone when your mind is already pre-occupied with 101 other things relating to your site launch. I enlisted Tine's help in migrating my blog from Blogger to WordPress in 2011, and then a mini facelift for my mobile site in 2013. It took a huge load off my shoulders so that I could concentrate on other things that couldn't be outsourced. I found Tine to be reliable, easy to deal with and her packages are affordable too so it won't break your blogging budget. I can't think of a lovelier person to trust your entire blog to."

ROSE @ EVERY LITTLE POLISH
"Tine's services were invaluable in transferring my blog from Blogger to WordPress. She was extremely professional and helpful, walking me through each step of the process, and made the entire experience hassle-free. The blog transfer was done in a matter of days with minimal downtime, saving me the stress of trying to do it myself. I was particularly grateful for the effort she went to to help me fix glitches in my template and other backend issues which she noticed during the transfer. The service she provides is great value for money, and I wouldn't hesitate to recommend Tine to anyone looking to transfer their blog to WordPress."

JESS @ MISS J SHOPAHOLIC
"I couldn't have done it without Tine's help! She made the move from Blogger to self-hosted WordPress so seamless and easy. She listened to all my requirements and answered all my questions with such a professional "can do" attitude, always giving me thoughtful feedback regarding my choices. It really just amazes me that she could take my vague ideas and turn them into something tangible and spectacular! Working with Tine was lots of fun and I can't recommend her enough. Many thanks again, my new website looks fabulous!"

VAL @ PONIKUTA
"Tine is super quick with responses, always on the ball with minute details and generously offering a wealth of advice when I am often lost and confused with all the technical jargon. I'd say 80% of the time Tine probably spends her time patiently explaining the jargon in layman terms for me and me firing away questions after questions."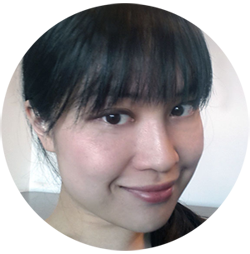 MICHELLE @ LABMUFFIN
"I can handle a little bit of HTML, but the task of moving from Blogger to WordPress was too overwhelming for me to deal with by myself. Tine made the experience incredibly painless – she made sure everything went smoothly from start to finish. She was a dream to work with, answering all my questions quickly and patiently, even when I was sure they were stupid questions. No request was too big or small! Her pricing is extremely affordable, and her post-transfer technical support was invaluable. I'm pretty sure I'll be hiring Tine again!"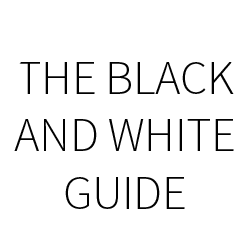 EBONY @ THE BLACK AND WHITE GUIDE
"A special thank you has to go to Tine from Beautyholics Anonymous for her hard work in making this vision possible. She is not only an amazing blogger, but has been the woman getting this all done for me behind the scenes. We emailed back and forth for weeks, deciding on themes, buying the domain and hosting, setting it all up and bringing it to how it is now. She is an absolute gem and I owe her everything! If you're as technically stupid as I am and wanting to set up a blog online I highly highly highly recommend checking her out – her details are here and she is so calm, patient and friendly – an absolute godsend."
PRICE
Not everyone's needs are the same so I've divided these services into 3 packages. Feel free to choose what suits you best.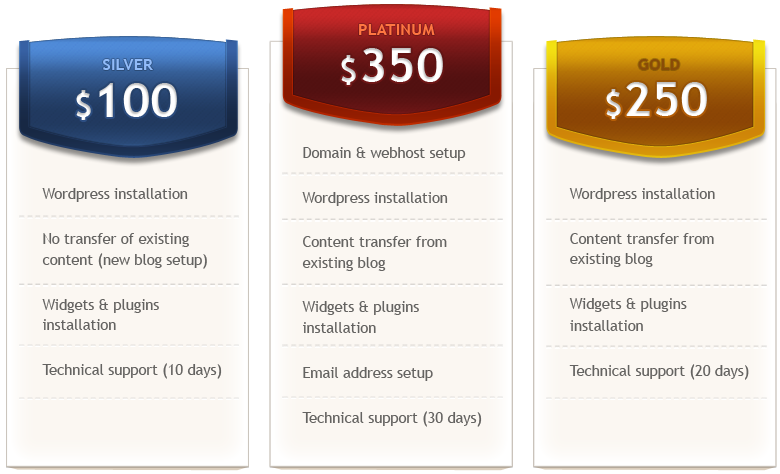 All prices are quoted in Australian Dollars. Prices do not include the cost of the domain, lease of webhosting space and premium themes.
I also offer blog troubleshooting services which are charged by the hour. As for full blog design, if this is something you're looking for, please contact me and we can discuss further. Again, this will also be charged by the hour.
HOW TO GET STARTED
Easy! Just contact me with your desired package and specifications. I'll get back to you a quotation (if you need more work done on the website) and invoice.
Payment is accepted via PayPal.
Next, I'll email you with a list of questions for information I'd need to get started on your blog.
Please email me at tine@beautyholicsanonymous.com if you have any questions. Remember, there are no silly questions so just holler if you're unsure.
Looking forward to creating your new blog with you! 😀
Last revised: 26 February 2014