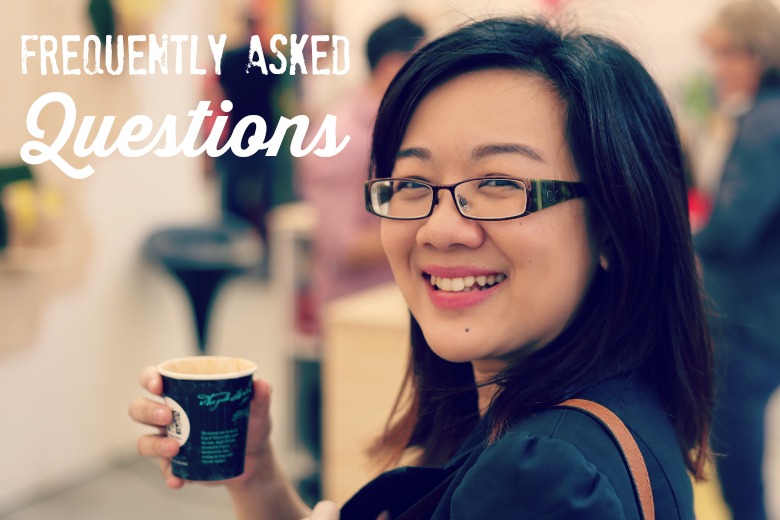 This FAQ page will be updated from time to time without prior notice. I'll answer more questions when I get a lot of similar ones!
How do you pronounce your name "Tine"?
Even though this isn't a frequently asked question, people often get it wrong. I totally get it because I would get it wrong too if I'm seeing it for the first time. Tine is a nickname of mine, which is shortened from Christine. My family has called me Tine from the day I was born and when I was in college, friends spelled it "Tine" whereas for years I've always spelled it as "Tin". After trying to correct people one too many times of the correct spelling, I gave up and gave in to "Tine". It's pronounced "teen", like the second half of Christine. I'm not a fork. 😛
Where are you from?
I grew up and lived in Malaysia. In 2008, I moved to Melbourne after I married my husband, Tim, who is a resident of Australia. I now call Melbourne home.
How long have you been blogging?
In May 2015, I celebrated Beautyholics Anonymous' 8th anniversary!
What camera do you use for the photos on your blog?
There are 3 cameras I use for the blog: a Canon 6D with a Tamron SP 24-70mm F/2.8 Di VC USD lens, a Panasonic Lumix LX5 (mainly for close-up, macro shots of beauty products) and my phone, which is currently the Samsung Galaxy Note 4.
What blogging platform do you use for your blog?
I use self-hosted WordPress (not the free WordPress.com). If you're familiar with my Bloggie Wednesday series on the blog, you'll see that I'm an advocate for WordPress, especially when it's self-hosted (i.e. I "rent" server space from a webhost. I use Hostgator* and highly recommend it). It gives me a lot of control over my blog and given that I'm such a control freak, it's right up my alley.
What is your skin type?
I have combination skin. My cheeks and chin are often dehydrated and I get dry patches every now and then. I have an oily T-zone with very oily eyelids. I also have a lot of redness around my nose.
What is your skin shade in case I'd like to buy a foundation based on your recommendations?
Based on MAC foundations, I'm a NC35. I'm usually in the Beige range for all other foundations. Which is quite unfortunate because I don't think I'm really all that bland. 😉
What's the big deal about blush? Why do you love it so much?
I only started using blush properly 6 years ago. Before that, I used to apply blush with such a light hand that it made absolutely no difference to my face whatsoever. It was during my first trip to Mecca Cosmetica that I learned what bright blush and the proper way of applying it can do to your face. A bright lip colour on a pale face can make the face look even more drained but a beautifully applied blush gives such a fresh and lively appearance that can transform the entire look.
I love that [insert name of beauty product] that you reviewed! Where can I buy it? Do you sell it? Can I buy it from you?
Each product review will let you know where you can buy the item. I'm afraid I don't sell beauty products on Beautyholics Anonymous (unless I explicitly say so) and no, you cannot buy it from me. Sorry!
Are there any particular beauty products you don't use and won't blog about?
Tanning products. I don't use them, which means I will not write about them on the blog. I've got nothing against self-tanning; it's just not for me. I don't blog about false eyelashes either, although that's mainly because I can't seem to get those damn things on!
Revised: 16 June 2015.
This page contains an affiliate link. By purchasing something via our affiliate links (at no extra cost to you), you're supporting Beautyholics Anonymous, which we highly appreciate.