A BEAUTY BLOGGER'S MEDIA KIT
Are brands and potential advertisers reaching out to you? Did they request for a copy of your media kit? Any idea what it is and how to create one?
Well, if you answered Yes, Yes and No, this ebook is for you!
Introducing Beautyholics Anonymous' very first eBook – A Beauty Blogger's Media Kit.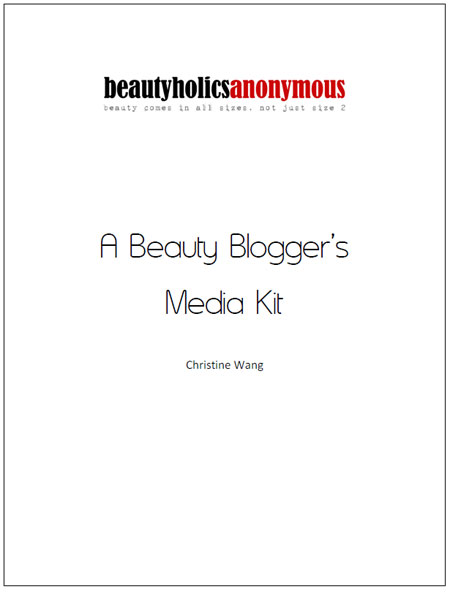 Here's a look at what the ebook offers:
What is a media kit?
Why do you need a media kit?
What is in a media kit?
Contact details
Blog statistics
Social media the heck out of your media kit
Services you provide
Testimonials
Writing the media kit
Okay you've created an awesome media kit. Now what?
Exercise common sense
Example of a media kit
There's no charge for this ebook. Yes, you heard me right. It's FREE to download. I'm just sharing my knowledge with the blogging community. Feel free to share the ebook with your bloggie mates! 😀
To download, right click on the link below and choose "Save As" or "Save Target".
Please note that the text file is in a PDF format, so you will need Adobe PDF Reader to view it and print it. You can get the reader for free at Adobe.com. Once you've read the eBook, let me know what you think!