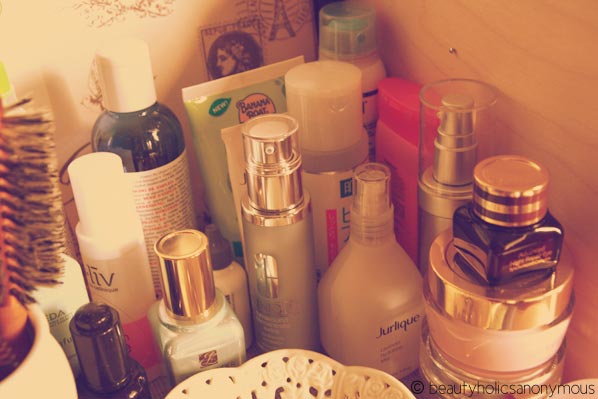 Random musings of the life of a beauty blogger. It's not as glamourous or interesting as you think 😛
I sneak pictures of makeup counters on my phone (turned to silent) for the blog or Twitter.
I carry wet wipes in my purse, solely for the purpose of removing swatches of makeup on my hands and arms.
I swatch nail lacquers only on my left hand, leaving my right hand to snap the photos with a camera. After swatching, remove with nail polish, swatch another.
My Face-of-the-Day posts for a few weeks are normally taken on a single day when the lighting is good.
I ply on pretty makeup during the day, take photos of it for an FOTD shoot, and then remove all of it to put on another set of makeup for another FOTD look.
Any makeup I buy or receive cannot be touched until photographed.
Packaging of beauty products cannot be discarded until the ingredients have been photographed (or at least jotted down).
All beauty products are positioned at an angle for artsy-fartsy shots.
Trialing skincare means I hardly use the same facial wash, moisturiser, serum, etc for more than 2 months (unless they've achieved Holy Grail status). The problem with this is that I also break out easily. My dad calls me "the idiot guinea pig for people". Well to that I say, it's for the people! *shake fists*
Overcast days doesn't mean gloomy weather, it means it's a good day to photograph oneself outdoors.
I have a text file on the computer which says Blog Drafts, with heaps of half-written topics, and I still claim to have bloggers' block.
IKEA and Officeworks are places to go to, not to buy furniture, but for storage solutions for beauty products.
Beauty products (at least a few lippies, nail polish, a jar or two) are always present on my desk.
Was lousy at Chemistry in school, can't remember what most chemical formulae are and do, but know many important skincare ingredients by heart.
I've never been interested in photography until I started beauty blogging. Now I want the latest DSLRs to create those gorgeous artsy-fartsy shots I covet on other blogs.
I can spend up to 3 hours working on just one post, and well into the night. Beauty bloggers don't get much beauty sleep.
I dream of making money out of the blog, and saw that I made 12 cents from Google Ads today.
Are you a beauty blogger too? What else do you do? 😉
Bloggie Wednesdays
is a series of articles just on blogging. They contain tips, how-tos, discussions about anything and everything you need to know about blogging and how we can be better bloggers. If you have any suggestions, tips and tricks about blogging you would like to share with us, or if you have any questions you would like me to address, please let us know in the comments.