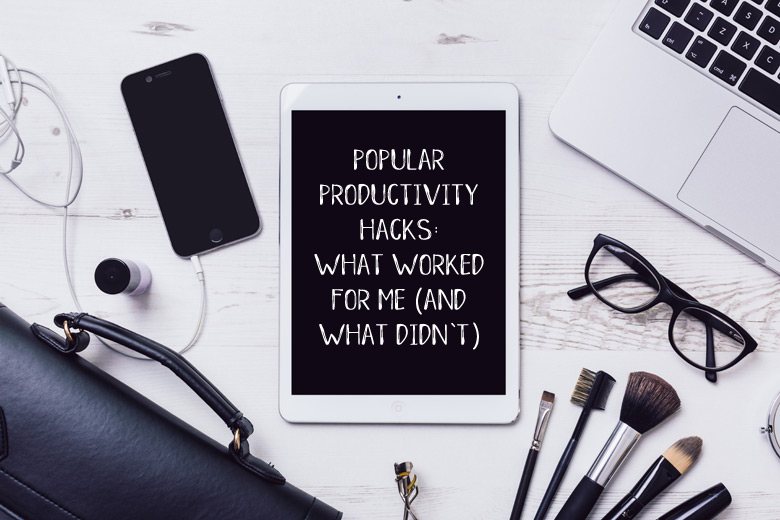 I'm a sucker for productivity hacks. I enjoy listening to podcasts on productivity. Websites like Lifehacker and even Pinterest have become my evening guilty pleasure. Ever since I learned and mastered the very first productivity hack that is the Pomodoro technique, I'm always on a lookout for more even if some of them actually made me less productive.
But what the heck, it was all part of the fun of experimenting, eh? 😛
There's a podcast on productivity hacks that I enjoy listening to, and that's Straight and Curly by Carly Jacobs and Kelly Exeter. There's an episode on popular productivity hacks that they've tried and hated, which I thought was very interesting. I thought I'd share the productivity hacks they mentioned that I've tried and what actually worked for me as well and what didn't.
A number of the "hacks" mentioned in the podcast didn't seem like they had anything to do with productivity (sleeping nude and brushing your teeth in the shower? Huh?) so I won't be touching on them. I've added a few of my own too that I've tried and liked/disliked. When it comes to productivity methods and hacks, I'm all for it!
Pomodoro technique
What is it: The one where you set a timer for 25 minutes, work to your max during that time and take a 5 minute break after that.
Did it work for me: Yes. This was a major time saver and a productivity booster. During the 5 minute break, I leave the desk and do other things like tidy up a corner of my home office or even whip out the yoga mat and do low-impact exercises. Basically anything to get me the heck away from the desk and computer is good.

Bullet journaling
What is it: The next big thing in the planner and productivity community. It's a method of planning and journaling your day. All you need is a notebook and a pen. You can check out the original Bullet Journaling video here.
Did it work for me: The original method didn't work for me at all. I kept having to refer to the key; all those symbols were confusing and made no sense to me. Instead of symbols, I tried colour-coordinating with multi-coloured pens instead (e.g. red for important tasks, pink for blogging tasks, green for home tasks and so on). It worked for a while but I got bored with the system because there was a lot of duplicating of tasks that weren't completed the day before onto the next day. In the end, I adapted a part of it into my current paper planner and made it my own. My current method works just nicely for me. You can check out more examples of my weekly planner layout on my other Instagram account, @closetplanneraddict. The structure I'm currently using helps me to plan my days much better and in turn, increased my daily and weekly productivity significantly.
Habit-building apps
What is it: These are apps that help you build a habit and stick with it.
Did it work for me: I've tried habit-building apps like Streak and Habitica. I've even tried the old school way of logging habits I want to build in my paper planner. They always start off with the best intentions but a week down and I gave up. I either cheated on the apps (e.g. Habitica where they gamify your habit-building experience. I cheated just to win XP points. Not the right way to go but I want to win! 😛 ) or I forgot I had to do them. The app Streak started off well until I broke my streak after a week and had to go back to square one. I got so frustrated that I deleted the app there and then. As for if they helped to increase my productivity, I'd say not one bit.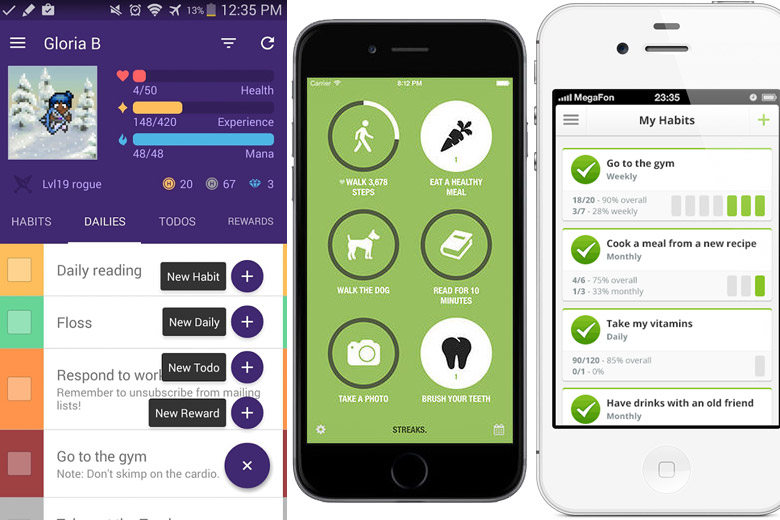 Working at a standing desk
What is it: These are elevated desks that make you stand instead of sit in front of it. The problem with working in front of the computer is that we tend to spend so much time seated in front of the computer for hours on end that we forget to get up, stretch, walk about, etc. Standing desks are popular these days and there are companies that sell desks that can be manipulated to sit or stand.
Did it work for me: I've actually never had a standing desk but I have tried working while standing up. Standing desks are expensive to begin with so I tried this method out by stacking a box on my current desk and used my laptop on the box. As much as it helped me not to sit for such long periods of time in front of the computer, I don't like it. My back felt strained and because I was already standing up, I had the tendency to move around the room, picking stuff up and putting it away instead of concentrating on my work. Suffice to say, the box went to the recycling bin fairly quickly.
Not checking email first thing in the morning
What is it: Emails have become a necessary evil in our lives, dominating our days and even nights with requests from people left, right and centre. Productivity experts and many entrepreneurs recommend not checking emails first thing in the morning and only checking them in the afternoon, or just 1-2 times a day.
Did it work for me: Nope. While I don't check social media the first thing in the morning anymore, I do like to do a cursory glance at my phone and see what emails have come through during the night. I leave my Gmail tab on the browser permanently. I don't reply emails immediately but I do go back to the webpage every few minutes just to see what has come in. It's a habit I've developed ever since I started working many years ago. I seldom get urgent emails that I have to reply right away these days so checking email first thing in the morning doesn't bother me nor disrupt my day. Emails that are important but don't require my immediate attention can wait till midday as that's usually my designated time to reply emails.
The Kanban method
What is it: A Kanban board is a work and workflow visualisation tool that enables you to optimise the flow of your work. Physical Kanban boards typically use sticky notes on a whiteboard to communicate status, progress and issues of projects. Online Kanban boards use the same method. A good example of an app that utilises the Kanban method is Trello.
Did it work for me: It did, for a while. I didn't have a whiteboard so I used Trello for my Kanban board. I originally used it for my editorial content. I would have 3 sections: To Write, Writing In Progress and Published. I'd have "cards" with blog post ideas on the "To Write" section and when I've started writing any of those ideas, I'd move them to the "Writing In Progress" section. Each time I published a blog post, I moved the card to the "Published" section. This method worked for me for a while until I realised I'd forgotten to shift the cards to the right spots. After a while, I gave up and went back to my good ol' notebook and pen.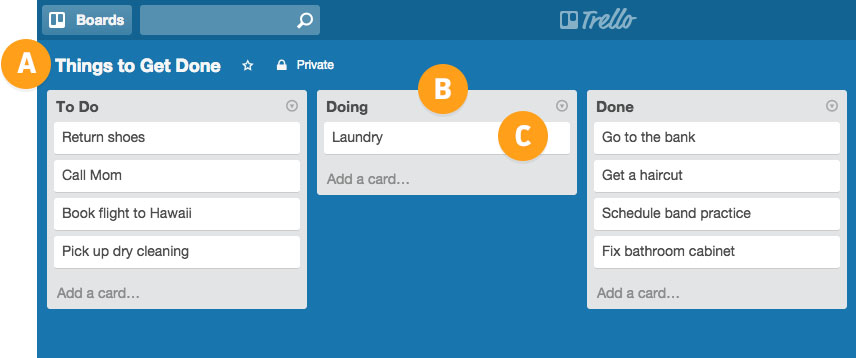 Writing a gratitude journal
What is it: Instead of journaling your day, a gratitude journal is where you write down the things you're grateful for. This can be done either first thing in the morning or just before you go to sleep.
Did it work for me: Unfortunately, I gave up on this in less than a week. There's a popular journal called the Five Minute Journal that was created by UK Ramdas, Alex and Mimi Ikonn. I didn't want to buy one so I adopted the format in a blank notebook. It started out fine but I realised I was pretty much writing the same things over and over day after day. It wasn't long before I found that gratitude journals aren't for me. This doesn't mean I'm not grateful for the blessings I've had. I do that in my nightly prayers before bed. For someone who enjoys writing and journaling, I'm surprised at myself for preferring not to have to write them down.
Mindful meditation
What is it: Mindful meditation is when you take slow and deep breaths, concentrating on taking those deep breaths and when the mind wanders off, you slowly bring it back to concentrating on those deep breaths. It can range between a 5 minute meditation to a 30 to even 60 minutes long one.
Did it work for me: Yes. Mindful meditation doesn't have to be a religious thing. When I told my Christian friends and family that I enjoy mindful meditation, they looked at me in horror because they thought I've "gone over to the dark side" *roll eyes*. It's a different sort of meditation and for me, it's not a religious exercise. I don't chant. I don't listen to any sort of religious music when I meditate. The guided breathing exercises helped me tremendously in dealing with stress and anxiety. When my mind is full of thoughts and is racing a million miles an hour, especially before bed, mindful meditation helps me calm down quickly. It also helps me sleep better. I enjoy guided meditations so apps like Headspace and Calm work wonders. By helping me manage my anxiety levels, it also improved my productivity.
There are plenty of productivity hacks out there that I haven't even mentioned here nor tried. I've tried these methods and more and I can say that a lot of them didn't work for me.
At the end of the day, it's not important that you have to adopt all of these productivity methods. If only one method works very well for you, then you've got your perfect hack.
What's your favourite productivity hack? Have you tried any of these methods? What helps you to stay productive at work?