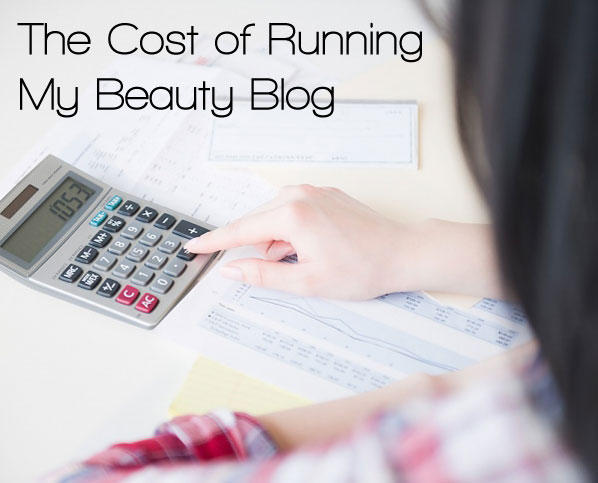 Tax season is upon us, so what better time to itemise my blogging expenditure, eh?

Tangible Costs:
Domain fees (~US$12/year)
Web-hosting fees (~US$120/year)
WordPress theme – Thesis framework (one time payment – US$164)
Image site subscriptions (~US$40/year)
Ebooks to learn more about blogging (so far, approximately $100)
Photography equipment – camera, tripod, lightbox, etc. (so far, approximately $600)
Artwork – fonts, Photoshop PSD templates, images (e.g. the ones I use for creating collages in the blog) (so far, approximately US$30)
Blogging conferences – entry fees, transportation, and sometimes accommodation (I think this came up to almost $1000, especially after the Australian Beauty Blogger Weekend in 2011)
The 863724129 beauty products I buy and services I try, all in the name of "research" (way too much to count!)
Intangible Costs:
Breakouts on skin from bad reaction to new beauty products
Time spent for research, photography and writing
Stress
Return of Investment:
Loyal readers
Support and encouragement from perfect strangers
Improvement in writing and photography
Improvement in people skills
Networking with people and brands, something I never thought possible years ago
Friendships
Skill-up in web design, HTML, CSS, etc
The satisfaction in being able to help readers and fellow bloggers out in whatever issues they faced.
(and more)
Conclusion:
People think I'm nuts to blog *almost* for free, especially with the costs involved. It's not cheap (and certainly not free) maintaining a blog.
Ultimately, the ROI is worth every cent.

PS: Please don't let the figures above scare you. It's just how I run my blog. You certainly do not have to spend that much to blog about your passion.
Bloggie Wednesdays
is a series of articles just on blogging. They contain tips, how-tos, discussions about anything and everything you need to know about blogging and how we can be better bloggers. If you have any suggestions, tips and tricks about blogging you would like to share with us, or if you have any questions you would like me to address, please let us know in the comments.