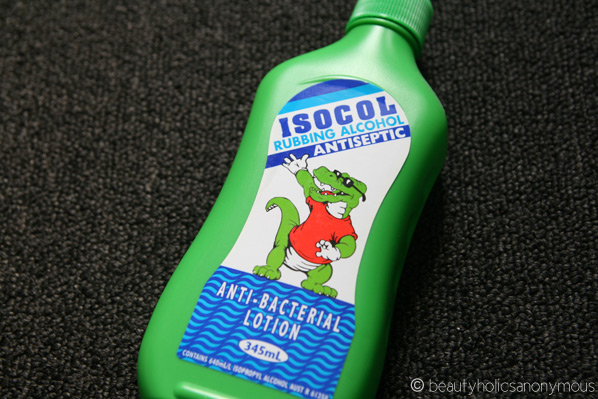 I think it was 3 years ago when I read somewhere that one should have a bottle of rubbing alcohol at home. I had no idea what it was at the time and thought nothing of it until not long after, blogs were swarming with tutorials on how to create your own pans of eyeshadows with pigments and mineral makeup. I was quite into mineral makeup back then, so I purchased a bottle of rubbing alcohol from Priceline to try my hand at potting my own eyeshadows.
As the bottle was quite big and fiddly, I decanted the rubbing alcohol into a small spray bottle to use. It smells like hospitals though; very Dettol-y and not at all pleasant.
Anyway, to cut the story short, I only did it once, got bored and never potted another eyeshadow again. The rubbing alcohol, on the other hand, had plenty of other uses that I'm still using it on a daily basis to this day.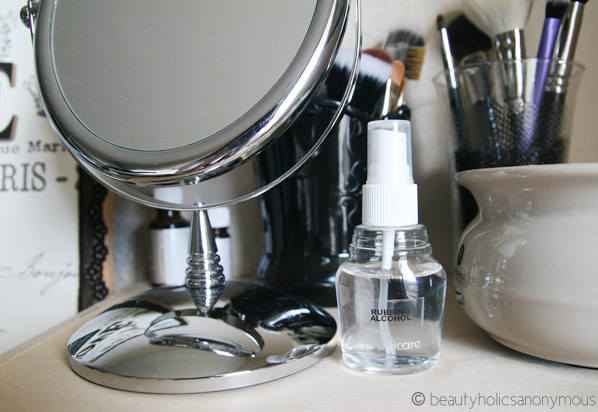 Clean the arms and the two plastic/rubber pads that rest on the nose of your glasses.
Clean your makeup brushes (if you're in a hurry, this works. Don't recommend just using rubbing alcohol to clean your makeup brushes though, as it's extremely drying to the bristles)
Sanitise your makeup brush handles.
Depot your eyeshadows (or fix broken eyeshadow).
Sanitise work surfaces.
Clean the backs of pierced earrings (I do this often)
Cleaning sticky residue off surfaces left from price tags.
Sanitise your mobile phone (again, another one I often do)
Clean mirrors
It's a good degreaser
What I don't recommend though is clean the metal bits of your eyelash curler with rubbing alcohol. I did it once to my Shu Uemura eyelash curler and the rubbing alcohol peeled the shine off, leaving patches of matte here and there. It didn't ruin the curler but it sure made it look ugly. It is, however, okay to clean the rubber with the alcohol (spray tissue with the alcohol – do not soak the tissue – and give it a good wipe). I don't know if this was just one-off though; I had no problem cleaning any other metals.
There you go, something useful to keep in the house. There are many uses to the rubbing alcohol. Just don't add it to your drinks, yeah?