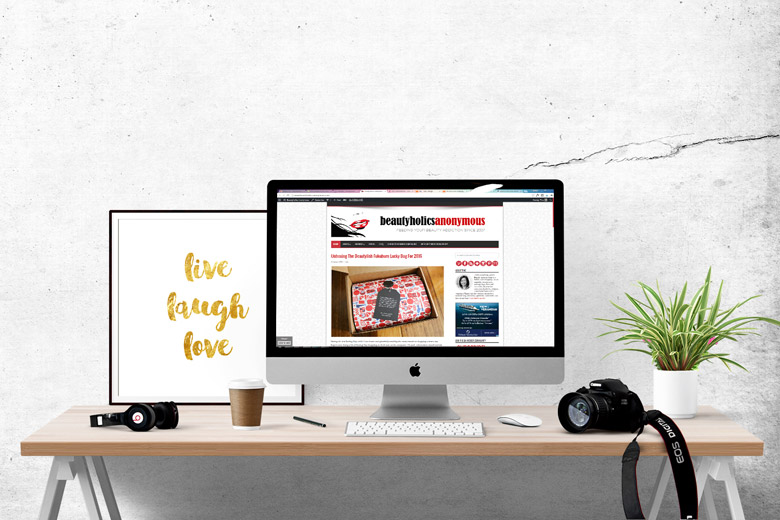 Yeah I wish my desk setup looked like this!
Have you noticed that some blogs have months and days in their URL and some just has the title or words that are part of the blog post's title in their links? For instance, my blog posts' URLs have the year and month each respective post is written on. Only my pages (e.g. About Me, Press, Archives, etc) don't contain the year and month in the links. And then there are blogs that don't have any sort of time line in their blog posts.
For example:
Permalink with date: http://www.beautyholicsanonymous.com/2016/01/olay-regenerist-micro-sculpting-uv-cream-moisturiser-spf30/
Permalink without date: http://www.beautyholicsanonymous.com/olay-regenerist-micro-sculpting-uv-cream-moisturiser-spf30/
So when it comes to your blog, which is better? Is it better to put a date in your permalinks? Or is it better to remove the dates and have the topic of the content as part of the link?
The simple answer is this: if your content is evergreen, then you don't have to add dates to your permalinks. If your content is time-sensitive, then it's recommended to include dates in your permalinks.
Let me explain.
What is evergreen content?
Think a year down the road. Two years. Three years and so on. Will what you blog about today be relevant to your audience 3 years down the road? If you're a beauty blogger, think about the reviews that you write. Will those products still be relevant a year or even more later on? If you write tutorials, will they be still be useful in future?
What do the SEO experts say?
Most SEO experts recommend we avoid adding dates to our permalinks as they "date" our older posts in search results, possibly getting lower click throughs over time. Another issue with adding dates to your permalinks is that it makes it harder for you to go back to that post and republish it at a later date. You can create a whole new, updated post for that old post and delete the latter, but that also means that you'll lose SEO juice with Google that came with the old post.
Niches that benefit from dateless permalinks
There are many niches that can benefit from not adding a sort of timeline to your permalinks. Food blogs are one of them. Unless the ingredients are going to disappear over time (I hardly think so), then the recipes are going to be evergreen. Blogs on blogging that focus on blogging tips aren't particularly time-sensitive either, unless they predominantly blog about the latest trends and ever-changing platform algorithms. Parenting blogs that focus on parenting tips and advice can benefit from dateless permalinks too.
Niches that benefit from dated permalinks
Niches that I believe perform better with dated permalinks are personal blogs, especially the ones that read like journals. Any sort of blogs that record the growth/progress of something would benefit from having dates in their permalinks. Blogs that are time-sensitive that report the latest events and trends are another example for dated permalinks. If you blog about celebrities à la Perez Hilton, then it's important to keep the dates in your permalinks because it shows a timeline to all the going-ins and outs. I could go on and on but I'm sure you know what I mean.
What about beauty blogs?
Beauty blogs fall into what I'd call a middle ground. If a beauty blog contains only product reviews, tutorials, tips and tricks without any personal stories in it, then it's all right to have dateless permalinks. I chose to have dates in my blog because I wanted a timeline for the products I review and the personal stories I share. I've never had dateless permalinks on BA before so I can't tell you if this affects the blog's SEO standing with Google. And frankly, when it comes to this, I really couldn't give a damn. 😛 (gee thanks Tine, that explains a lot. Hmph.)
So, should you add dates to your permalinks or not? At the end of the day, it really depends on the topics you're blogging about. It's also up to you. SEO experts can chew your ear off about this issue. Like I said, if you intend on blogging evergreen content, go ahead and remove dates in your permalinks. If your content is time-sensitive, then leave the dates on. Bear in mind as this is very important: do this on a fresh new blog, not an existing one because if you make changes to an existing blog that already has heaps of content, the change in permalinks will strongly affect the SEO juice of your previous blog posts.
Good luck!
Does your blog have dates in its permalinks? By the way, if your permalinks are still on the default p=123, you and I need to have a talk!
Bloggie Wednesdays
is a series of articles just on blogging. They contain tips, how-tos, discussions about anything and everything you need to know about blogging and how we can be better bloggers. If you have any suggestions, tips and tricks about blogging you would like to share with us, or if you have any questions you would like me to address, please let us know in the comments.