Just a heads up, this post is going to get real ranty. Please note that when I mentioned "Asian beauty stores", I meant brick-and-mortar stores, not online Asian beauty stores based in Australia. Also, I wish I was able to photograph the Asian cosmetics stores in Melbourne that I walked past instead of having to use a stock photo. Unfortunately, all of the times I've either walked by or actually stepped into the stores, the sales assistants were watching me and my phone's camera like a hawk. Bugger. Anyway, just Google "Asian cosmetics store [enter city name in Australia]" and you'll know the shops that I mean.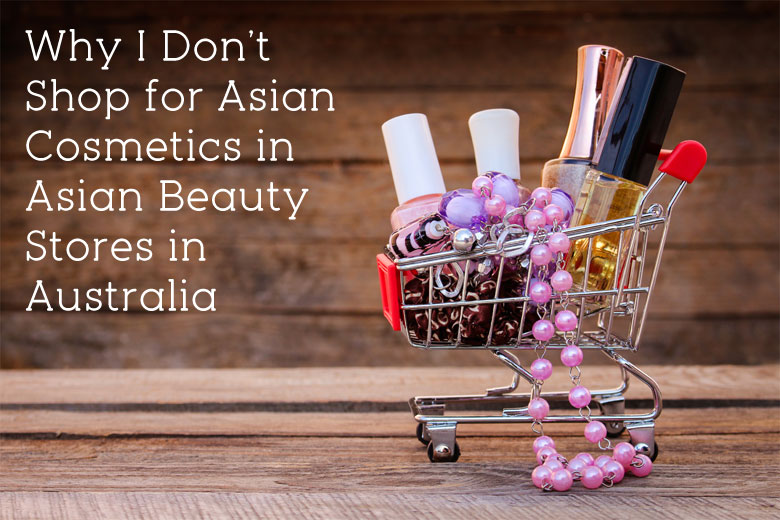 When you read my beauty reviews on any Asian cosmetics brand that aren't the bigwigs like SK-II or Shiseido that are easily available at departmental stores in Australia, you'll know that I have, on many occasions, mentioned that you should get those beauty products online instead of nondescript Asian beauty stores here in Australia. In case you're wondering if I have some sort of vendetta against these Asian beauty stores, I'll set the record straight now.
Oh you bet I bloody do.
It didn't start out that way. When I first moved to Australia early 2008, I was very excited to have access to many Western drugstore and high-end brands that I never could when I was living in Malaysia. At the same time, I was also disappointed to find that my access to Asian beauty brands like Kanebo, Kose and much more were suddenly extremely limited. I was delighted to find that there were Asian beauty stores in Chinatown and Asian suburbs like Box Hill, Glen Waverley, etc selling cute Asian cosmetics!
My excitement was very soon dashed when I discovered how expensive those Asian cosmetics were. I expected a markup in price but I couldn't for the life of me pay at least a 300% markup when they didn't cost that much in Asia. I soon learned about Australia's high import taxes and while I still wasn't happy about the ridiculous mark-up in prices, I reluctantly understood why these vendors had to do it.
But that's not the reason Asian beauty stores here irk me to no end. No sirree. I understand that a price difference is necessary. These are for-profit businesses after all. What irritates me is the fact that most Asian beauty stores here in Australia do not place price tags on their products nor do they display any sort of indication how much each product costs. It's okay if the product in store doesn't have a physical price tag on it but as a consumer, I expected price tags on the shelves to indicate the price of the items. I've been to many Asian beauty stores in Melbourne and Sydney and very few of them had any visible price indications. The only way to know how much each product cost is to ask the sales assistant in charge who will be able to pull a figure out of thin air just like that without needing to check first.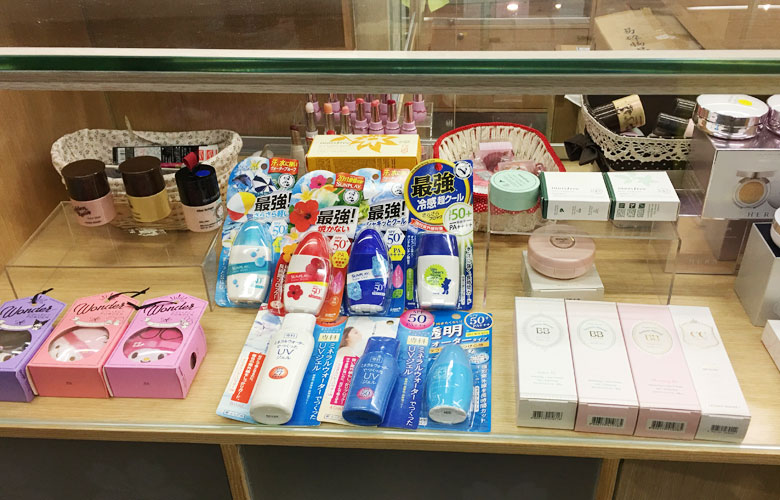 This was the only sneaky photo I managed to snap. There were no price tags on any of these products and neither was there any sort of price displays anywhere.
Regardless of how small each store is, there would still be at least 100 different products for sale. The bigger the store, the more products it stocks. I find it very hard to believe that sales assistants in those stores will know the correct price of every single item in store just like that *snap*. Throwing customers a figure out of thin air? I don't think so.
This practice annoyed me so much that I contacted the ACCC (Australian Competition and Consumer Commission) and asked them if this practice was legal as I thought that it was mandated that each product should have a visible price indication. To my dismay, this was what the ACCC replied:
The role of the ACCC is to ensure compliance with the Competition and Consumer Act 2010 (Cth) (the Act). Suppliers of goods and services who choose not to display their product prices are unlikely to be breaching the Act. Businesses are free to choose how they display their own prices, provided they do this independently and ensure consumers are not misled.
This means that it's the store's discretion to display price tags and that it's not illegal if they don't do so.
ARE. YOU. FREAKING. KIDDING. ME?!
This is the reason I don't shop for Asian cosmetics in Asian beauty stores in Australia. The lack of transparency is dodgy at best. It's bad enough that the items are ridiculously over-priced; the fact that they don't display prices on the products is a bad practice and is misleading to customers. How would we know if the price quoted to us was wrong? Also, can you imagine having to ask the sales assistant for the price each time you stumble upon something interesting? It's no wonder many of them stick to you like glue!
To be fair, I will not say that every single Asian cosmetics store in Australia don't display their prices outright. I've been to one on Swanston Street in Melbourne CBD who not only displayed their prices clearly below every item, but they even explained what the product is about. Now that's good transparency for you. Silly me, I forgot the name of the store but if I'm not mistaken, it's located between Collins St and Bourke St.
Anyway, there's really no need to buy Asian cosmetics in store here in Australia (unless it's from departmental store brands like SK-II and Shiseido, in which you can swatch, test and speak to sales consultants at MYER and David Jones) when there are plenty of them available online at much more reasonable prices. Many online beauty stores sell the products for either what they cost in their home country or there's a slight markup. I usually get my beauty fix from SASA, Cosme-de or major beauty sellers on eBay. The slight price markup doesn't bother me at all as it's still better than buying them in store here in Australia.
And that's why I stay away from Asian beauty stores here. No price tag? No price display? No business from me. Hmph!
Have you purchased any cosmetics from Asian beauty stores in Australia? Have you been to any of these small beauty stores that display/don't display prices of the products? What do you think of this practice of not displaying prices of products anywhere?