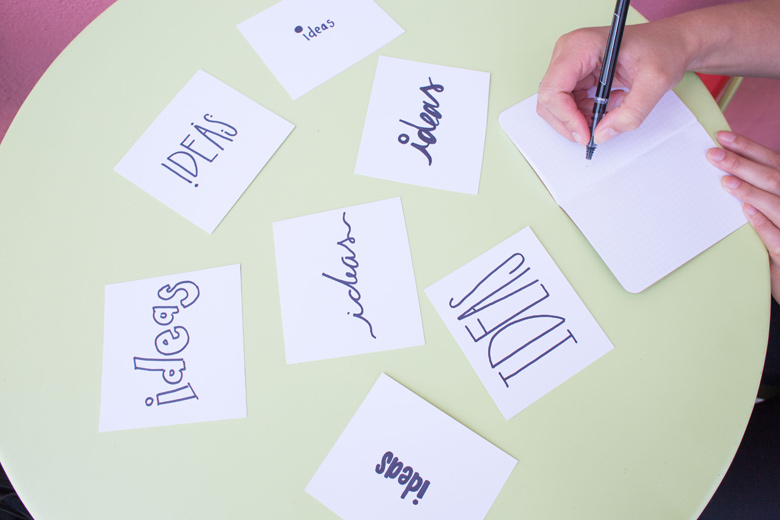 Even though I've been blogging for about a bajillion years now (okay if we have to get technical, 9 years), it might surprise you to know that 90% of that time, I don't actually blog on the blogging platform I'm on. This means that whenever I whip up a blog post, it's not written directly on WordPress.
I'm sorry, say what now?
Most bloggers I know blog directly on the blogging platform they're on. Whether they're using Blogger, WordPress, Squarespace or Tumblr, the content is written on the platform itself. Maybe it's just me but while I adore WordPress and will use it till the day I stop blogging altogether, I really don't like writing on the platform itself. The interface for the "Add New Post" irritates the heck out of me, especially if I'm using the Visual Text section instead of HTML. I much prefer writing on the HTML section but even so, all those buttons and links are terribly distracting.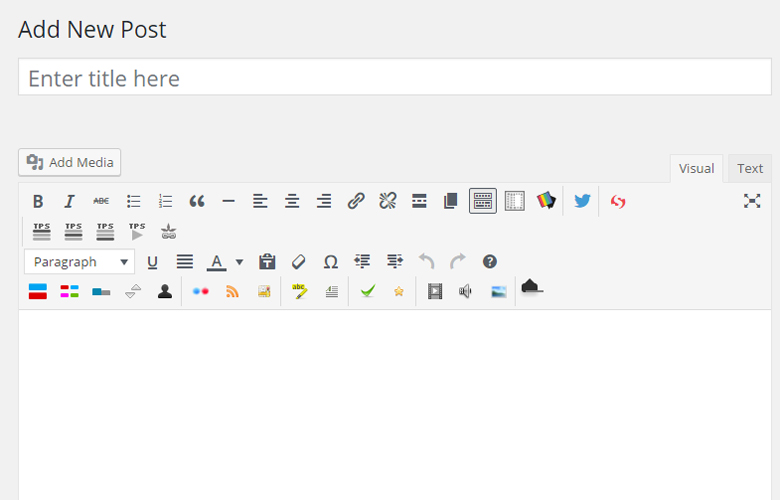 BA was on Blogger when I first started beauty blogging and if you think that Blogger's blogging interface is good or bad now, well, let's just say it was a lot worse back then. I was working as an engineer then and in my spare time, I'd write a blog post. The problem was, I didn't want my colleagues to know that I was blogging. Plus sitting just two seats away from my boss and working in an open office, well, that's just a recipe for disaster. So here's how I blogged: I would write the blog post on Microsoft Word and then copy and paste it into Blogger when I'm home just before I hit the Publish button. People thought I was writing a technical report when I was actually writing a beauty product review.
Sneaky sneaky. 😛
I did this for a good number of years before I discovered Notepad++. It's like the Notepad program on the PC but a lot more robust. I can use it for coding PHP, CSS and HTML easily. It's what I've used for the past 7 years and what I'm still using. Heck I'm writing this blog post on Notepad++ now! I'm so glad I decided to switch from MS Word to a simplified text editor instead because copying and pasting from Word meant that I was pasting the rich text as well. This means that I was pasting the font type, font size, alignment, etc onto WordPress. It's just easier to copy and paste simple text from Notepad++ onto WordPress and then make aesthetic changes there. My text file is saved on Dropbox so it's always available to me on the cloud.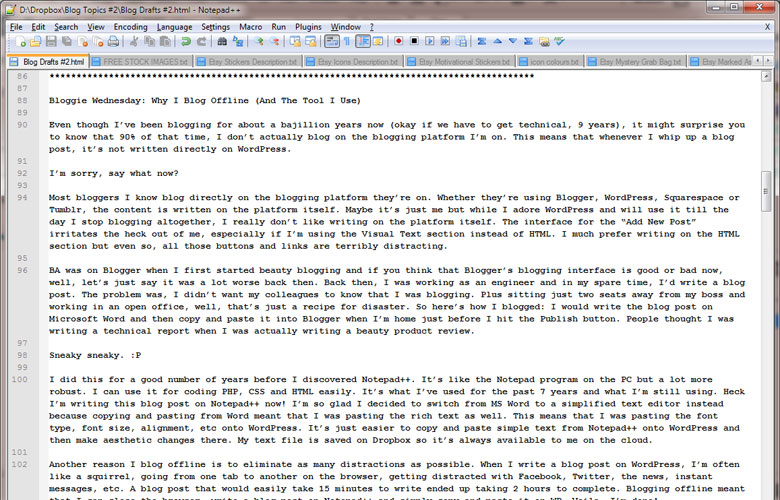 Another reason I blog offline is to eliminate as many distractions as possible. When I write a blog post on WordPress, I'm often like a squirrel, going from one tab to another on the browser, getting distracted by Facebook, Twitter, the news, instant messages, etc. A blog post that would easily take 15 minutes to write ended up taking 2 hours to complete. Blogging offline meant that I can close the browser, write a blog post on Notepad++ and simply copy and paste it on WP. Voila, I'm done!
When I'm on using my laptop (a Macbook Pro), unfortunately, I have no access to Notepad++ because it's not available for Mac. Instead, I use the Notes app instead. Each week, I'd head to my favourite cafe and write. I don't turn my WIFI on so I have no access to the Internet on the laptop at all. This removes all social media and browsing distractions. When I'm finished, I'll go home, email those notes to myself and do the usual copy-and-paste again. Easy peasy!
If you find yourself getting distracted by cute cat/dog videos on YouTube, checking your feed on Twitter and Facebook, etc and you really need to blog, I recommend blogging offline instead. Really, all you need is a text editor. I don't recommend word processors like Word anymore because of the rich text but if it helps, go for it (just remember to copy and paste your blog post onto the HTML section, not Visual Text).
Good luck!
Do you blog directly on your blogging platform? Or do you blog offline like me? If you're an "offline blogger", what tool do you use?
Bloggie Wednesdays
is a series of articles just on blogging. They contain tips, how-tos, discussions about anything and everything you need to know about blogging and how we can be better bloggers. If you have any suggestions, tips and tricks about blogging you would like to share with us, or if you have any questions you would like me to address, please let us know in the comments.