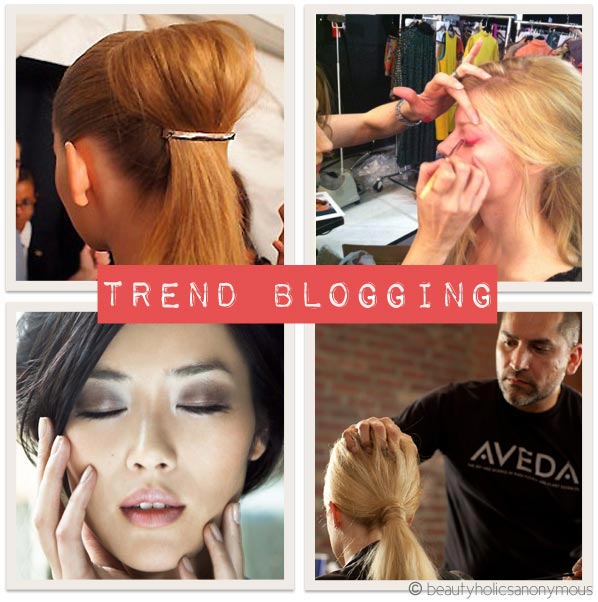 Pinned ponytail | Mod 60s Colour Blocking at NYFW | Liu Wen at Estee Lauder/Derek Lam Fall 2012 | Aveda at the Tibi Show
A couple of weeks ago, a group of beauty and fashion bloggers gathered for an intimate brunch at the city. We had a good time, up till the point when some of the organisers wanted to do a little video interview with some fashion and beauty bloggers on the current and upcoming trends that you see during Fashion Week (LMFF, and all the other Fashion Weeks in different countries).
I'll be honest. I was stumped. I'm not a trend blogger, nor do I follow them. Neither were some of the rest. Phones were immediately whipped out to, of all things, Google what the trends are. Tangerine lips? No hang on, wasn't that for spring/summer? Now it's plum lips? What about hair? Big and poofy? Or sleek with some thingamabob ponytail? Mel and Beauty Chattette did a great job in their mini interview, as I sat back and thanked my lucky stars I didn't have to do it.
It got me thinking. Trend blogging. Do you have to do it in order to be a good beauty blogger? Is it a must to know what the latest beauty trends are if you're going to be a good beauty blogger? Does it matter and should I be very embarrassed  if I'm quite clueless to all these?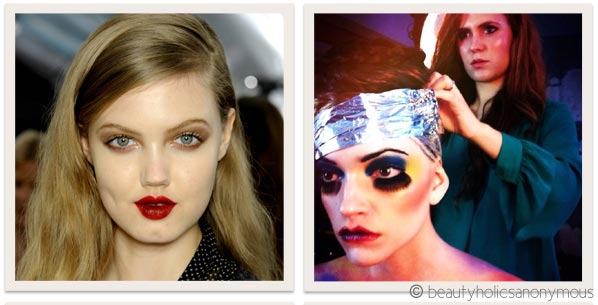 REDKEN Nina Ricci Fashionweek 2012 | Pantone Tangerine Tango by Mayela Vazquez
I receive press releases on the latest trends from time to time, and while it's interesting to see what the latest looks are, I do not blog about them. Or at least, I very seldom do.
Personally, I find it exhausting to blog about latest fashion and beauty trends. It's a constant race to write about the latest colours, latest styles, who's the latest model for brand X, who's doing whose hair for Fashion Week, etc, and you really have to keep up in order to be one of the first to announce that trend. Depending on how it's written, it can sometimes be quite bland too, unless you have heaps of pictures to show (usually, for trend blogging, you have to have lots of pictures anyway).
Having said that, I highly admire the ones who manages to keep up and blog about trends well. These are the bloggers who do not only blog about the latest trends, but who also mix them up with reviews, personal anecdotes, etc. They keep it fresh, light-hearted, and make their blogs a fun read.
At the end of the day, trend blogging isn't for me, and will never be. It's a choice and direction I've taken for my blog. Sometimes I may not know what the latest lip colours to wear are (although for this season, it really is plum. I think :P), but it doesn't faze me. I don't think it makes me a lousy beauty blogger if I'm not "up there, keeping up with the latest Joneses". It should not bother you either, if you're not a trend blogger. I'm sure you have other things to bring to the table 🙂
Are you a trend blogger? Do you blog about the latest beauty and/or fashion trends, what's new on the runway, etc? Do you think knowing the latest trends and/or blogging about them will make us better beauty bloggers?
Bloggie Wednesdays
is a series of articles just on blogging. They contain tips, how-tos, discussions about anything and everything you need to know about blogging and how we can be better bloggers. If you have any suggestions, tips and tricks about blogging you would like to share with us, or if you have any questions you would like me to address, please let us know in the comments.