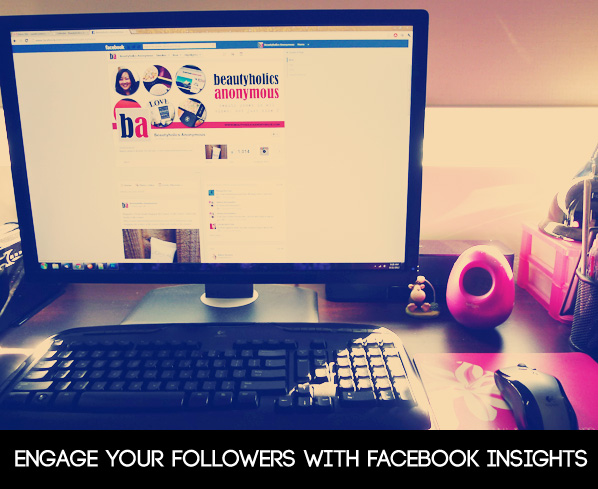 I've been using Facebook a lot more often these days to engage with the readers of my blog. To be honest, when I first signed up for a Facebook page for the blog, I did it because everyone else did it. Every other blogger had one too. Being the kiasu (Chinese for 'afraid to lose') person that I am, I quickly got on board. I was also curious as to how having a Facebook page for the blog would work to my advantage. I was already quite active on Twitter. Do I even have the time to maintain another form of social media?
As time went on, I realised one thing about my Facebook page. The audience I was reaching on Facebook was completely different from the ones on Twitter. My Facebook demographics was different. The audience I was engaging with varies from Twitter. When I discovered I could reach both forms of social media at the same time (i.e. linking the blog's Facebook page to Twitter), well, it was like killing two birds with one stone.
So what do I mean by difference in demographics for Facebook in comparison to Twitter, and how does that help me engage with my readers more? The answer is in the Insights.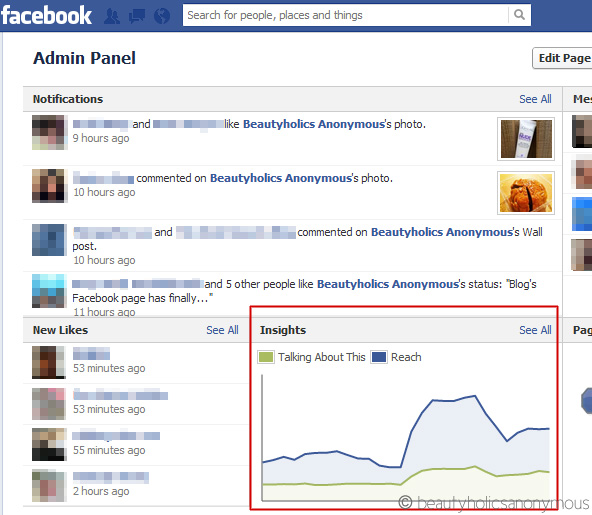 If you have a Facebook page for your website, your business, your brand, then Facebook's Insights will in time become the next object of obsession like Google Analytics (at least, it did for me).
When you click on See All next to Insights (located on your Admin Panel, just above your banner), you will see an Overview of the likes, total reach, nuber of engaged users, etc about each item you posted on your Facebook Timeline.
Clicking on Likes and Reach at the top of the page will show you the demographics of the people who 'liked' your Facebook page, and to whom your page has reached. It will tell you the gender, age, countries, cities and languages of your followers.
This is where it gets interesting for me. Even though my blog is based in Melbourne, I found out that the highest percentage of my 'likers' are from Malaysia. It finally made sense as in hindsight, the majority of people whom I've actually communicated with on the Facebook page were from Malaysia.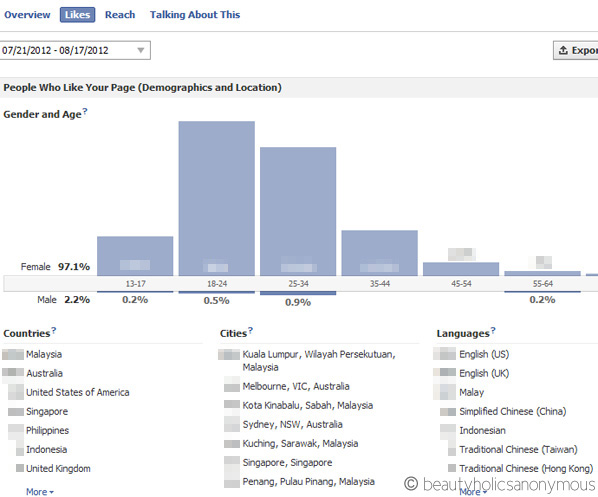 Next comes the reach. On the Overview page, you'll see the dates, posts, reach, engaged users, etc. If you hover your mouse over each date, you'll see the local times of when you posted each status update, each shared image, shared link, etc. I noticed that the highest reach of my posts is usually around 8-10pm during the weekdays (i.e. 6-8pm Malaysian time). Perhaps that's something I could use to my advantage.
Right. So what does all this information mean to you and I? How does the Insights feature help?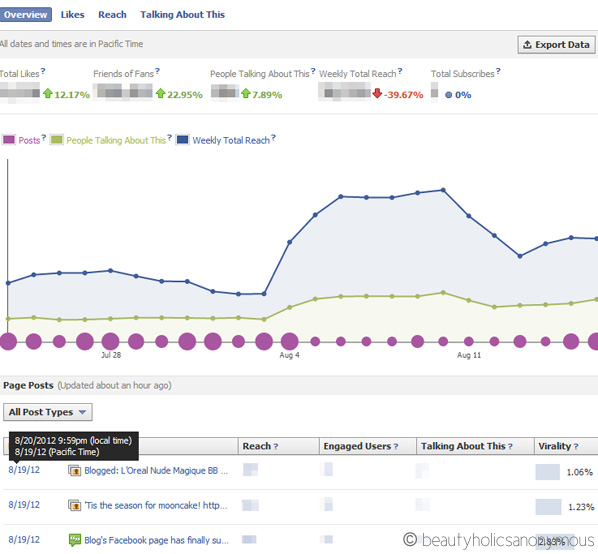 I've noticed that when I'm on Twitter, I'm mostly engaging with people from Australia during the day. When I'm on Facebook, I'm engaging with readers from Malaysia in the evenings. The Insights allow me to gauge when the best times are for me to post on Facebook, whether it's a short status update, promoting of my posts, sharing images, and so on. It helps me to know approximately when my posts will reach the page's followers. I don't want to post something willy-nilly if my followers are already asleep. I want to post when they're online. It seems a tad stalkerish, I know, but it essentially allows me to use Facebook more effectively for the blog.
By studying my Insights and working out the best times to post, I've noticed a significant increase in engaged activity on the page. I'm not just gaining followers, but I'm finally communicating with them on the page.
There's so much more that I can talk about Facebook (geez, when did I become such a fangirl?) and how it can help bloggers build their brand, but I'll leave it here for today. If you have a Facebook page for your blog, do check out your Insights, know the demographics of your followers and how far your posts can reach. Knowing those figures well will help you far in reaching out to your readers and followers.
Do you have a Facebook page for your blog? Is it an effective form of social media for you, or do you prefer Twitter (or any other forms of social media)?
Bloggie Wednesdays
is a series of articles just on blogging. They contain tips, how-tos, discussions about anything and everything you need to know about blogging and how we can be better bloggers. If you have any suggestions, tips and tricks about blogging you would like to share with us, or if you have any questions you would like me to address, please let us know in the comments.