Five Minutes with My Favourite Blogger is a new series of posts where I'll be showcasing some of my favourite bloggers. These are the bloggers whom I admire and inspire me.
Enjoy!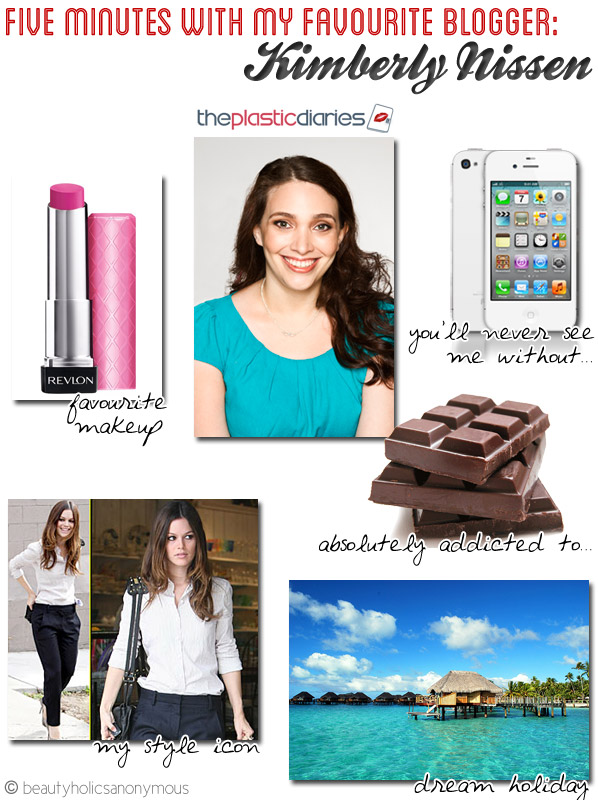 Image Credits: Rachel Bilson | Bora Bora | Chocolate
My style icon: Rachel Bilson – In my mind I like to think we have the same body (and hair, face, money, etc). She carries off 'petite' so well and always looks classy.
Dream holiday destination: Bora Bora. I have been dreaming of going there since I was a child. It just sounds so far away and isolated. Plus the whole place is 6 star and I do love a little luxury.
One random thing you can find in my bag: I try to keep my bag pretty light so I guess the most random thing would be Xanax. I am prone to severe panic attacks and a paper bag usually doesn't suffice.
My favourite item of makeup: That is like asking which is my favourite dog child. I love them all. But right now it is lipstick/balm hybrids, especially the Revlon ColorBurst Lip Butters.
You will never see me without: My iPhone. It carries my life in it and I would be wandering in circles without it.
I'm absolutely addicted to: Chocolate. Ian Somerhalder. Fine dining restaurants. Saving animals. Sephora. Travelling. The question should be what am I NOT addicted to.
One thing on my bucket list: My bucket list is ridiculously long, but one thing at the top of my list is to be able to buy a nice big piece of land where I can rescue and rehabilitate abused and neglected animals, with a live-in vet or two and volunteers accommodation.
Kimmi blogs at The Plastic Diaries.