Five Minutes with My Favourite Blogger is a series of posts where I'll be showcasing some of my favourite bloggers. These are the bloggers whom I admire and inspire me.
Enjoy!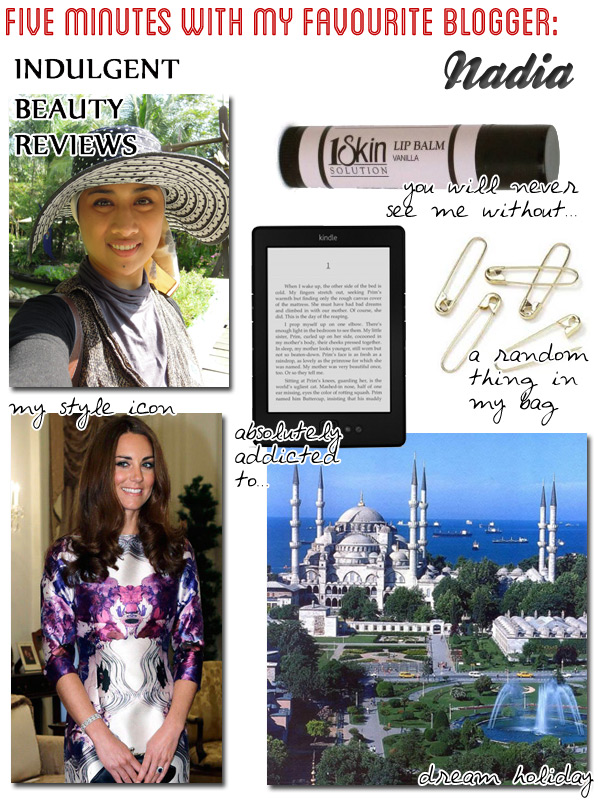 Image Credits: Kate Middleton | Istanbul, Turkey
My style icon: Kate Middleton. She is the epitome of a lady and I love the idea of emulating her dress sense as it is elegant and sophisticated. She totally makes wearing appropriate clothes fun again! Plus, she somehow makes everything looks so effortless from what she's wearing to her makeup style. For someone who has all the money and stylist hiring power in the world, she is still a princess who's able to go out in something as mainstream as Zara, that totally is a win in my book!
Dream holiday destination: Istanbul, Turkey. The thought of immersing myself in Turkey's rich culture, magnificent architecture, glorious food and colourful textile offerings are enough to make beautiful Istanbul a dream holiday destination for me. A visit to the Blue Mosque, the bazaars and perhaps even a visit to a Turkish Hamam? 😉
One random thing you can find in my bag: Safety pins. Never know when an emergency arises and you might need a pin to hold everything together! 😛
My favourite item of makeup: Lately, it's lipstick! Used to be a blush girl, but somehow transitioned into lipsticks off late. So many shades, so many varieties in textures, plus lipsticks can really add that necessary 'pop' to your look. I've accumulated heaps of lipsticks ever since I transitioned into lipstick mania. A favourite of mine are the Chanel Rouge Coco Shines – so creamy, so moisturising, so shiny, so gorgeous.
You will never see me without: Eyeliner and lip balm. I can leave the house without foundation, but never without lip balm and eyeliner. Lip balm's an essential because my lips feels disastrously dry without it and as for eyeliner, being the self absorbed person that I am, I just love to accentuate my eyes as it is my favourite facial feature.
I'm absolutely addicted to: Books and magazines! I keep on buying though I have heaps of unread books and magazines in my stash. Books are a wonderful way to escape into a different world, sometimes even to a non-existent mythical world and I absolutely love it! As for mags, how can I say no to those gorgeous glossy pages that fill me with so much temptation and lust?
One thing on my bucket list: Set foot on all seven continents. I love travelling and would really, really love it if one my life's experience included the experience of having trekked all around the world, exploring the glory of everything this world has to offer.
Nadia blogs at Indulgent Beauty Reviews.