Five Minutes with My Favourite Blogger is a new series of posts where I'll be showcasing some of my favourite bloggers. These are the bloggers whom I admire and inspire me.
Enjoy!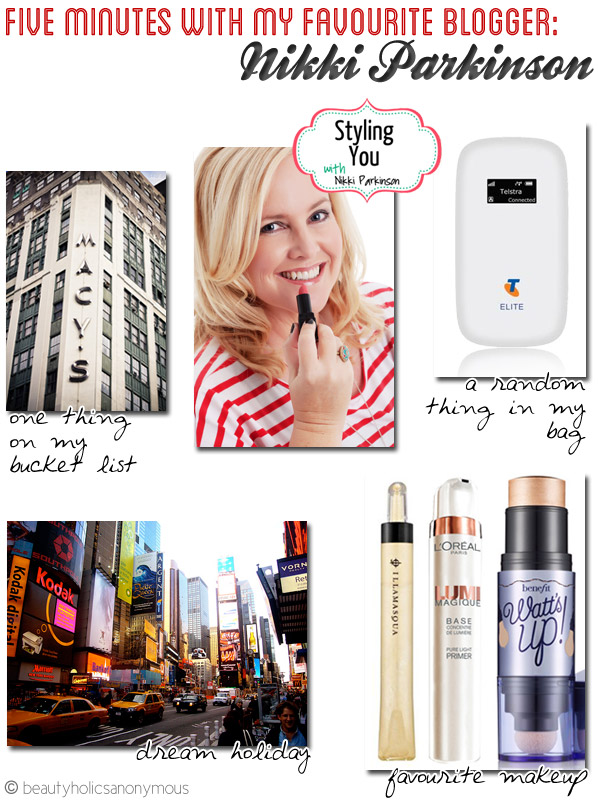 Image Credits: New York | Shopping in New York
My style icon: My girlfriends are my style icons because each of them owns their style without being slaves to trends. They all look stunningly different but stunning on any occasion. That to me is real style and is a constant inspiration for me.
Dream holiday destination: New York! And I'm going next week. Somebody pinch me. (Edit: Nikki is currently in the US for the BlogHer 2012 convention. Lucky duck).
One random thing you can find in my bag: Mobile 3G wi-fi device … I like to always be connected

My favourite item of makeup: This changes all the time but at the moment I'm loving illuminators (need all the help I can get!) … Benefit Watt's Up, L'Oreal Paris Lumi Magique, Illamasqua Halcyon get big ticks from me.
You will never see me without: Something on my lips! Lip balm, gloss or lipstick … I feel naked without it.
I'm absolutely addicted to: Getting my hair steamed with the new L'Oreal Professionnel Steam Pod salon treatment. Can't wait to own one when the home version comes out later this year.
One thing on my bucket list: Shopping in New York City … think I'll be ticking that one very soon!
Nikki blogs at Styling You.