Five Minutes with My Favourite Blogger is a series of posts where I'll be showcasing some of my favourite bloggers. These are the bloggers whom I admire and inspire me.
Enjoy!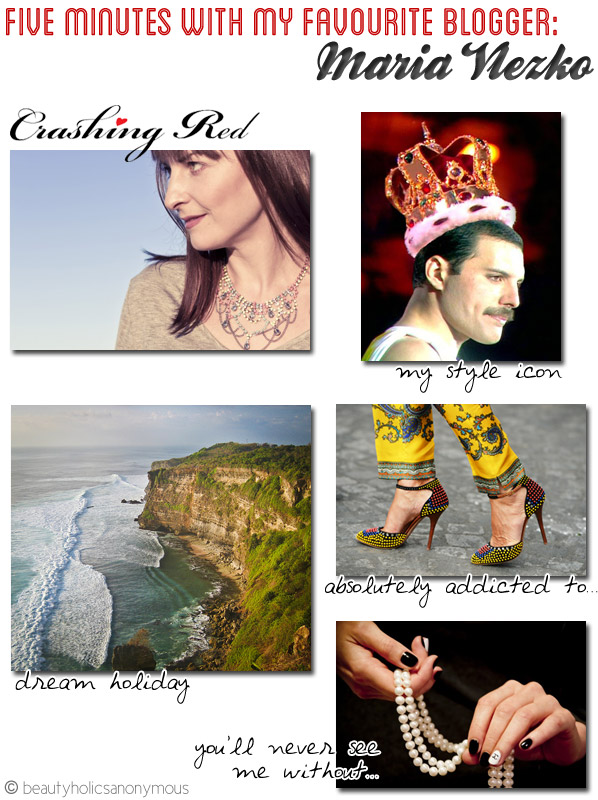 Image Credits: Bali | Nails | Shoes (Tommy Ton for Style.com) | Freddie Mercury
My style icon: Freddie Mercury, he is my icon in many senses not just style. He was simply the best.
Dream holiday destination: At the moment, it's Bali – I really feel like some kind of a vegetable holiday, just eat, sleep and swim in the ocean – repeat for 2 weeks!
One random thing you can find in my bag: Little Anastasia's toys. She puts them there.
My favourite item of makeup: At the moment its INNOXA Sheer Tinted Moisturiser SPF +30. Its really nice and makes you look fresh and rested while also provides with excellent protection from the harmful Australian sun.
You will never see me without: Well, I wish to say it's the veiled beanie. But no… I do take it off. While a manicure is always present. Well groomed nice looking hands is a must for me.
I'm absolutely addicted to: Internet! and ice cream…. and beautiful shoes.
One thing on my bucket list: I don't know. I think I have already done everything I wanted. So.. does it means I'm allowed to retire now?
Maria blogs at Crashing Red.