Five Minutes with My Favourite Blogger is a series of posts where I'll be showcasing some of my favourite bloggers. These are the bloggers whom I admire and inspire me.
Enjoy!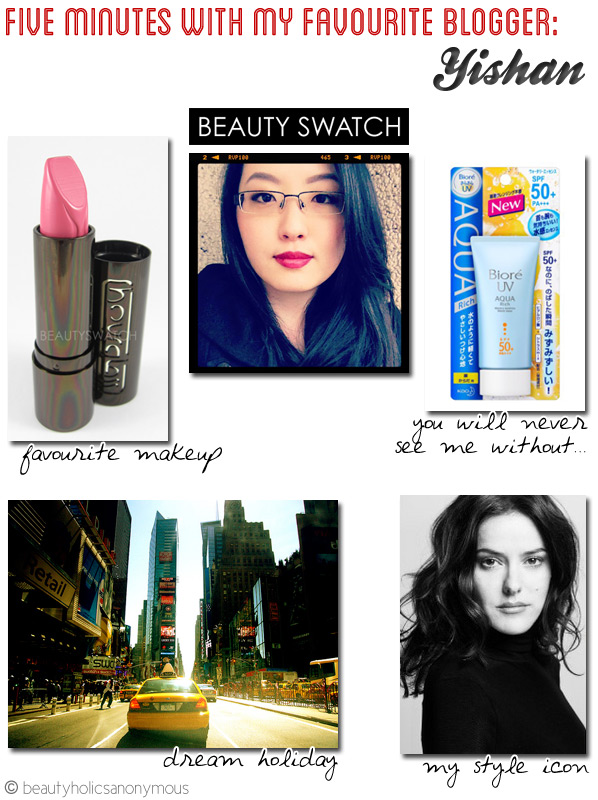 Image Credits: New York | Hourglass Rouge Femme in Ballet | Lisa Eldridge
My style icon: My "makeup" style icon is Lisa Eldridge, who inspires me to creep out of the comfort zone of my 'signature look'.
Dream holiday destination: New York, LA & Vegas are next on my wish-list. I've made a pact with myself not to travel overseas until I've ticked these destinations off the list!
One thing you can guarantee to find in my bag: My work bag weighs a tonne because I never leave home without a makeup bag that weighs about half that much, a compact brolly (I alternate between sun & rain brollies), Envirosax and tissues.
My favourite item of makeup: Lipstick! The kind that's creamy, snug & bold.
You will never see me without: Sunscreen of at least SPF30. And glasses (my eyes are too dry to wear contacts).
I'm absolutely addicted to: DIY cuticle oil. I've been experimenting with castor seed oil to start with & my nails are noticeably stronger in comparison to any other chemical-based nail strengthening treatment. I can't wait to get my paws onto other oils to compare their effects.
One thing on my bucket list: Suqqu brushes and Serge Lutens lip products. I've already shortlisted the products I'm lusting after, but still working on plucking up the insanity to fork out a small fortune for them.
Yishan blogs at Beauty Swatch.