THE GIVEAWAY IS NOW CLOSED. THANK YOU FOR PARTICIPATING!
Day six of the flash giveaway are boxes of mini beauty products that come in the form of Bellabox Australia. The giveaway features their September box and I have five boxes to give away (one box per winner).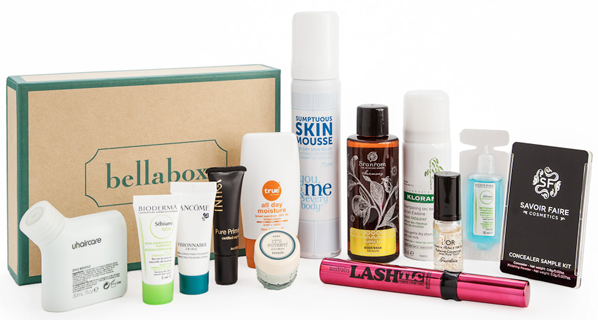 The September box is themed "Spring in Your Step" and contains products that will help you transition into the new season, including brands such as Guerlain, Bioderma, Inika, True Solutions and Lancome. The box you'll receive will not contain all of the products shown in the picture (drats

). Each box will contain a random selection of 6 products, and retails at AU$15.
I subscribed to Bellabox for about 4 months before stopping. There's no bad reason why I didn't continue with my subscription; I did it for "blog research" and when the time was up, I unsubscribed and moved on to another, again for *ahem* "research". There are a number of beauty box subscription services out there and Bellabox is one of the better ones.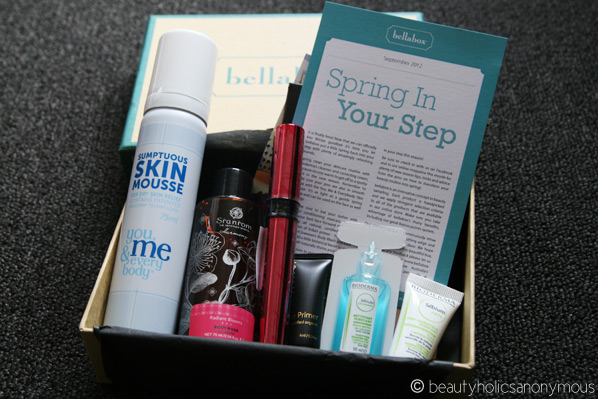 Here's my box. You may or may not get these items. It's a lucky draw of boxes!

This giveaway is courtesy of Bellabox Australia. Do check out their Facebook page as well.
HOW TO ENTER:
Leave a comment: Other than beauty boxes, what other sample subscription boxes do you think will work? Food boxes? Lingeries boxes?

TERMS & CONDITIONS:
1. This contest is open to all Australian residents. The prize will only be shipped to an Australian address.
2. Anyone can enter regardless of whether you've won anything here before.
3. One comment per contestant please. Let's give a chance to everyone, yeah?
4. Please keep it clean and spam-free.
5. One winner will be selected at random.
6. The winner will be drawn and announced on 25 September 2012 (an email notification will be sent to the winner).
7. The winner will be required to submit his/her name and contact address to Beautyholics Anonymous. The contact details then will be submitted to Bellabox Australia, who will be sending the prize to the winner (please read Beautyholics Anonymous' privacy statement for more information).
8. This giveaway (Bellabox Australia September Edition) will close at 9.59am, 23 September 2012.
9. The winner must respond to the notification email to claim the prize within 7 days.
10. Beautyholics Anonymous and Bellabox Australia reserve the right to change the terms of this competition at any time.
Feel free to spread the word. I'd really appreciate it.
Good luck!