Okay, in hindsight, it's probably not that much but when I was packing for home on the last day of the holidays, I had problems stuffing everything (including Tim's shopping) in the luggage

I went a bit bonkers at Matsumoto Kiyoshi. It's a drugstore chain that sells a crazy amount of Japanese cosmetics brands including the ones under the big names like Shiseido, Kanebo and Kose. Most Matsumoto Kiyoshi stores have 2 floors, where the second one is dedicated only to makeup. I bought very few skincare products mainly because I didn't understand what they were. At one point, I had to text Shizuka with a picture of a bottle of something and asked her what it was for

The very popular Shiseido foundation brush was very cheap at Matsumoto Kiyoshi. I went at the right time; they were having quite a sale in store on a lot of products and one of them was the foundation brush. It retails at 1800yen (AU$21) and was on sale at 1320yen (AU$15.30), which was cheaper than Manicare brushes at Priceline!
The green tubes you see in the picture are Atrix Beauty Charge hand creams. I tried one out (498 yen – AU$5.80), loved it so much and ended up buying 2 more in different scents. The rest are blushes (Lavshuca, Visee and Coffret D'or), BB creams (Anessa, Ettusais and Freshel), a couple of sunscreens (Skin Aqua and Allie), a liquid eyeliner by Dolly Wink and a Hada Labo lotion refill.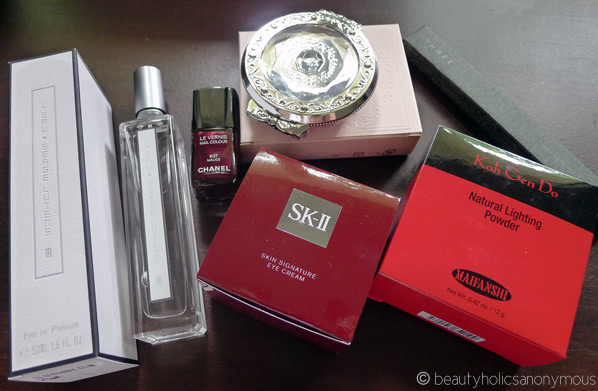 Next comes the higher-end makeup range. Service in departmental stores were excellent. I wanted to get Jill Stuart's Christmas set but it was sold out everywhere I looked. In the end I left with the Blush Blossom Dual Cheek Color. THREE was particularly difficult to find. They aren't available at all Takashimayas and I almost gave up on them when Tim spotted one at Shinjuku's Takashimaya. The counter was tiny! I bought the popular Flash Performance Eyeliner pencil. The Serge Lutens perfume, Chanel's nail polish in Malice and the SKII Skin Signature Eyecream were purchased at Narita and Changi Airports (duty free FTW!).
Of course, when in Japan, one couldn't go past SUQQU. I finally saw the cheek makeup brush that Lisa Eldridge raved a lot about in her videos. It's no wonder she loves it so much; the brush is incredibly soft. It's very expensive though – the cheek brush retails at 15,000yen (AU$174) and the face brush at 31,500yen (AU$365). Those were out of the question for me, so I stuck to their Christmas 2012 set instead, which comprises a quad eyeshadow in EX-10, a mascara, the Reset Cleansing Cream, the Refining Foam and a gold makeup bag.
The service was fantastic at SUQQU. The sales assistant donned white gloves when she took the box out for me just so her fingerprints do not smudge the items. When she gave me a couple of foundation samples, she placed them in a cute lil' drawstring bag. I haven't had a chance to properly use the eyeshadow quad yet but I swatched them and they were buttery smooth.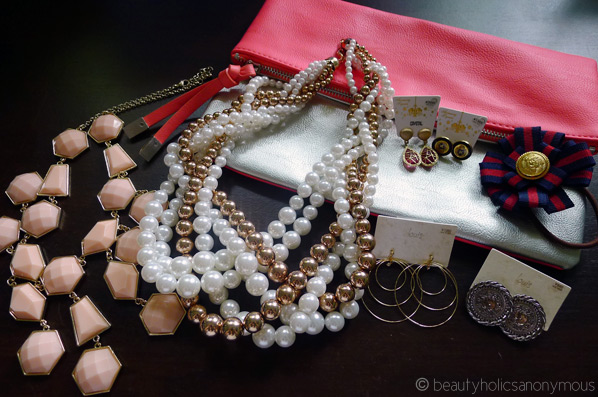 I didn't just buy cosmetics in Japan (if I could buy them all, I would). The clothes didn't really appeal to me as they were reaching the cold season whereas we're entering summer, so I stuck to accessories instead. I bought some earrings from an accessories store at Harajuku, a clutch and two chunky necklaces at H&M. By the way, most Japanese ladies wear very delicate jewellery, so there were lots of tiny earrings, very thin rings and bracelets in stores. I rarely saw women in chunky jewellery.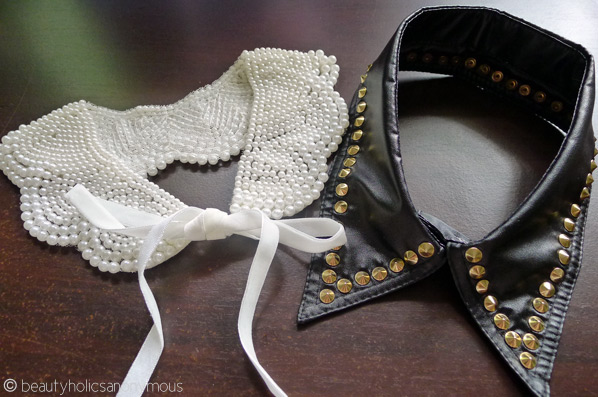 Pretty collars are all the rage in Japan. I saw so many and I really wanted to buy them all but that would be nuts (well, according to Tim, I am for buying them. Oh what does he know? :P). I bought these two collars at a tiny store at Harajuku. One delicate, one fierce. Not bad, right?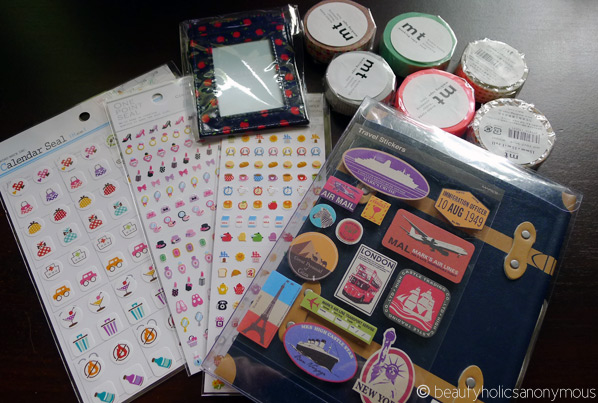 When it comes to cute stationery, the Japanese wins hands down. Stickers, notebooks, washi tapes, you name it, they've got it. I was like a kid in a candy store when I saw all the kawaii stationery.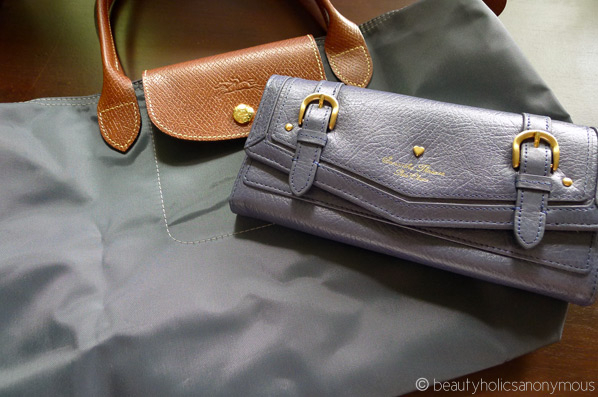 I didn't leave Japan without buying a Samantha Thevasa wallet and a Longchamp Le Pliage tote. I know the latter's been worn to death but it's such a convenient and sturdy bag to bash around with, I couldn't resist. As for Samantha Thevasa, I've always wanted something from the brand but never did get myself any on my previous trips. Well, this time I did! Tim got this for me. Aww

Looks like a lot of stuff, eh? Well actually there's more, but I'm not going to show you now. Let's just say, I got you something from Japan too, and will be running a giveaway soon

Hope you've liked my Japanese shopping haul, and if there's anything you'd like me to review, just let me know!