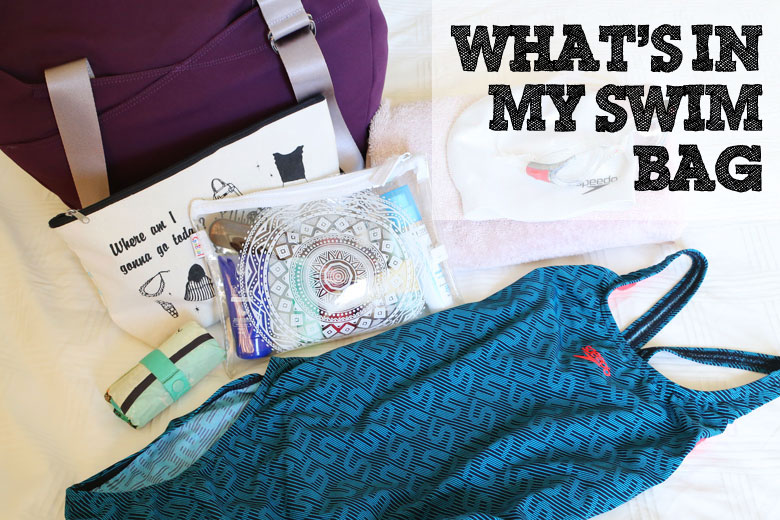 Early last year, I could count the number of times I went swimming with 2 hands. I bought a bathing suit from Speedo and got all gung-ho on wanting to swim weekly but after the one summer months were up, I was done. Lazy me didn't want to drive to the swimming centre any more. But at the end of the year, I decided to give it a go once more. It was summer again and swimming seemed like the right way to go since it was often to hot to run outside.
Seven months later, I'm still swimming weekly. I suppose that's a habit formed, eh? 😛
Swimming is no longer just lounging in the pool anymore (yeah, that was my definition of swimming. Ahem). I could see the improvement in my efforts as I try to beat my personal best time and lap each week. It's a great weekly exercise that I do in between my runs and workouts that has very low impact on my knees and joints.
But that's not the point of the post today. Given my usual sticky beak for looking at what's in people's bags (not literally; that'd be creepy. I do it on Pinterest and Instagram of course. 😛 ), I thought instead of sharing the usual stuff in my bag that you've already seen, I thought I'd show you what's in my swim bag instead.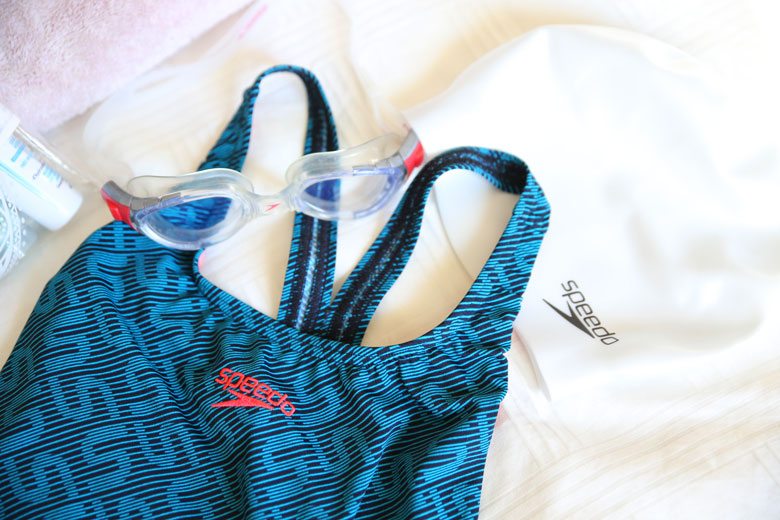 This is not a sponsored post for Speedo
Bathing suit – I love the ones from Speedo. It was really weird wearing a swimsuit without any bosom padding because I'm a prominent, erm, "highlighter" but most swimsuits for lap work don't come with padding. Anyway, once I'm in the water, no one's going to notice whether I'm highlighting or not since I'm always moving. Still, I do watch out for those creepy eyes. 😛 This is my second pair from Speedo. I actually wore out the first pair!
Swimming cap – I hated wearing this ever since I learned how to swim when I was a kid. Mum would make me wear this and I looked awful. It took me a very long time to finally decide to give swimming caps a go again. Now that I have, I won't go back to swimming cap-less. Swimming caps are fantastic for not only keeping hair out of your face when you swim, but they're a great hair saver! Prior to swimming with one, my hair was terribly affected by the high amount of chlorine in the pool. Now, it's a lot better. I still look like a doofus but eh, who cares?
Googles – Also from Speedo. I don't like tinted ones, so these clear goggles do the trick.
Towel – I don't use fancy beach towels, just whatever I have lying around.
Toiletries – these John Frieda shampoo and conditioner are great for getting rid of the chlorine in the hair and detangling all the kinks the chlorine cause. I've since decanted my current shampoos and conditioners into those bottles. The in-shower body lotion from Nivea is essential as my skin gets really dry after a swim. Skincare is kept to a minimum because there's no space in the shower cubicle to apply my skincare anyway. Still, SPF is a must.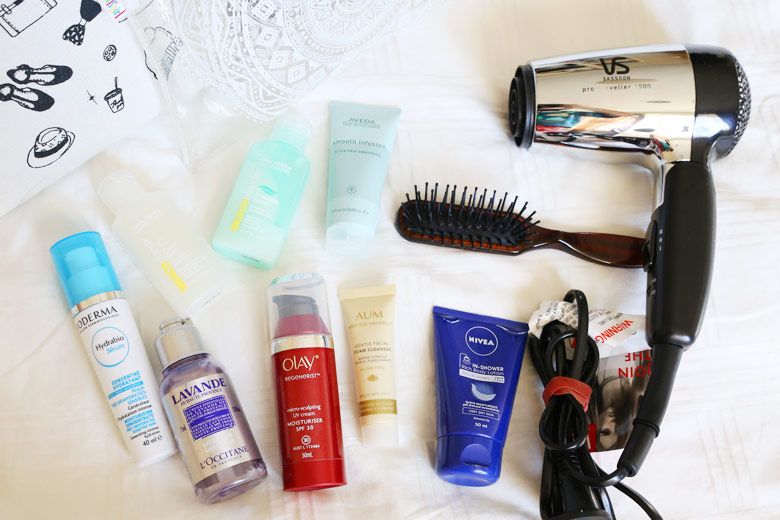 Toiletries pouch – it's a clear plastic one from Sportsgirl. They make great water-resistant pouches that are perfect for beach/swim use.
Hairdryer – you'd think that they would be hairdryers in the changing rooms but nope, you either dry your hair by awkwardly squatting below the hand dryer to dry your hair or you bring your own hairdryer, which I do. This travel hairdryer from Vidal Sassoon is really good. It's high-powered, dries hair quickly and doesn't cost a fortune. I've had it for years!
Envirosax bag – this holds my wet towel, bathing suit and toiletries. When I was a kid, I used to use a lot of plastic bags for this. I'm glad we have environmentally-friendly and reusable bags now.
The bag I use is a gym bag from Nike, which I bought in Japan ten years ago. It's still serving me very well.
A few observations I made when swimming here:
Many older Caucasian ladies (in their 70s and 80s) don't shower with the door closed. At least, not in the swimming centre I go to.
Many older Chinese ladies like to saunter around the changing room in their birthday suit. There's one in my swimming centre who likes to sit on the changing room bench with either her legs spread or she likes to bend over. A lot. While she's naked. I find my eyes looking at the clock on the ceiling a lot when that lady's around. 😛
Maybe it's just the people in my swimming centre, but hardly anyone showers before entering the pool. Euw.
There's an etiquette to using the swimming lanes. Apparently you swim in the direction that you'd walk or drive. This means you always keep left even when you swim back. I didn't know this!
There you have it, a lil' sneak peek into my swim bag. It's nothing fancy, really, but hey, it serves my purpose well. Wish me luck as I try to beat last week's PB, eh? 🙂
Do you enjoy swimming too? If you do, what's in your swim bag? Or if you go to the gym, what's in your gym bag?