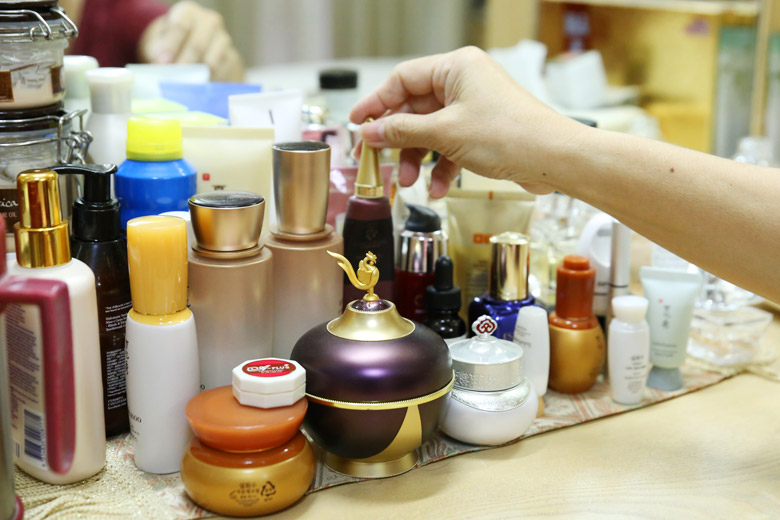 It took quite a bit of convincing for Mum to allow me to share her vanity area with you, mainly because she's embarrassed about how messy and cluttered it is. Oh quite the contrary, because Mum's the neatest and tidiest person I know, and if that's what you call clutter, mine would resemble a dog's breakfast. 😛
I've always been very fascinated with Mum's dressing table. She displays the perfumes my dad bought her proudly and her many, MANY bottles, jars and tubes of lotions and potions. Years ago, I asked her if she really used every single skincare product on her dressing table and she said yes. Mind you, she had at least 20 products on that table! She still does! Over the years, I've seen her skincare regime evolve. That whole famous Korean 10-step skincare thing has a thing or two to learn from Mum, because she has way more steps than that.
She has dabbled with many products from various skincare brands but for the past 5 years or so, she's been religiously using only Korean skincare from high-end brands like History of Whoo and Sulwahsoo. Mum's skin may be plagued with severe hyperpigmentation (it's a genetic thing; I have it too), but her skin is more boing-boing and smooth than anyone I know who's her age. I can't tell you how old she is; she would kill me, but let's just say, even though I'm almost 36, she's not very much older than I am. *wink*
Mum's beauty mantra is "at my age, if it [the skincare] doesn't make my skin deteriorate, then it's doing a good job". She's realistic in knowing that these products are not miracle products but she knows that if they continue to keep her skin boing-boing, then it's considered an improvement. Wise words indeed.
I learned about skincare from Mum, from the regular use of sunscreen to layering serums for ultimate skin hydration. She's practically the queen of serum-layering and judging from the great quality of her skin, it's no wonder why.
If my skin looks as good as hers when I reach her age, then I'd consider myself mighty lucky. 🙂