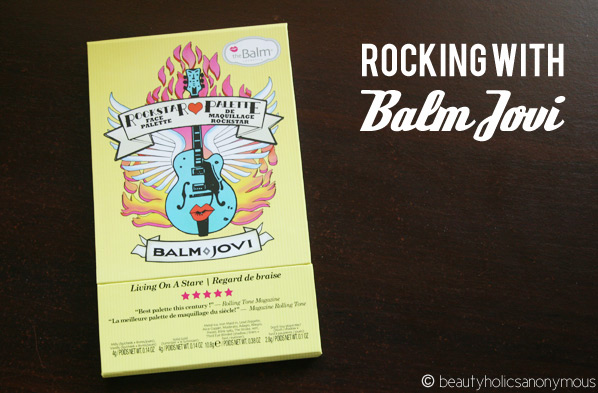 Here's the thing. When this makeup palette landed on my desk for editorial consideration late last year, I'll be honest. I did a fist pump and a "let's rock" sign before even opening the palette. 😛
Now you'll notice that I very rarely do reviews on makeup palettes here. In fact, upon searching my archives, I don't think I've ever done one! See, I'm not really a big fan of overall makeup palettes (palettes that include eyeshadows, eyeliner, mascara, blush, powder, lippies, kitchen sink). I used to have a few but rarely do ALL of the colours work for me. So even with said initial fist pump upon receiving the Balm Jovi, I had my reservations. Quite a lot of them.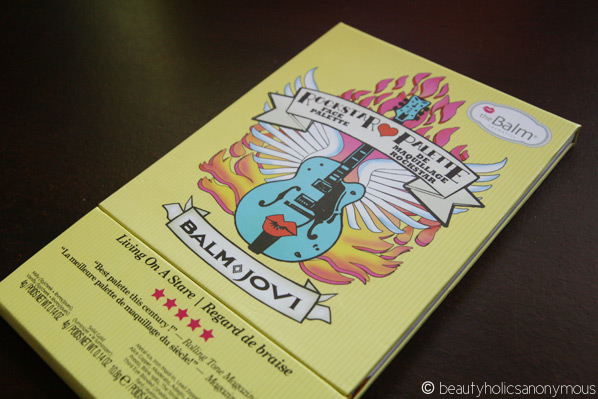 So, let's see how the palette fares, shall we?
First of all, I love the name of this palette. The Balm is popular for coming up with funny (and sometimes very stupid) names for their makeup. Balm Jovi might be a silly name to some but I just found it downright hilarious. All they're missing is a face of Jon Bon Jovi smacked in the middle of the palette circa 1990 (think Blaze of Glory)! 😛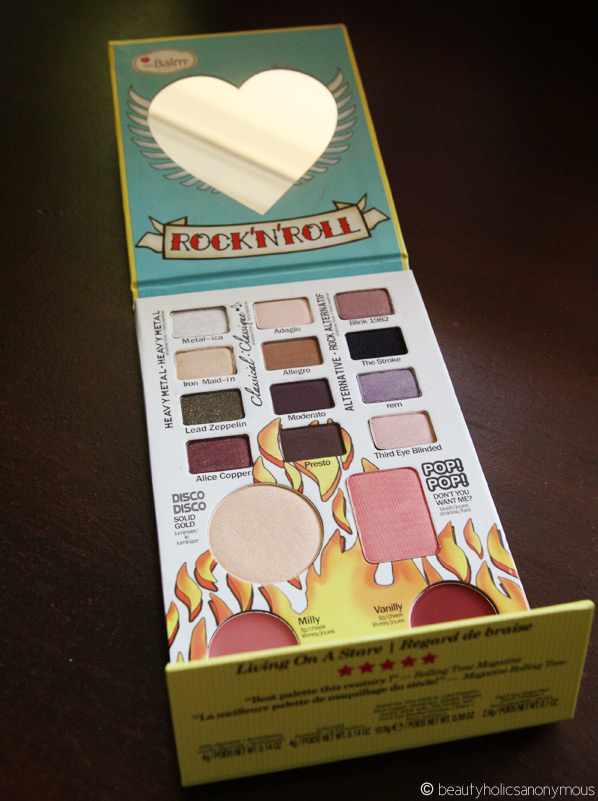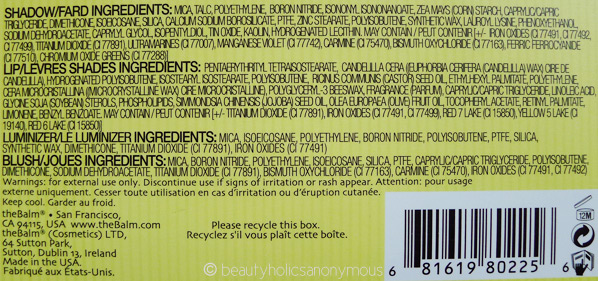 Like all palettes from The Balm, this one's made out of cardboard. It opens and closes with a magnet close to the bottom. It comes with a cardboard sleeve to keep a better hold of the palette together.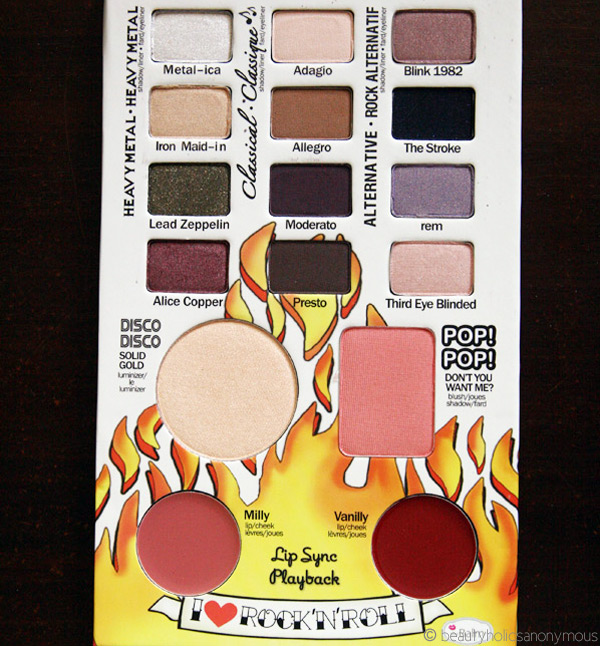 There are 12 eyeshadows, one highlighter, one blush and two lip colours in the palette. The eyeshadows have a bit of a name-play going on with famous rock stars, e.g. Metal-ica, Blink 1982 (rigghttt), Lead Zeppelin, Iron Maid-in, Alice Copper (really?!) and so on. The lip colours are pretty versatile and can also be used as cream blushes.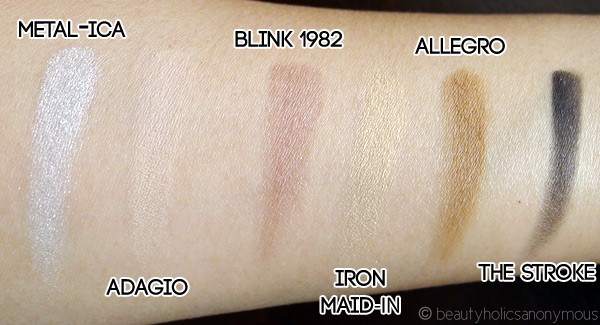 As for the eyeshadow shades, here's what you get:
Metal-ica: Shimmery, frosty silver
Adagio: Matte neutral beige
Blink 1982: Mauve with gold shimmer
Iron Maid-in: Metallic gold
Allegro: Matte brown
The Stroke: Navy blue with bits of silvery shimmer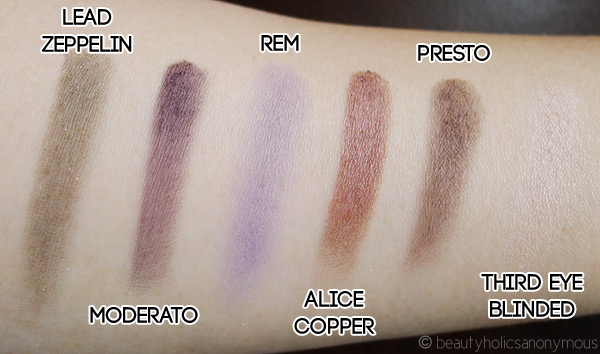 Lead Zeppelin: Shimmery olive green
Moderato: Matte burgundy
rem: Slightly shimmery purple
Alice Copper: Shimmery red-burgundy
Presto: Matte dark brown
Third Eye Blinded: Frosty pale peach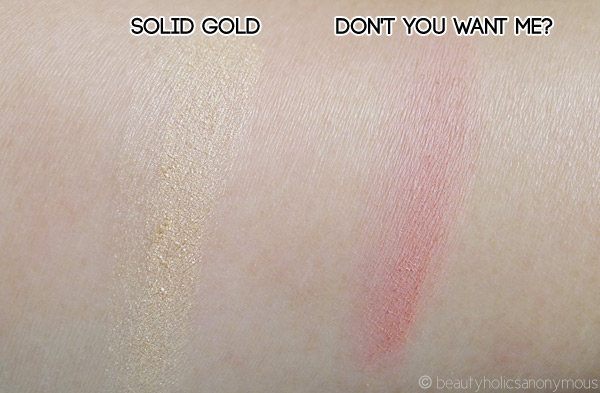 As for the rest,
Solid Gold (highlighter): Warm gold with slight shimmer
Don't You Want Me (blush): Matte coral with warm undertones
Milly (lip/cheek colour): Pale pink
Vanilly (lip/cheek colour): Bright red
I've swatched them for you here, but I reckon Temptalia did it a lot better if you'd like to check it out as well. 🙂
I had a good play with the eyeshadows and they really aren't bad. Each shade has good colour payoff without being gritty as a lot of cheap palettes are. Some were quite powdery when swatched and lifted with a brush, especially the Adagio and Iron Maid-in. But when the eyeshadows are blended on the eyelids, said powderiness disappears. The matte shades are buttery smooth. In terms of longevity, they didn't last very long on my primed oily lids. Then again, very few eyeshadows do and this lasted longer than a lot of them.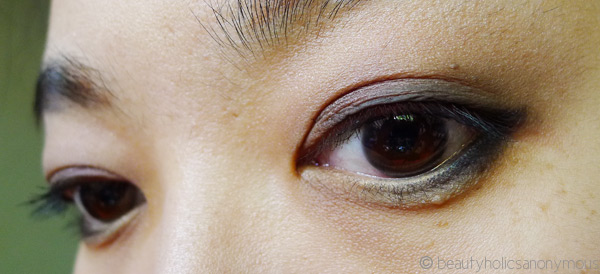 The look I did: Iron Maid-in as base all over the lids, Lead Zeppelin on the outer corners of the eyes, Moderator to blend inwards from middle of the lids, The Stroke to line the upper lids and half of the bottom lids and Iron Maid-in on middle of bottom lids to the inner corners of the eyes. I used the blush on the cheekbones and the highlighter on the tops of the cheekbones and browbone. Since the eye makeup is quite heavy, I kept the lip colour light with Milly.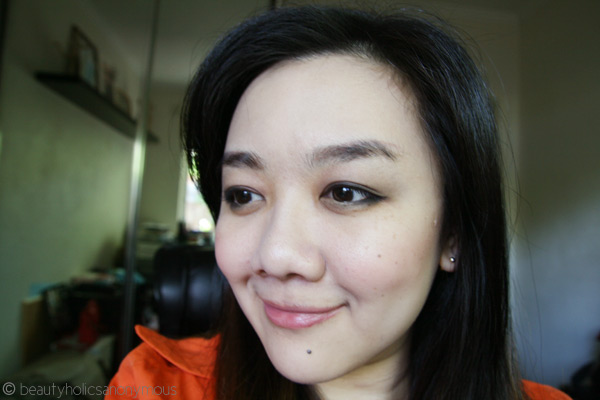 The palette has a good variety of colours without being too zany in colours or too neutral and boring. You can get a good combination of looks when you play around with the eyeshadows. The bottom of the palette shows you 4 colour combination examples you can use for the palette. They're quite safe options but I say, hey rock it with better colour combos of your own 😉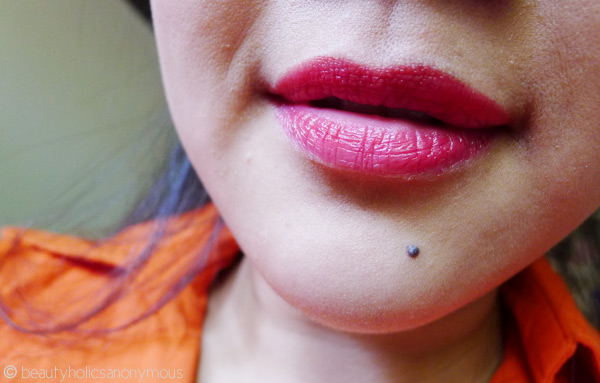 Rocking it with Vanilly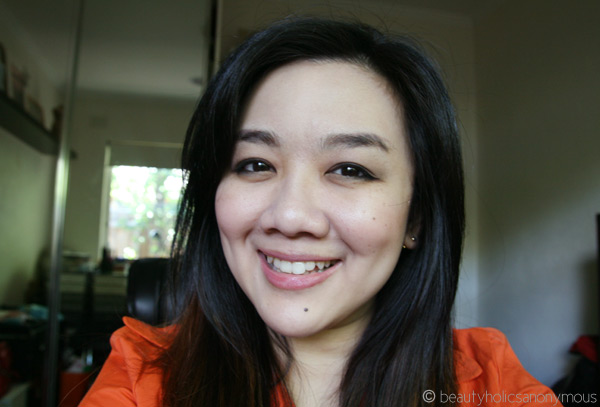 The price point of the palette is what intrigued me to very almost buy this palette before this was sent to me. The entire makeup palette retails at AU$44.95 in Australia (The Balm values it at AU$101.70. In the US, this retails at US$39.50). I think it's very good value for 16 colours, making it about $2.80 per item. Can somebody say bargain? 😛
The Balm Balm Jovi Rockstar Face Palette is available at The Balm counters in David Jones stores nationwide.
What I like about it: Cute packaging, good colour payoff on the eyeshadows, affordable
What I do not like about it: Some of the eyeshadows are pretty powdery (it can get messy on the palette)
What do you think of the Balm Jovi palette? Yay or nay? Are you also wondering if The Balm paid royalties to Bon Jovi for using his name? 😉