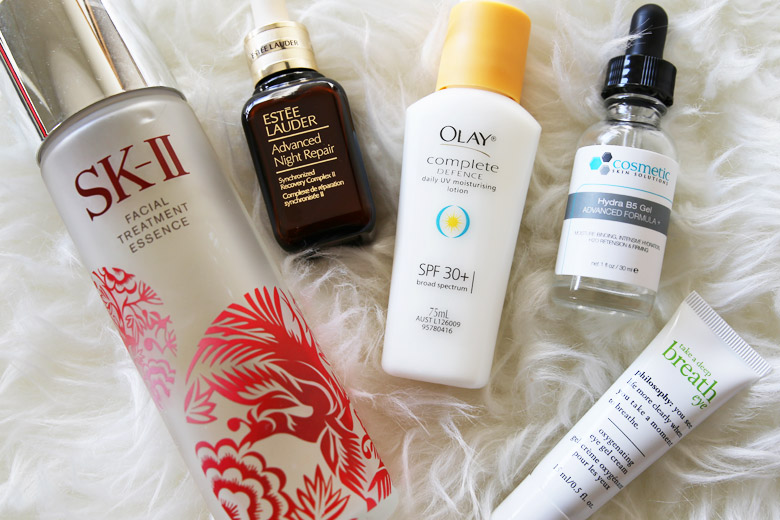 I've seen the reaction of a lot of women who came across the popular 10-step skincare routine the Koreans are famous for. "Geez, who has the time for all that?!" And believe you me, there are times when I can't even be arsed to do all that. Most of us just don't have the time to do that whole 10-step skincare routine. Heck, sometimes, even the famous 3-step skincare routine made popular by Clinique seem like 2 steps too many!
So what are we do to when we still want to take good care of our skin but we just don't have the time to slap on cream after cream after cream?
Simplify the process
As much as I wax lyrical about layering serums, using facial sheet masks and pretty much having a 10-step skincare routine, to be honest, you don't actually have to do all that if you don't have the time to do so. I try my hardest not to skip any steps during the day and evening but there are times when I'm just too bone-tired or sick to carry out so many steps in my usual routine. When I do cheat (not often but it does happen), I simplify the process and skip what's not really necessary. I would still double-cleanse to remove all the grime on my face but I won't stand in front of the mirror massaging my skin with cleansing balm for a minute lest I fall asleep in front of it. I'd do a quick once-over with cleansing balm and then hop into the shower and use a cream cleanser. I'd skip toner and use a hydrating essence instead. Instead of layering my serums, I'd just use one serum that contains hyaluronic acid. During the day, a sunscreen is still a must but in the evenings, sometimes I'd skip the eye cream and slather on a nice, rich night cream and let it do the job.
My simplified, need-to-get-out-of-the-house-fast or feeling-sick-as-dog routine would look something like this:
Day: cleanse, hydrating essence, moisturiser with high SPF. Done!
Evening: cleanse with cleansing balm (if I'm sick and have to stay at home all day, I don't double-cleanse), cleanse again with cream cleanser, hydrating essence, hyaluronic acid serum, eye cream (sometimes I may skip this), rich moisturiser. Done!
Use multitasking products
A great way to simplify the process and quicken the routine is to use good multitasking products. Use a good all-rounder serum that will not only give that hydrated boing-boing to the skin, but will also give you radiant, soft and smooth skin. I like to layer my serums but when I don't have the time, I'll just use a multitasking serum instead. A very good one to use would be Estee Lauder's Advanced Night Repair. During the day, instead of applying moisturiser and then a separate layer of sunscreen, go ahead and apply a generous amount of moisturiser with high SPF instead. I recommend Olay's Complete Defence Daily UV Moisturising Lotion SPF30+ or their Regenerist Micro-Sculpting UV Cream SPF30.
Even though sometimes it feels as though we need more than 24 hours a day and that we just don't have the time to for anything else let alone a skincare routine, it's important that we still allocate just a little bit of time to take care of our skin. Keep skincare for the day quick and simple but in the evenings when we have to wash all that grime and stress off our bodies, think of it as a good time to wind down, relax and take just 5-10 minutes for our skin. Our heart rate slows down as we take the time to take care of our skin and when we aren't rushing about and slapping creams on our face quickly (I know this thanks to my new heart rate monitor watch 😛 ).
Try not to skip the steps when you can. Take a bit of time to enjoy the skincare application process. But know that when you are really pressing for time, you can still take as much care for your skin as possible with these steps.
Good luck!
Do you sometimes cheat with your skincare routine when you're rushing for time? What do you skip and what are non-negotiables?