Five Minutes with My Favourite Blogger is a series of posts where I'll be showcasing some of my favourite bloggers. These are the bloggers whom I admire and inspire me.
Enjoy!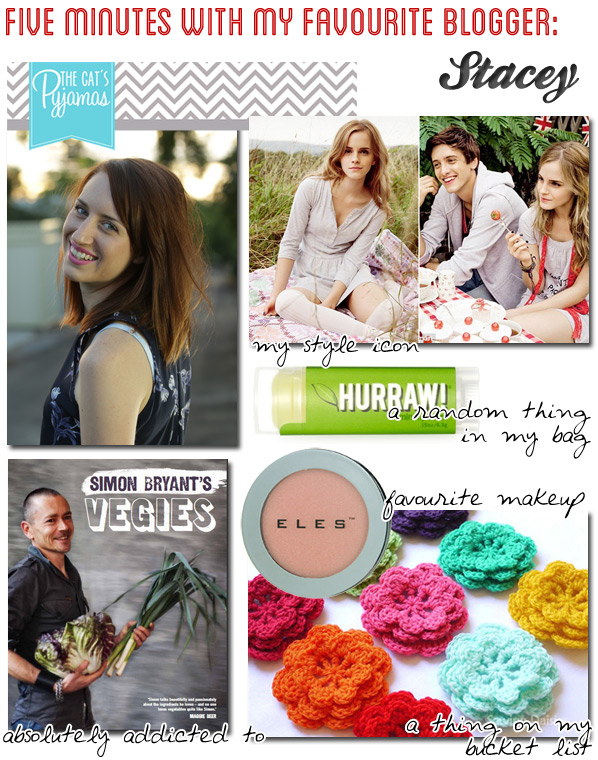 Image Credits: Crochet Ethel Cushion | Emma Watson | Simon Bryant's Vegies
My style icon: I am not very stylish so it wasn't easy to think of a style icon! I would say that my real style icons are fashion bloggers, particularly those who feature op-shop/thrifted/recycled/eco-friendly fashion. In terms of celebrities, I'd say that the extremely cute Emma Watson (of Harry Potter fame) is my style icon – she's collaborated on three collections with my favourite fairtrade fashion brand, People Tree.
Dream holiday destination: I'm currently dreaming of a European working holiday – thankfully (for me!) there is a social worker skills shortage in the UK and so it's supposed to be quite easy to find three- or six-month contracts. In the short term, Johanis and I are hatching a plan to visit Tasmania in March. I've been to Tassie once before and felt like I'd found my motherland – it's cool, gorgeous, and brimming with tasty food and wine. I can't wait to hit up the Salamanca Market again!
One random thing you can find in my bag: I am terribly unorganised generally, so my handbag contains a cornucopia of random things. Aside from the main offenders (iPhone, wallet, keys, wadded-up tissues, old receipts), at the moment I'm constantly toting around my new vegan Hurraw! Lip Balm in Mint – it's super tingly and refreshing on a hot day! (I love it so much that I have about 6 more Hurraw! Lip Balms winging their way to me at the moment).
My favourite item of makeup: Blush has always been my favourite makeup item because it brightens my face like nothing else and gives me a chance to experiment with colour without going over the top (okay, sometimes I still go over the top). My favourie at the moment is ELES Mineral Blush Compact in Flirt — it's bright enough to make a statement (that statment being, "Look at my pretty face!") but soft and blendable enough to apply first thing in the morning before work.
You will never see me without: I want to say something cool, like, "Well, you'll never see me without a copy of Proust." The somewhat sad reality is that you'll never see me without my iPhone. I am pretty much glued to social media, blogs, and blogging all day every day. The thought of a technology detox makes me feel funny in my belly.
I'm absolutely addicted to: Apart from my iPhone? I have quite an obsessive personality so I could go on for ages; at the moment it's all about blogging madly, learning to garden, collecting vegetarian cookbooks, watching Louis Theroux documentaries on ABC iView, eating sweetcorn with garlic butter and snacking on summer fruits, finding new online fairtrade/eco-friendly shopping haunts.
One thing on my bucket list: I am determined that this year I will learn to crochet! I have fantasies of creating specatular crocheted gifts for my friends and family next Christmas (lucky them!). I'm particularly un-coordinated so I don't think a YouTube guide is going to do it – I think it's time for me to enrol in some evening classes.
Stacey blogs at The Cat's Pyjamas..