Note: This is a sponsored post.
Remember how a year or two ago, beauty magazines and blogs were talking a lot about balayaged hair? Balayage, or ombré hair, was THE hair trend back then. Women wanted ombré hair; it was all about that hair colour gradient midhair to the tips. A year or two later, it's back. And it's a trend that's not going anywhere; heck, it's here to stay.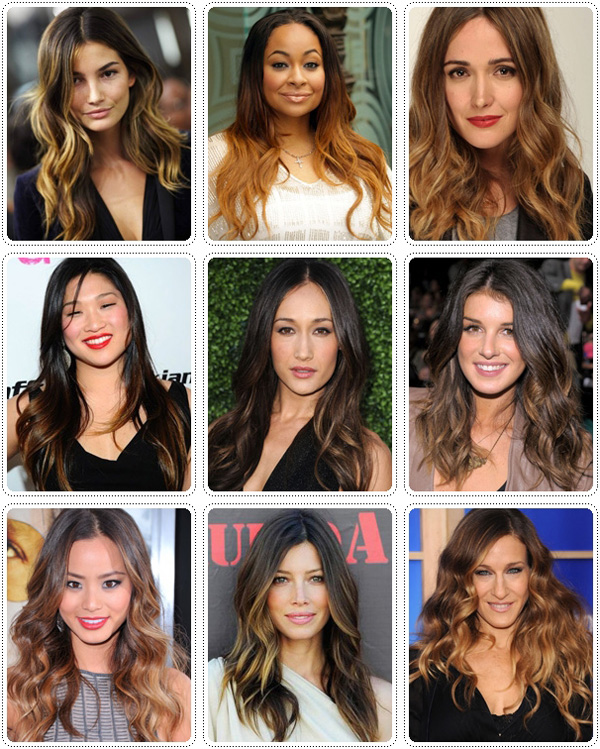 The good thing about balayage is that you don't have to worry about needing to retouch your roots every 4-6 weeks. The transition of lighter shades amongst the dark creates another dimension to hair and gives that oomph to just one solid colour.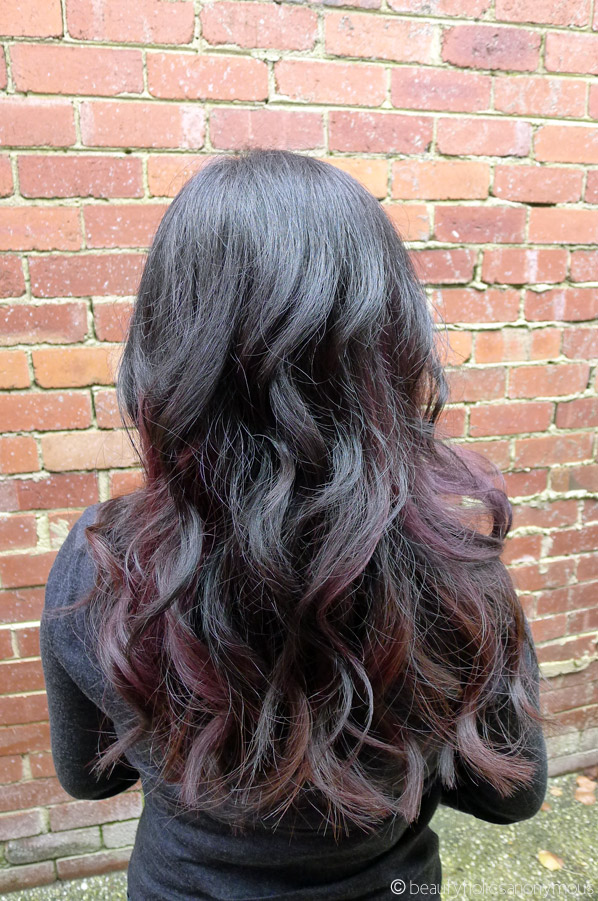 My hair at its longest length with purple balayage
I too jumped on the balayage bandwagon a year ago. Y'see, ombré hair isn't just about having a light colour transition from dark. It's having that gradient of colour along with your natural one. My version of the balayage was a purple ombré from my natural dark brown/black hair. I absolutely love my balayage. Even though my hair is a lot shorter now, it still works.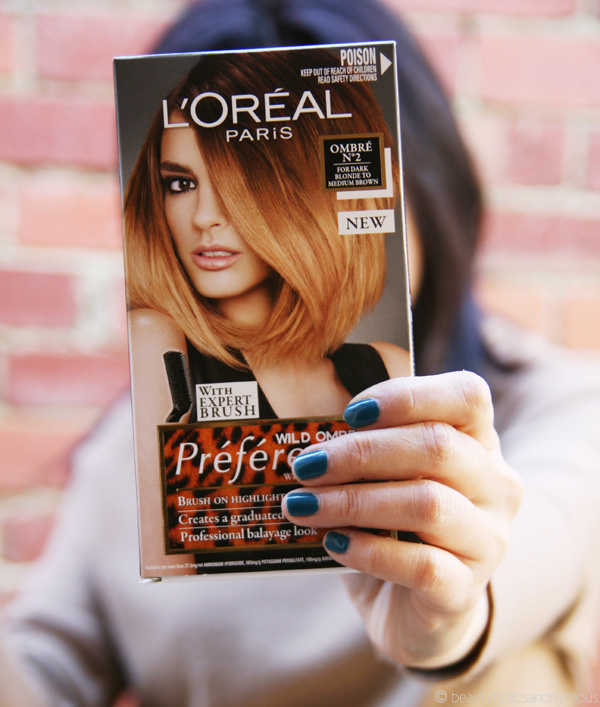 As awesome as balayaged hair is, it is still about a $200 salon job, which isn't something most women can afford on a monthly or even bi-monthly basis (I have to stretch mine to at least 3 months). Introducing L'Oreal's latest home hair colour kit for creating that beautiful ombré hair – the Preference Wild Ombrés that creates a graduated lightening effect for that professional balayage look. It's the first of its kind of an affordable balayage solution.
What's good about this kit is that it only lightens hair to a maximum of 2 levels. This means that your hair cannot go any lighter in a single application regardless of how long you have it on (but please, stick to the instructions nevertheless!) unless you do it again on top of lightened hair with another kit.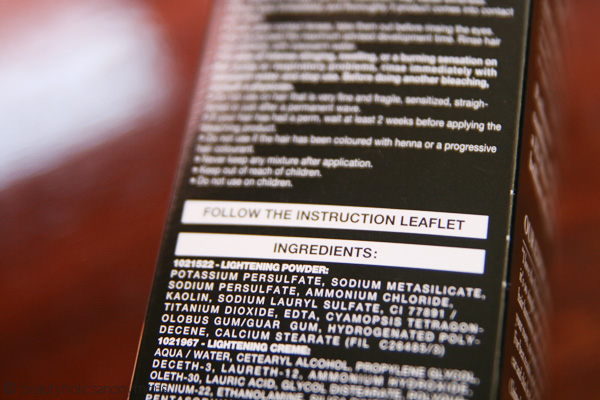 To be honest, I'll have to say I was originally rather skeptical about what the results would be like. I wasn't sure if it would look good. This was until I saw the results on 2 ladies and I really was impressed. If I didn't know better, I thought it was a salon job! The hair still felt soft and the gradient of dark to light was good without any harsh lines.
If you're looking to try out the balayaged look, this could be something you'd be interested in. It's available in 2 shades: No.2 for dark blond to medium brown hair and No.4 for light blond to blond hair. It's available at selected pharmacies and supermarkets for AU$19.45.
BUT WAIT!
If you'd like to know more about how to apply this, to see this in action and to learn about how to maintain your hair colour, boy oh boy, do I have something oh so fabulous for you!

L'Oreal & Beautyholics Anonymous: A Wild Ombré Evening Just For You!
Finally after over a month of planning (and trying very hard to keep mum about it), I can finally announce something I've been working hard on with L'Oreal just for you.

Beautyholics Anonymous and L'Oreal Paris Australia are proud to host a hair colour workshop at the L'Oreal head office at St Kilda!It's the first for L'Oreal to hold a private, consumer hair workshop for non-media and industry folks so we are super excited about bringing this opportunity to you. L'Oreal will only be rolling out the TV commercials for the Wild Ombré Preference hair kit on 21 July so you'll get a chance to experience it first.
L'Oreal Hair Colour Workshop
Date: 2 July 2013 (Tuesday)
Time: 6 – 8pm
Venue: L'Oreal Head Office, 564 St Kilda Road, Melbourne, VIC 3004
I'm not going to give the entire agenda away but here's what you can expect from the evening:
A glass of bubbly (or other drinks) for each guest upon arrival with delicious canapés to go around.
Learn about the latest hair trends, what ombré hair is about, how to use the new Preference Wild Ombrés hair kit correctly, an educational chat about how to maintain coloured hair, Q&A and so on. This will be presented by L'Oreal hair expert Bronwyn Fraser.
A chance for one or two of you to get your hair coloured with the Wild Ombrés hair kit during the event.
A goodie bag at the end of the evening for each attendee.
And much more! All in all, you can pretty much expect a jolly good time.
It's a good opportunity for you to visit L'Oreal's head office too. I remembered the very first time I went to the head office at St Kilda; I was wowed by all the beauty brands they have (with salon, consumer and luxe divisions) and their top floor 360 degrees view of the city is simply magnificent.
HOW TO ENTER:
As space is strictly limited, there are only 10 spots available (even though I'd love to have more of you during the evening) so to be fair to all who are interested in attending the workshop, all you have to do is to fill in the form below and answer a few simple questions. The 10 most creative answers win the 10 spots!

THE COMPETITION IS NOW CLOSED. THANK YOU FOR PARTICIPATING!
For those who aren't able to make the workshop, fret not for we'll be giving away 10 x L'Oreal hair colour and care packs as well.
I really do hope you can make it. It'll be a great chance for me to meet you, dear readers, as well as have a good time learning about hair colour and care. Bronwyn is one of L'Oreal's in-house hair experts so it's a great chance for you to ask her any questions related to hair colour, maintenance, etc. She'll be more than happy to answer them for you.

TERMS & CONDITIONS
1. This competition is open for Australian residents only. If you're not based in Melbourne but will be in town on that day, do join in as well! Transportation to the workshop is not provided.
2. The giveaway of the hair colour kits are also for Australian residents only (hair dye is prohibited to be posted out of Australia). Boo!
3. Anyone can enter regardless of whether you've won anything here before.
4. One form entry per contestant please. Let's give a chance to everyone, yeah?
5. Please keep it clean and spam-free.
6. Ten (10) most creative entries will win a spot at the hair colour workshop. The next ten (10) will win a L'Oreal hair colour and care pack each.
7. Entrants who aren't able to make the workshop are required to submit his/her name and contact address to Beautyholics Anonymous and L'Oreal Paris Australia, who will be sending the prize out (please read Beautyholics Anonymous' privacy statement for more information).
8. This competition will close on 11.59pm, 29 June 2013 (Australian EST). Notification emails will be sent to the winners.
9. As the time frame to the workshop is short, winners are expected to respond within 24 hours. If there's no response within 24 hours, another winner will be picked.
10. Beautyholics Anonymous and L'Oreal Paris Australia reserve the right to change the terms of this competition at any time.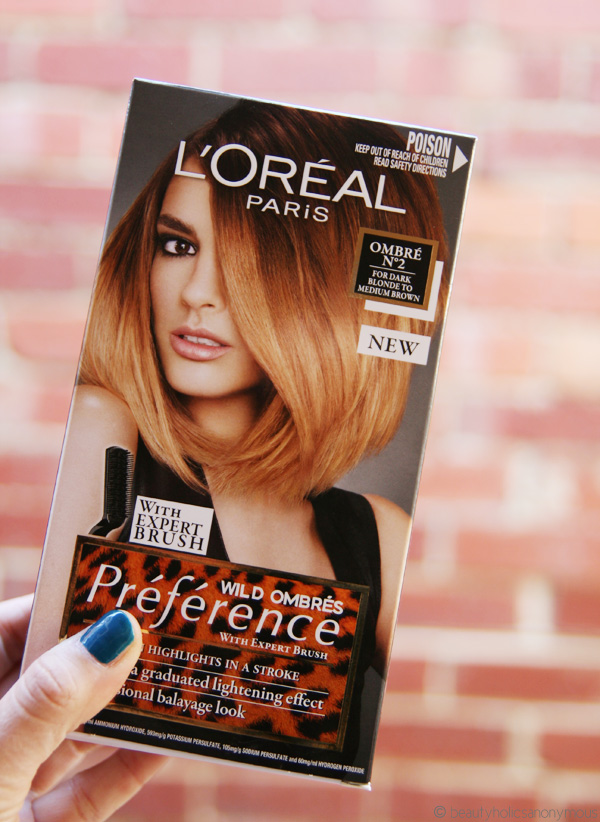 I'm so excited about the workshop and to meet you. I don't think I'll be able to sleep the night before.

Good luck and I look forward to meeting you on 2 July!
This is a sponsored post for L'Oreal Paris Australia. For more information on sponsored content, please read my
disclosure policy here
.