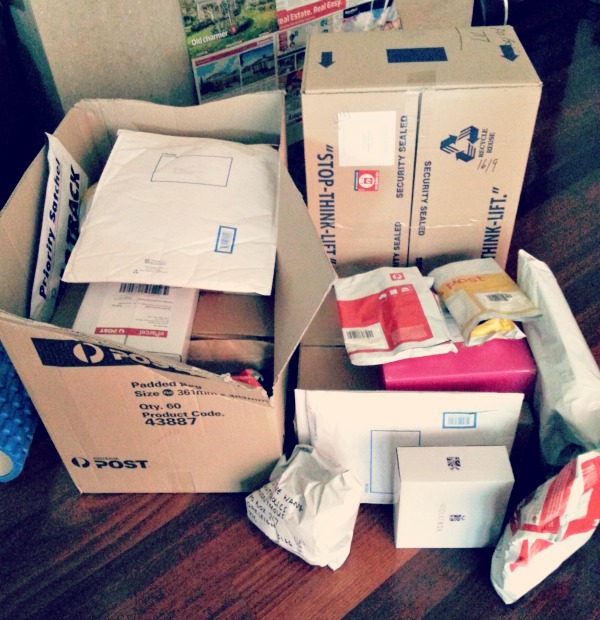 Happy hump day, fellow beautyholics! Hope you've had a good start to the week.
Today I thought I'd do a bit of a Q&A on FAQ about products received for editorial consideration. You'll notice that when I review products that were sent to me for review, there's a disclosure at the bottom of the post that the product was sent for editorial consideration. Brands are approaching more and more bloggers these days to spread the word about their product because they realise the amount of influence bloggers have over these brands' potential customers. Goodness knows how much makeup I've purchased that were enabled by other beauty bloggers.

As bloggers learn to work with brands, it's inevitable that there'll be questions on how to go about doing it. These are some of the questions I've received over the years and I thought I'd share my answers with you today. If you're not a blogger, it might be interesting to see what goes behind the scenes of reviewing that product that we didn't buy ourselves. Are the reviews still trustworthy? Read on and find out!
By the way, the reason this post comes in 2 parts is because when I finished writing it, it came up to well over 2000 words! That's a lot of words to digest in just one post so I've decided to post the first 5 Q&As today and publish the rest next week. I'd rather not subject you to an essay today.

1. Wow! Free products! You lucky thing! I'm a blogger too; how do I get in on that action?
As you can tell, I had to insert a bit of sarcasm in there because goodness knows I've heard and read about it enough. I've received emails on how to get free stuff and I've chatted with brand managers who receive countless of similar emails requesting for freebies just so that they can review them on their blogs. This is what I have to say to them: it doesn't work that way, people! There's nothing wrong with writing about what you already have. There are plenty of beauty topics you can write about without needing a brand to send you products. Plus, if you love beauty products so much to start a beauty blog, chances are you probably already have quite a lot in your stash. Why not start with those?
What some bloggers fail to understand is that every item that you received for review comes with a price.
2. So those products are not actually free?
Hahahahah … NO. You know the saying "there's no such thing as a free lunch". Well, I can say the same about products sent and received for review. There's an obligation attached to every single item you received. Brands and PRs are not charities; they're not sending products out to you willy-nilly because they think you're the nicest person they know (you may be!). There are quotas for them to fulfill; according to most brands I've worked with, each item sent is logged. There must be a reason for them to send the products out. There's a reason why some PRs chase you for your reviews. It's not the best way to do it but they too have a job to do.
As for bloggers, I attended a webinar once on tax deduction for bloggers and the tax accountant mentioned that products that are received for review purposes are considered as non-monetary compensation and could be taxed. I'm still trying to get confirmation about this from a few other accountants so I'll get back to you when I know more. If you're running your blog as a business, it might be something you'd want to consider before saying yes to every product attached to a press release.
3. A brand promised to send me a specific product but it never arrived. I don't want to sound pushy by hassling the PR about it lest he/she thinks I'm in it for the freebies. What do I do?
Send him/her a polite email to follow up. It could be that the product was simply promised but in the end they've decided against it. It could also be that the product actually was sent and that it was lost in the mail. Shit happens. If you don't hear from them, it could mean that they've decided not to send it to you and it's best to just let it go. It's not personal, it's business. If they reply with a note of apology that the product may be lost in the mail, etc, then it's up to them if they would like to resend the product. Either way, there's nothing wrong with a polite follow-up. If you don't get the product, it's not a big deal.
4. A makeup base product (foundation/BB cream) that was sent to me was too dark/light for my skin tone. Do I still review it even though it's not the right shade? How can I give it an accurate review when I can't wear it?
There are a couple of ways you can go about it. You can review the texture, finish, longevity, etc by wearing the foundation at home or during the weekend when you're staying in. Just be sure to make a note that the colour doesn't suit you but if the foundation turns out to be good, let the review reflect that too. Another way would be to let the PR who sent the product to you know that the product he/she sent to you is too light/dark for your skin tone and if he/she can send the right shade instead. You can offer to send the wrong shade back to them if you want (usually, they'll just ask you to keep it).
5. I received a parcel with a number of products from one brand to review. Do I have to review all of them?
This is a bit of a toughie. Personally, I'd say no, it's not necessary to review every single product that was sent to you. For example, if I was sent 4 eyeshadows, 4 lipsticks and 2 mascaras all at once, I might choose the prettiest eyeshadow, lipstick and macara and create a look with them. If I was sent a toner, serum and moisturiser on the same range, I might decide to talk about the serum instead since it's the most potent product of the three. It's up to you.
I hope this helps answer some questions you might have about products sent and received for editorial consideration. Stay tuned to the next Bloggie Wednesdays where I share the next 5 frequently asked questions and answers with you. If you have any questions regarding products sent for review, working with brands, etc, feel free to leave them in the comments below and I'll do my best to answer them.

Bloggie Wednesdays
is a series of articles just on blogging. They contain tips, how-tos, discussions about anything and everything you need to know about blogging and how we can be better bloggers. If you have any suggestions, tips and tricks about blogging you would like to share with us, or if you have any questions you would like me to address, please let us know in the comments.