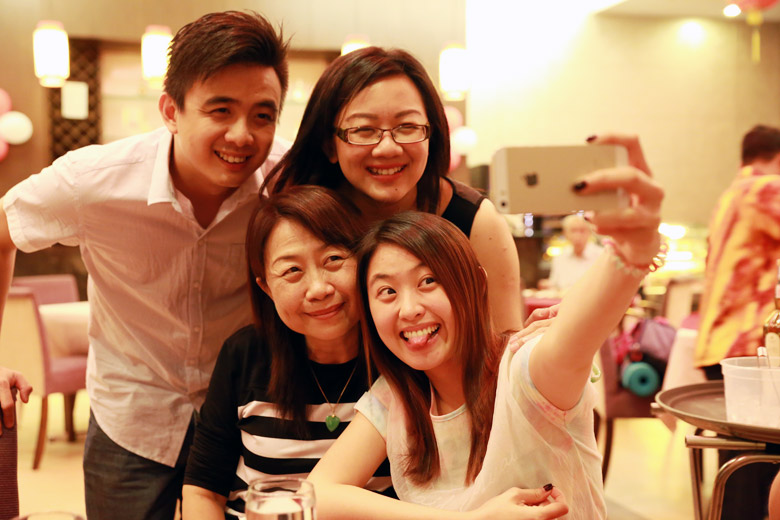 Selfie-ing with Mum, my brother and cousin Stella
If you're wondering why this blog post isn't out at its usual time, it's because for the first time in goodness-knows-how-long, I'm not scheduling this post to publish but actually blogging on the fly. I haven't done this in ages so do excuse any typos or grammatical errors.
Anyway, yes, I'm back from Malaysia! It's so good to be home. Last night I slept on my own bed and I couldn't have slept any better. I know, I know, I was only gone for 2+ weeks; you'd think I was gone for much longer. But it's true, nothing beats your very own bed. 😛
Having said that, it's been a great trip. If you're subscribed to my weekly newsletter, BA Insider, you'd have read some of my updates on the trip (shameless plug: if you haven't subscribed yet, I share a lot of goodies there that I don't share here on the blog! By the way, I'll be sharing my holiday shopping haul in my next newsletter. Y'know, just in case you'd like to see what I got 😉 ). I had a great time with my family and close friends. It was really good to see them again and I spent as much time with them as I possibly could. As usual, leaving my folks and brother behind was really tough and it just gets tougher each year. Sigh.
I've also eaten and shopped up a storm. Boy oh boy, it sure is going to be hard shedding the pre-, during and post-holiday weight. In other words, I'm quite screwed 😛 . Oh well, when it comes to Chinese New Year and food, it's pretty damn hard to say no to the latter. When it comes to shopping, well, you know I'm not going to say no to that either!
I'm going to take a couple of days off to do lots of housekeeping on the back and front-end of the blog. Even though I was away, the blog was still busy with daily scheduled content and it's time to reply to all of your lovely comments. Thanks for also supporting my guest contributors while I was away (Yishan, Norlin, LeGeeque and Ling: y'all did a fab job. Thank you so much for helping me out!). There are heaps of errands to run, bills to pay, parcels to send out, house to clean and so on. Nothing like coming home to a very dusty house to shake you out of your holiday mood and into the post-holiday funk, eh? On the other hand, Janey is coming home from boarding this evening and I can't wait to see her again!
If there's anything you'd like to see on the blog or a particular topic you'd like me to blog about, please feel free to let me know in the comments. My blogging notebook is ready for ideas!
Now if you'll excuse me, there's a mountain of laundry (and much more!) waiting for me. Have a great Monday and week ahead, folks!
PS: Sorry there aren't any more photos to share of my trip. I took mainly photos of family this time and most preferred not to have their photos publicly displayed.