Note: This is an image-heavy post.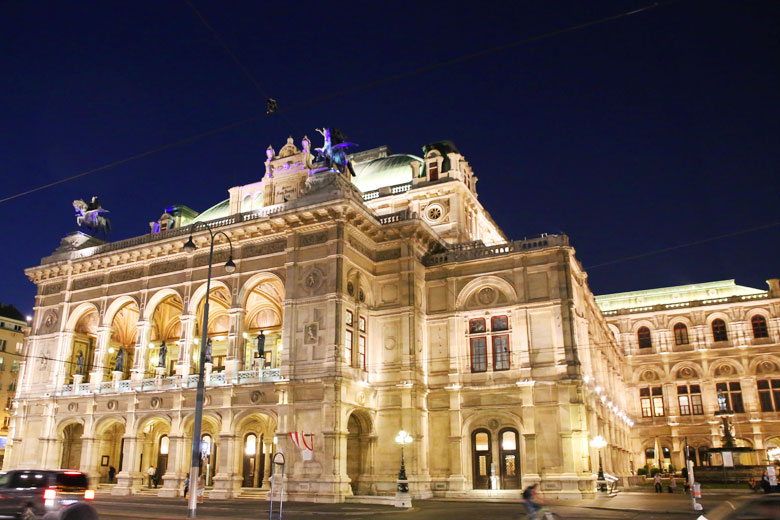 Vienna State Opera
Hello lovely readers!
I'm back from my holiday! Okay, to be fair, I was back a week ago but there were pressing issues such as unpacking, battling jetlag, doing 9 loads of laundry, cleaning up a very dusty house and then falling sick after all that to really tell you the holiday's definitely over and you have a shit tonne of things to do that took my energy away from blogging. But, that's just me whinging, and screw all that; I'm definitely back and I've missed you!
Oh absence sure makes the heart grow fonder, doesn't it? 🙂
Vienna and Budapest were smashing. Absolutely smashing! I wanted to spam Instagram with a lot more photos but my phone's camera just couldn't do the beautiful cities justice. Vienna has always been in my travel bucket list of cities to visit and I'm so glad I get to check that off my list. I don't know why I've never thought of visiting Budapest before; it turned out to be even more spectacular than I expected!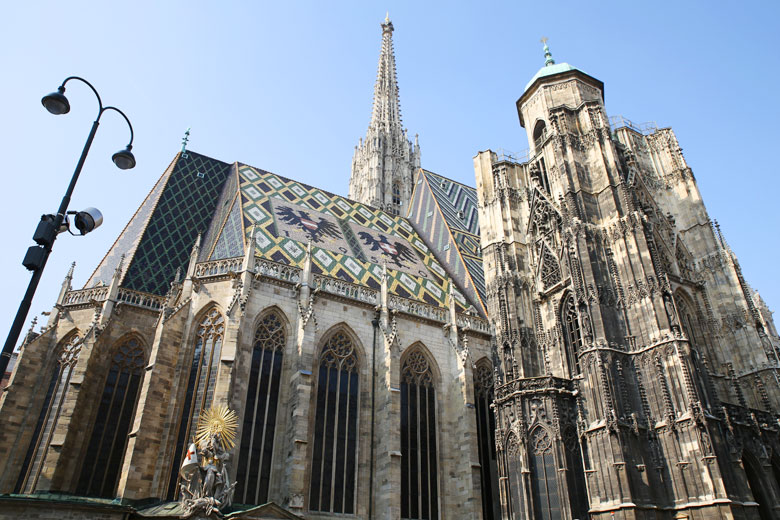 St Stephen's Cathedral, Vienna
There were a lot of ups and downs of the trip; thankfully far more ups than downs. The weather turned out to be far warmer than I expected (I've been monitoring the weather forecast religiously too!) and most of the long-sleeved tops I brought with me ended up unused. I don't know why, but the European heat seems to be a lot stronger than our Aussie heat even when we have the same weather so it was hot most of the time we were there. The one pair of shorts I brought with me on whim ended up being worn daily for 2 weeks. You can imagine how absolutely disgusting it smelled on the last day of the trip! 😛
Here are some of the highlights of the trip in no particular order. Writing them down sure brings back many lovely memories.
1. Watching an opera and musical that weren't in English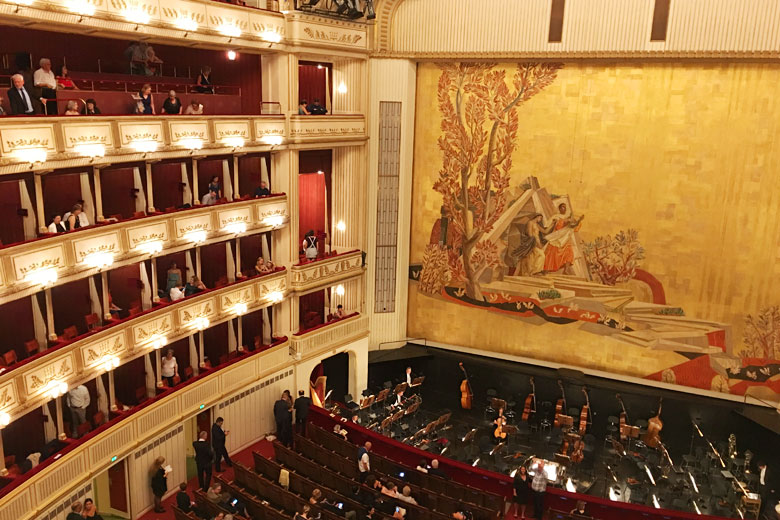 Tim decided that since we were going to Vienna, we had to watch an opera at the Vienna State Opera (mind you, he never was a fan of operas). We decided on Bizet's Carmen. The tickets were beyond expensive and even that could only score us a seat on the second last floor on the very last row. Heck, the people on stage looked like ants; we were that far back! The 2 euros I spent on renting a pair of binoculars came in very handy 😛 . It was terribly stuffy in the theatre (there was no AC on despite the large audience) but the entire opera still managed to take our breath away. The whole thing was in done in French but we had a small LCD monitor right in front of our seats with English subtitles.
Funny thing is, people can actually watch the entire opera outside the theatre on a large screen for free! There were different operas playing every evening. Up to an hour before the show starts, there would be a large group of people claiming their seats on the benches and even on the floor. But watching it in the theatre amidst ladies in long flowing gowns and cocktails dresses and men in suits … now that was an experience! Australians are typically very casual with their theatre attire back in Australia but in Vienna, they really step it up. Even though I wore a dress, I was severely underdressed and stood out like the tourist that I was. 😛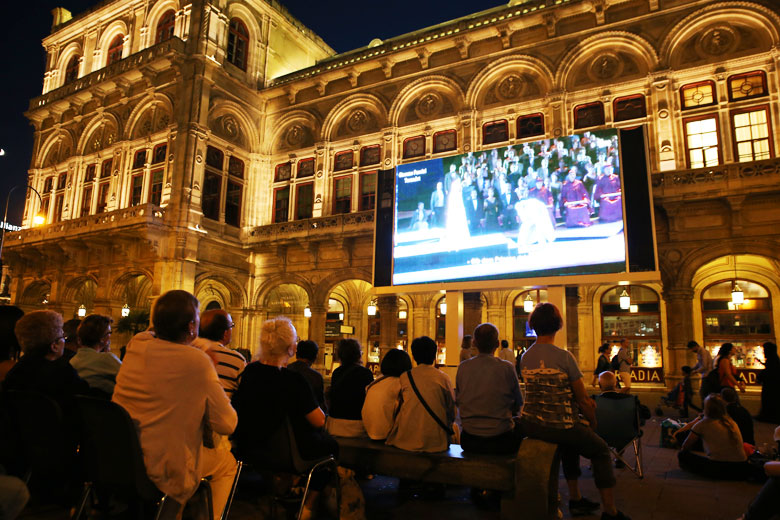 The second show we watched was the Billy Elliot musical in Budapest. This was interesting because the entire show (including the songs) was done in Hungarian. There was a large LCD screen above the stage with English subtitles, which I suspect was the transcript of the original show done in English. It didn't even matter that the show was in Hungarian; it was so good! Best of all, we spent under AU$17 per person to watch that awesome musical and our seats weren't half bad either.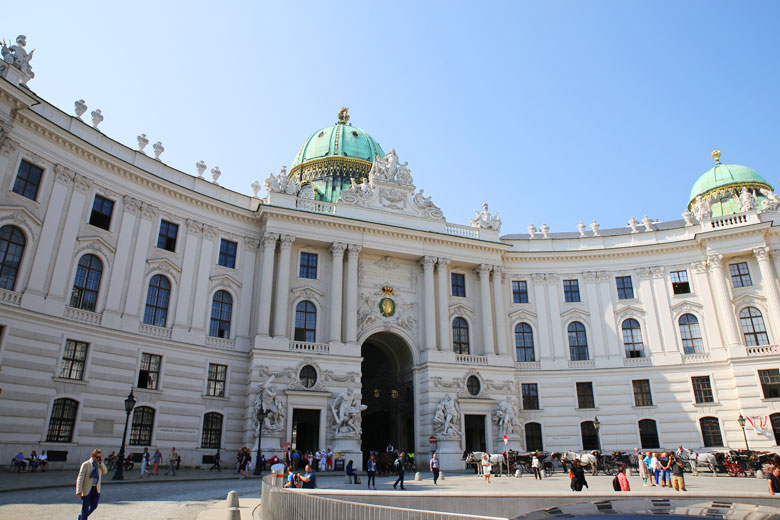 Hofburg Palace, Vienna
2. Exploring the city of Vienna by myself
The reason we were in Vienna was for a conference that Tim attended. For two days, I explored the city myself while the poor bloke was stuck in a small and stuffy room (aww!) in the University of Vienna. While I love exploring new cities and discovering new things with Tim, there's something about doing it myself that makes it just a little bit more interesting yet intimidating. I ended up going to a show at the Spanish Riding School, took a hop-on-hop-off bus outside the city to check out the sights, explored little lanes, nooks and crannies. Even though I'm always very wary of my surroundings when I'm by myself in a strange new location, I didn't feel intimidated or scared walking by myself even in the small, secluded lanes in Vienna.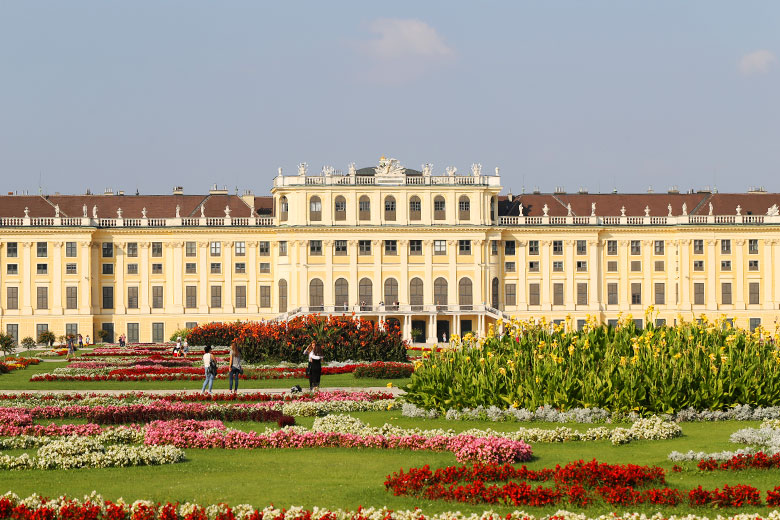 Schonbrunn Palace, Vienna
3. Doing a culinary walk tour in Budapest
Tim signed us up for this and I must say, it was such a tour worth taking, especially if you enjoy trying new food and drinks. Our tour was carried out in English and it was a small group of us, two of us from Australia and four others from the US. We started off the day by drinking 😛 . It was a very strong medicinal liqueur called Unicum and we bought some home with us. Then it was a lot of eating and walking and eating some more. The tour guide brought us to places the locals would go to, introducing different types of food to us, telling us the history behind certain foods (my favourite part!) and in between, we just kept eating. It was a good thing we walked so much because we ate so much! 😛 If you're visiting Budapest for the first time, I highly recommend checking out the culinary walk tour from Taste Hungary.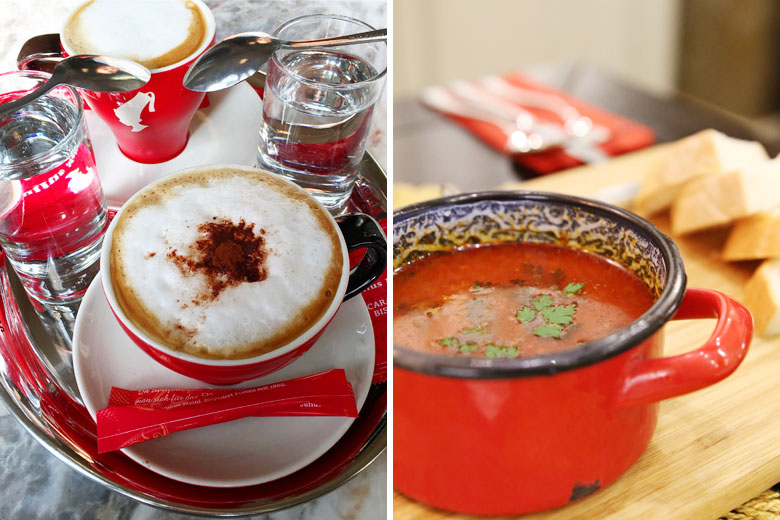 4. Eating as much Hungarian goulash and drinking as much Wiener Melanges as possible
Speaking of eating and drinking, it wouldn't be right if they weren't a highlight of my trip now would it? In Vienna, I fell in love with the Viennese coffee called Wiener Melange (it's like cappucino but instead of just hot frothy milk, they add whipped cream to the coffee too. Freshly whipped cream, not the ones from the can) and drank it as often as I could. I wasn't a big fan of their famous schnitzels and strudels but boy oh boy, do I love their coffee. In Budapest, I ate so much goulash soup that just before our trip was over, I bought hot and sweet paprika and Googled the crap out of Hungarian goulash recipes so that I can make them at home. When we were in Budapest, except for one lunch and all breakfasts, I had goulash every day. That was how good their goulashes were. Just writing about it now is making me miss goulash so much!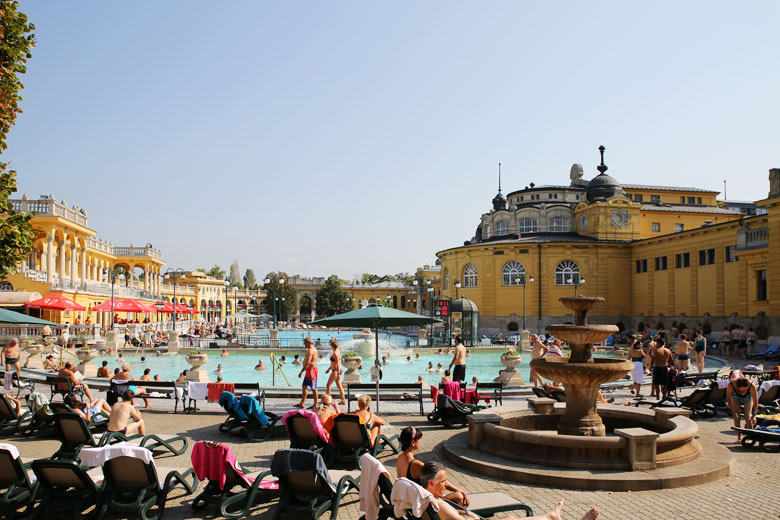 Szechenyi Baths, Budapest
5. Spa-ing at the Szechenyi Baths at Budapest
Budapest is famous for their many thermal springs and baths and naturally, we had to check one out. We went to the famous Szechenyi Baths, which was the biggest spring-baths place I've ever seen. They had 3 large baths outdoors (the size of swimming pools) and many more indoors. We spent most of our time at the outdoor pool. I actually forgot to bring my swimming costume and thought I could buy it in Vienna or Budapest cheaply since they were already heading towards winter and us summer here in Australia. I must have missed all of their sales because not a single store I went to – Zara, H&M, Forever 21, and many of their local stores – sold swimwear! In the end, I picked up a pair of running shorts from H&M and wore my sports bra with it instead. Hey, it worked!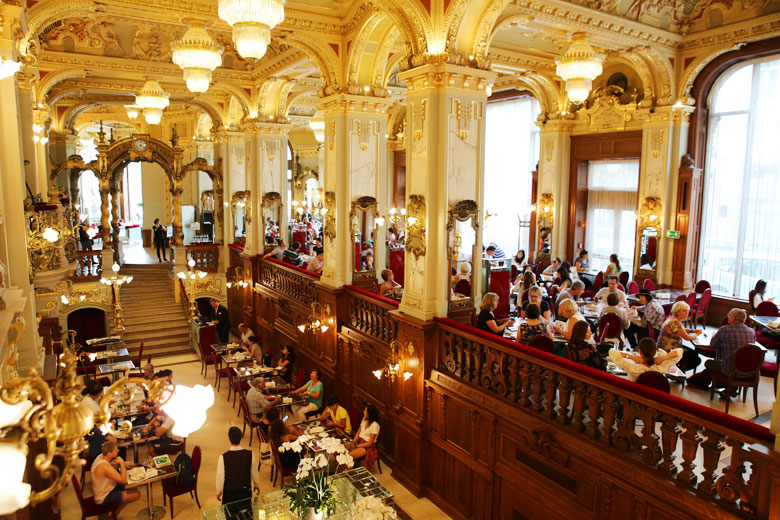 New York Cafe in Budapest, known as the most beautiful cafe in the world. Beautiful, oh yes. The coffee? At 6 euros a cup, it was pretty lousy. 😛
6. Experiencing a Michelin-star restaurant at prices that cost less than many no-hat restaurants in Australia
Tim's best mate suggested that we try out a Michelin-star restaurant in Budapest, because it would be one of the cheapest places to try one out compared to anywhere else in the world. And he was right. We went to Borkonyha Wine Kitchen and what a meal it was! Even thought it was fine dining it was done at a casual and unpretentious setting, and the service was excellent. While our bill wasn't cheap, it was certainly cheaper than many non-hatted restaurants we've been to in Australia.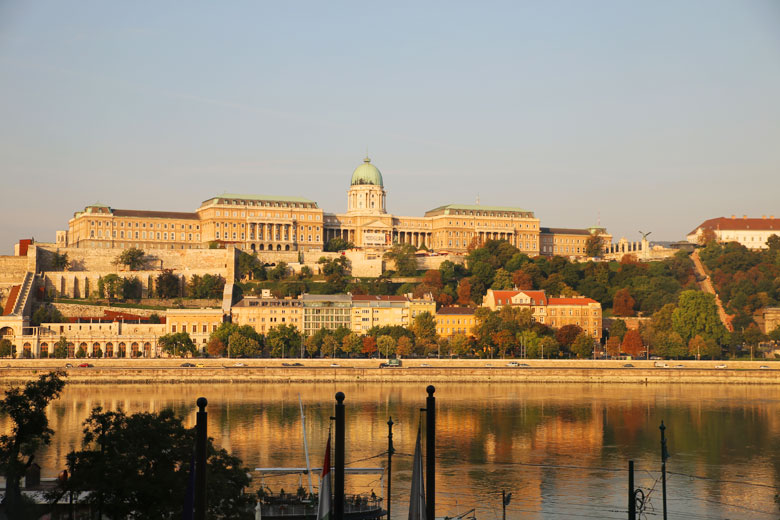 I woke up to this view in Budapest <3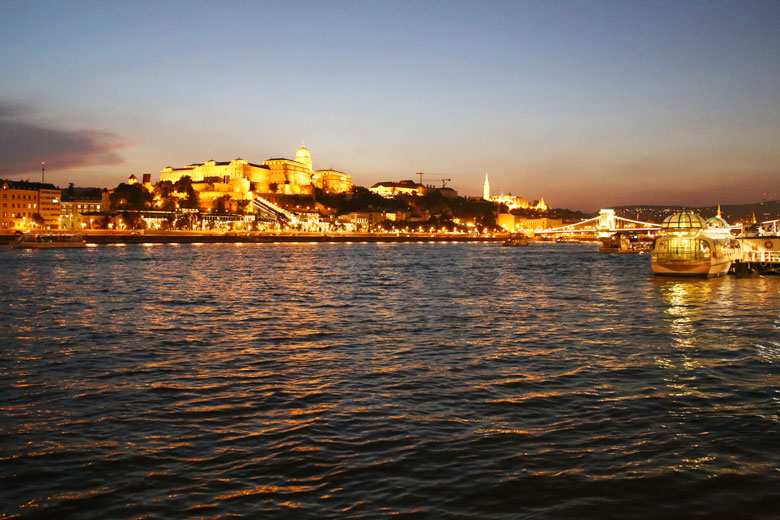 The Danube, Budapest
7. Not photographing everything but taking a step back and just enjoying the moment
It's strange that I would say that given that I was in 2 very beautiful cities and that I should want to photograph everything possible. Most of the time, yes, I would whip my phone out and capture a picture (yes a phone! Tim ended up hogging the DSLR which I gladly relinquished that heavy sack of potatoes to him). But sometimes, it was worth taking a step back and just enjoying the time I had in those beautiful cities. For example, we took a night cruise on the Danube River. While it was very crowded, the breeze was lovely and watching all the lights illuminating the beautiful buildings like the Hungarian National Gallery and the Parliament Building; oh they were a sight to behold. Unfortunately, there were also a lot of tourists who wanted to take a gazillion pictures with their phones and cameras (and God forbid, the iPad), so there were a lot of bright flashes every few seconds for the next 45 minutes. We went downstairs where there were barely anyone (because it wasn't open air) and I found an opening to the outside and just soaked in the breeze and beautiful bright lights. I was glad I didn't take a single photo on that cruise. The photo above was captured by Tim prior to the cruise.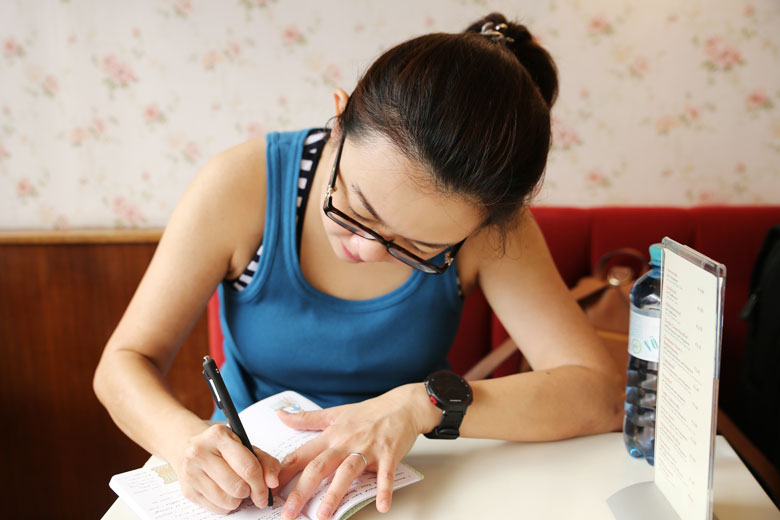 8. Writing a journal to record the holiday
Prior to the trip, I decided that I would keep a journal for the trip. I've never written travel journals before so this was an interesting experiment. By the end of the trip, I can proudly say that it was the best thing I've ever done on a holiday and the best souvenir I brought home with me. Tim was so excited to read the journal that he kept bugging me on our flight home "ARE YOU DONE YET???"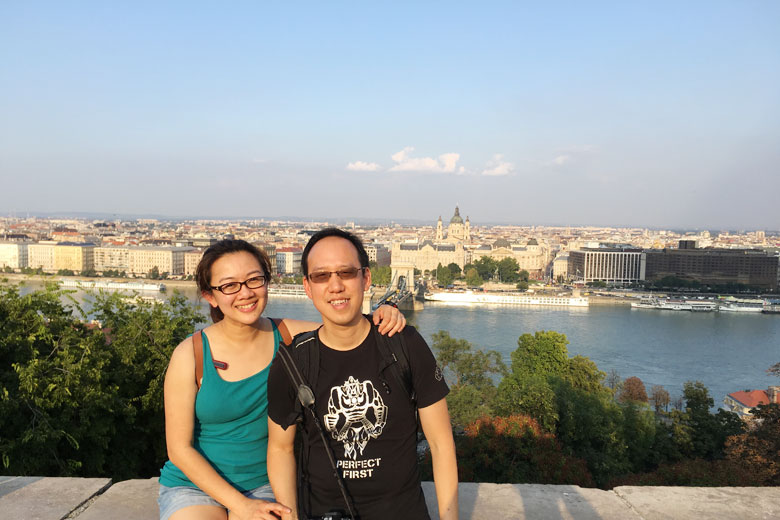 One of the two photos of Tim and I taken during the trip that wasn't selfie-style.
There were so many good things about the trip that writing them all done here would take many blog posts. I hope you've enjoyed reading about my highlights in Vienna and Budapest. I never thought I'd be able to visit these cities and I'm so very glad I did because they were just so beautiful. Every corner was a wow moment. If you've never been to Vienna and/or Budapest, I highly recommend them! I would love to be back, especially to Budapest because I just haven't seen (nor eaten!) enough of the beautiful city.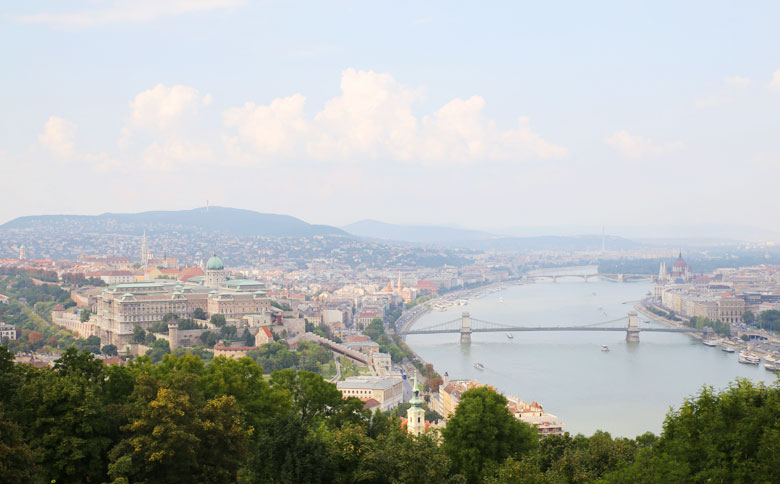 The city of Budapest (photographed at the Citadella)
Some day, perhaps. 🙂
Have you been to Vienna and/or Budapest? If not, are these cities on your travel bucket list too? If you have, what was your favourite place to visit?