THE GIVEAWAY IS NOW CLOSED. THANK YOU FOR PARTICIPATING!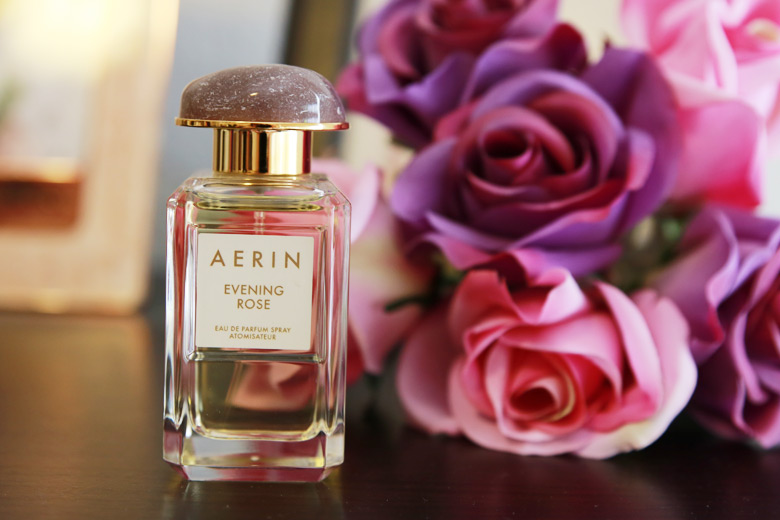 AERIN fragrances are finally available in Australia! Well, it took those fellas long enough, didn't it? 😛
If you're wondering, what or who the heck Aerin is, I'm talking about Aerin Lauder. Last name rings a bell, doesn't it?
She's the granddaughter of Estée Lauder and Joseph Lauder, the co-founders of the cosmetics company Estée Lauder Companies. She's currently one of the directors for the Estée Lauder Companies and AERIN is her own cosmetics line. I tried one of her cream blushes a while back and it was lovely. I wish they brought her full makeup line to Australia as well instead of just the fragrances but hey, one step at a time, eh?
There are 7 fragrances by AERIN – Iris Meadow, Waterlily Sun, Gardenia Rattan, Amber Musk, Lilac Path, Ikat Jasmine and Evening Rose. Today, I thought I'd share one of them with you, and that's the Evening Rose.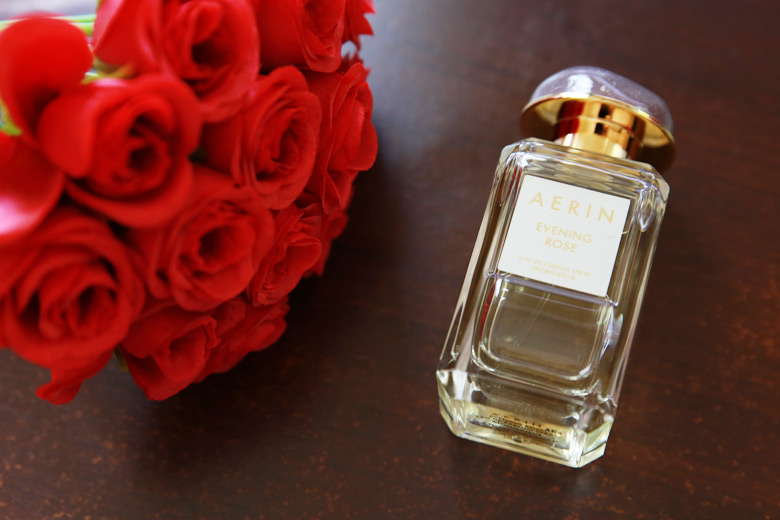 First of all, the packaging is simply stunning. It's nothing overly fancy; it's a sophisticated rectangular bottle adored with a beautiful yet heavy gem-like stone. Each fragrance has a different coloured cap specific to its scent.
The Evening Rose isn't actually as its name describes. It doesn't smell strongly of roses although there is a distinct scent of it in the fragrance. When I smell it, it reminds me of a man carrying a bouquet of roses. I smell the spiciness and musk from the man along with the scent of roses he carries.
Poetic but true.
Top notes: Cognac, blackberry
Middle notes: Rose, Bulgarian rose
Base note: Incense
It's unlike any rose scented fragrance I've smelled. It's a very grown-up and sophisticated evening scent. The combination of rose and cognac is unusual yet very sensual. I find this too heavy to wear during the day but at night, it's beautiful. This is a long-lasting fragrance; by the end of the day, I could still smell the rose and incense on me. Some people said it smells too strongly of incense and that it's slightly powdery but I didn't experience any of this. While the scent of incense is quite strong, I could still smell the rose with it and for some odd reason, that combination works.
Aerin Lauder worked in close partnership with Firmenich, one of the top fragrance houses in the world, to create her AERIN fragrance collection. Here are what some of the perfumers have to say about the perfumes:
Evening Rose – Honorine Blanc, Master Perfumer
"I wished to pay homage to the everlasting mysteries and depth of the Bulgarian Rose."

Gardenia Rattan – Pierre Negrin, Perfumer
"I sought out the warmth of white florals floating in air to meet the cool spray of the sea".

Amber Musk – Honorine Blanc, Master Perfumer
"Like an illustrator, I wanted to sketch out a fluid line of modern sensuality into a golden, warm Musk."

Ikat Jasmine – Honorine Blanc, Master Perfumer
"I find Jasmine's small, unassuming perals to be endlessly captivating as they are able to express such incredible radiance."
Each AERIN EDP 50ml spray retails at AU$165.00 and is available at MYER and David Jones now.
Estée Lauder very kindly sent me four AERIN fragrances to try and since I already have a lot of perfumes, I decided to only keep the Evening Rose for myself and give the other three away to 3 lucky readers! The Ikat Jasmine, Gardenia Rattan and Amber Musk are beautiful perfumes too and would sit very prettily on the skin and also your dressers.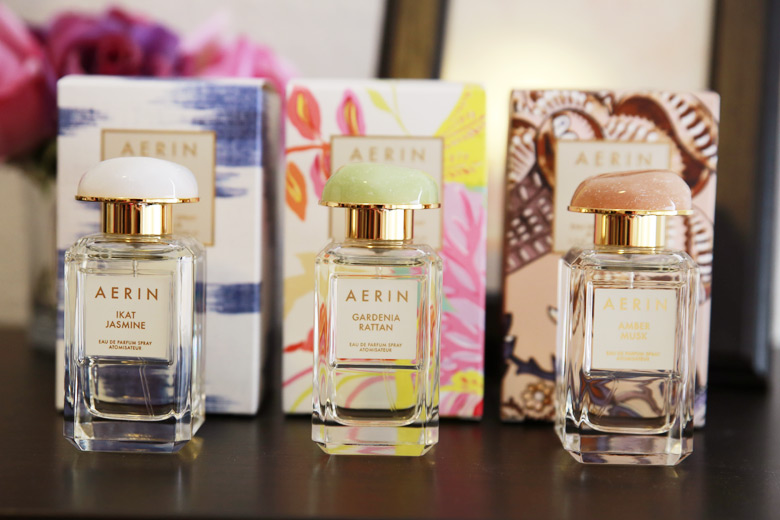 This giveaway is open to Australian readers only this time as I'm not able to ship flammable products overseas (sorry, this is Australia Post's shipping policy). There will be 3 winners to this giveaway, each winner winning any of these 3 fragrances I mentioned (excluding the Evening Rose).
HOW TO ENTER:
Simply leave a comment below answering the following questions:
1. Which perfume would you like to win? (Ikat Jasmine, Gardenia Rattan or Amber Musk)
2. What's your favourite perfume?

That's it!
TERMS & CONDITIONS:
1. This contest is open to Australian residents only.
2. The total value of the prize in the contest is approximately AU$495.00.
3. Anyone can enter the competition regardless of whether you've won anything here before.
4. Only one comment per contestant will be accepted.
5. Please keep it clean and spam-free.
6. The closing date for this giveaway is 11.59pm, 27 April 2015 (Australian EST). Comments submitted after this time will not be considered for the giveaway.
7. There's no guarantee that the winner will be able to get the AERIN perfume he/she selected.
8. Three (3) winners will be selected at random. The winner of the giveaway will be announced in the Competition/Giveaways page on 29 April 2015. The winner will also be notified via email. Please ensure that you've entered the correct email address because I'll be using that email address to contact you if you've won (not via social media).
9. The winner will be required to submit his/her name and contact address to Beautyholics Anonymous, who will be sending the prize out (please read Beautyholics Anonymous' privacy statement for more information).
10. The winner must respond to the notification email to claim the prize within 3 working days.
11. Prizes are not redeemable for cash and are non-transferable.
12. If for any reason beyond the Promoter's control that the agreed prize is not available, a product of equal or greater value will be provided.
13. Beautyholics Anonymous and Estée Lauder are not responsible for prizes once they have been dispatched to the winner. Beautyholics Anonymous and Estée Lauder reserve the right to change the terms of this giveaway at any time.
Good luck!
This product was provided for editorial consideration. This post contains an affiliate link. By purchasing something via these affiliate links (at no extra cost to you), you're supporting Beautyholics Anonymous, which I highly appreciate. For more information, please read our
disclosure policy
.