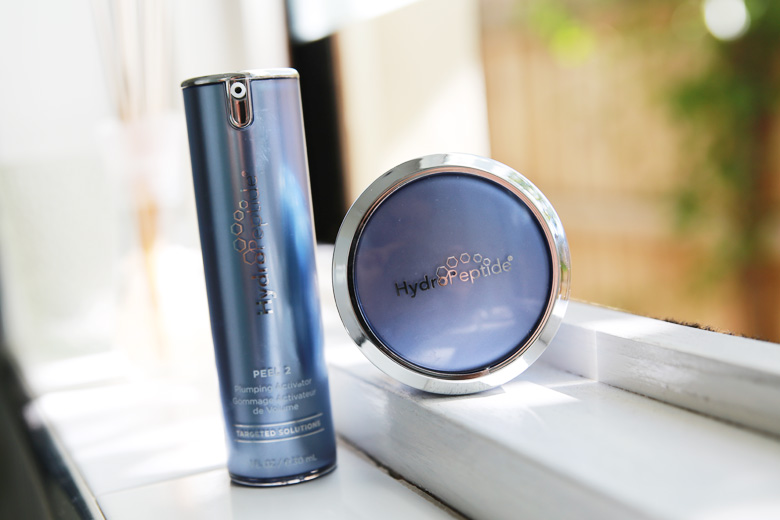 It's been a long time since I've had a microdermabrasion but I still remember what it was like and more importantly, what the results on my skin were. There was no down time at all and while my skin was a tad red, it went back to normal pretty quickly. But the best thing it did for my skin was gave me that amazing smoothness that regular physical exfoliants can't give me. It made my skin incredibly smooth and it stayed that way for days.
The problem with microdermabrasion is while it exfoliates my skin very well, it's not a cheap treatment to go for every few weeks. So I stuck to using physical and chemical exfoliants (never together and not on a daily basis) and while the regime gave my skin good results, I couldn't help but miss that ultra-smoothness.
This HydroPeptide Anti-Wrinkle Polish and Plump Peel set actually landed on my desk for review just before Christmas but I only started giving it a go over a month ago. I naturally assumed it was a serum and a moisturiser and as I was trialling a number of serums and moisturisers that time, I put this on the back burner and forgot them.
When I finally took this out again and read the description properly, it was then that I realised that this isn't a serum and a moisturiser but a scrub and a serum for the scrub, for the skin (I know, what a mouthful). As it does mention that it's a peel, my caution radar went on full alert as I very carefully gave it a go.
The results? Bloody hell, it blew my mind.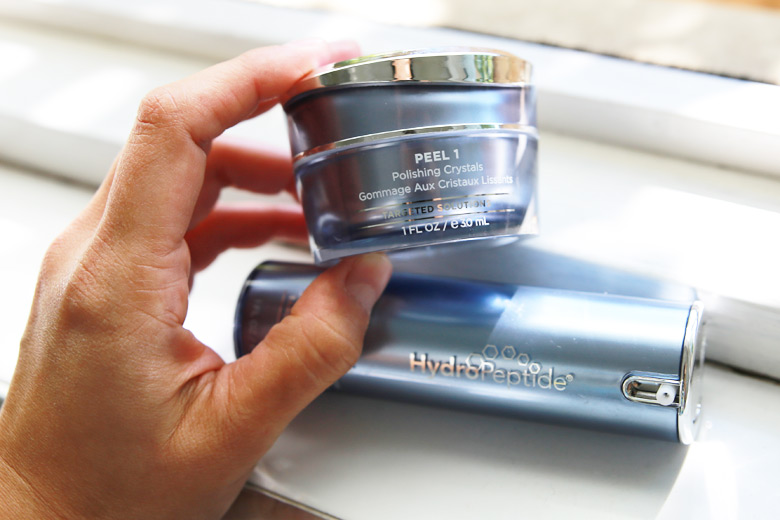 Description:
Instantly receive the benefits of a gentle microdermabrasion from a light chemical peel and a pampering facial in just two easy steps. See smoother, brighter and healthier looking skin after just one treatment while also enhancing the penetration of active plumping ingredients. With the polish and plump peel, skin does not flake or require any downtime. Also use it to minimize acne scars, aging hands, dry feet and elbows, even the appearance of stretch marks.

Ingredients:
Peel 1: PEG-8, Sodium Bicarbonate, Glycerin, Polyethylene, Butylene Glycol, Cetearyl Alcohol, Polysorbate 60, Cetyl Alcohol, Zeolite, Polysorbate 20, Fragrance, Tocopherol, Synthetic Beeswax, Magnesium Ascorbyl Phosphate, Citrus Aurantium Dulcis (Orange) Peel Oil, Retinyl Palmitate, Phenoxyethanol, Methylisothiazolinone

Peel 2: Water, Lactic Acid, Butylene Glycol, Glycerin, Acetyl Octapeptide-3 (Relaxing Peptide), Hydrolyzed Soy Protein (Moisture-Binding Peptide), Hydrolyzed Wheat Protein (Moisture-Binding Peptide), Pseudoalteromonas Ferment Extract (Hydration Peptide), Polyquaternium-10, Tripeptide-1 (Plumping Peptide), Tripeptide-10 Citrulline (Plumping Peptide), Hydroxyethylcellulose, Arctostaphylos Uva-Ursi (Bearberry) Leaf Extract, Camellia Oleifera (Japanese Green Tea) Leaf Extract, Chondrus Crispus (Carrageenan) Extract, Echinacea Angustiflolia (Coneflower) Extract, Rosmarinus Officianalis (Rosemary) Leaf Extract, Cucumis Sativua (Cucumber) Fruit Extract, Chamomilla Recutita (Matricaria) Flower Extract, Lecithin, Aminomethyl Propanol, Caprylyl Glycol, Carbomer, Phenoethanol, Xanthan Gum, Methylisothiazolinone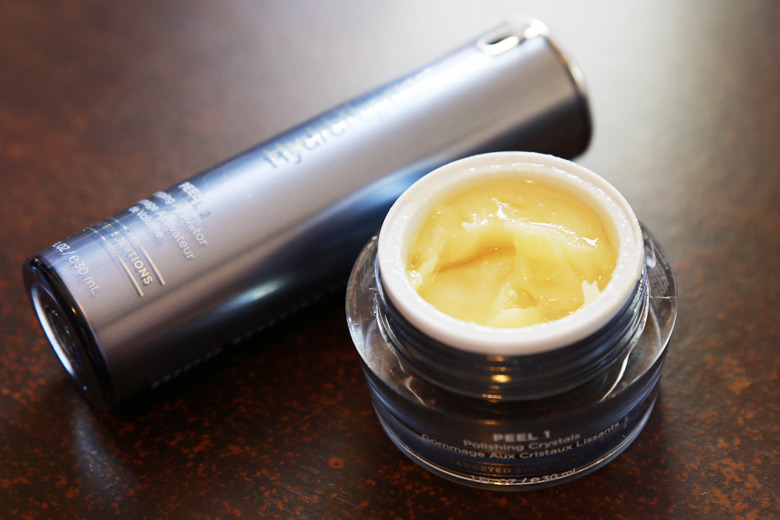 Peel 1, which is the one in the jar, contains microdermabrasion crystals with Vitamin C (Magnesium Ascorbyl Phosphate) and Orange Peel Oil to brighten the skin and reduce the visibility of fine lines. Peel 2 is the "peptide" of the duo; it contains 6 peptides to increase hydration after exfoliation. It also contains 5% lactic acid, Bearberry, green tea, cucumber, echinacea and chamomile extracts to provide an even complexion, smoother skin tone while calming and soothing the skin after the "microdermabrasion".
In short, Peel 1 is the scrub and Peel 2 is the serum that goes on top of the scrub that you don't remove.
What? Stay with me, I'll explain further.
After cleansing, I'd massage about 1/4 teaspoon of Peel 1 (scrub) on my skin. This scrub is not to be removed. Next, I apply 1/4 teaspoon of Peel 2 (the serum) on my skin, massaging it on top of the scrub. This will leave the scrub feeling even flakier. Lastly, I rinse all of the product off my skin with tepid water.
The instructions were to massage Peel 1 for 1-2 minutes and massage Peel 2 on top of Peel 1 for 1-2 minutes. Unfortunately, I don't recommend following these instructions to the letter because as tiny as the crystal bits are, they feel mighty scrubby on the skin. Even with very light touch of the hands to massage your skin, unless you have skin like leather, it's going to hurt after 30 seconds. Any longer on the skin would be too harsh. The same goes for massaging Peel 2 over Peel 1. So what I do is massage the scrub for 30 seconds, apply and massage Peel 2 over Peel 1 for another 30 seconds before I rinse them all off my skin with water.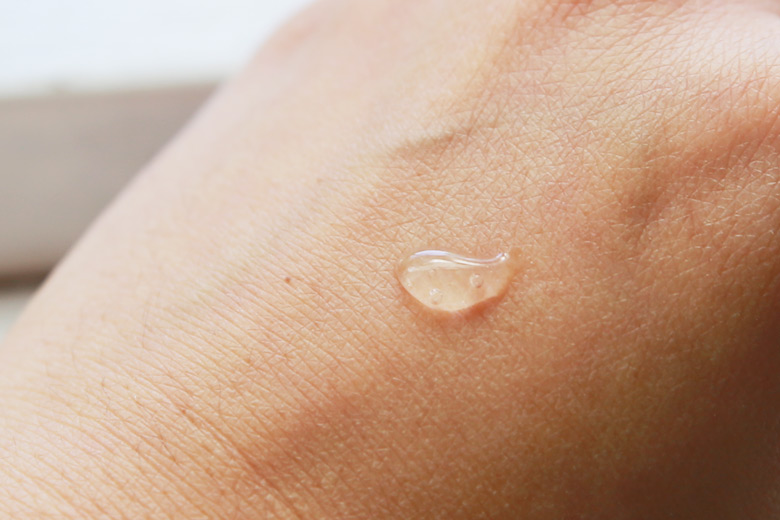 Now, let's talk about results. Geez louise, my skin was smooth. It's not just your typical physical facial scrub sort of smooth but a whole other level of smooth. My skin was slightly red after using both peels and it heated up a little but settled down a few minutes later. I don't use any strong serums after the peel but a nourishing one (my Skin Inc's customised serum works very well after I use the peel). I couldn't stop touching my face every few seconds because of how incredibly smooth my skin was (the first time I used it, I kept looking in the mirror and going "OMG OMG"). It's the exact results I had after a proper microdermabrasion session.
In short, I love this peel duo. LOVE. It works well on my combination skin without making it any oilier. I used it the night before any event or special occasion I had to attend and topped it off with SKII's Facial Treatment Mask. The next morning, my skin glowed. Bloody amazing stuff.
I'm so glad that there's this microdermabrasion in a jar (well, a jar and a bottle), because it will definitely save me money from going for microdermabrasion sessions to achieve the same results. A word of caution for those with sensitive skin: HydroPeptide says that this peel duo is suitable for all skin types but personally, if I have sensitive skin, I wouldn't use this nor would I recommend it to anyone with sensitive skin.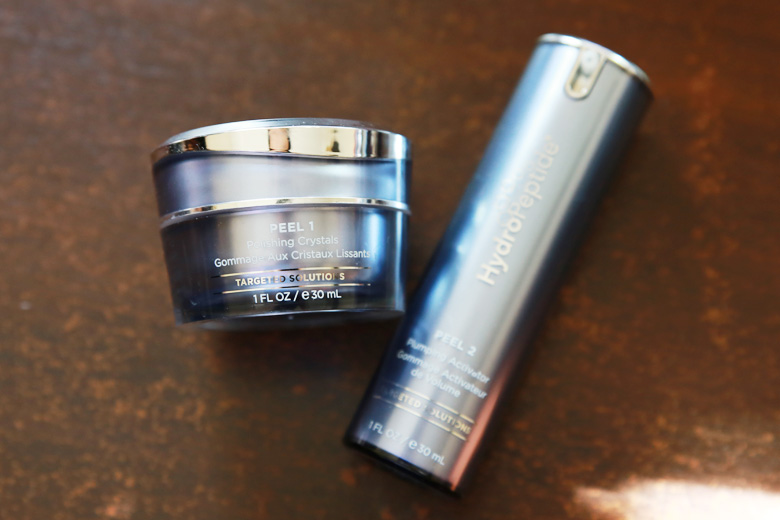 The HydroPeptide Anti Wrinkle Polish and Plump Peel set retails at AU$110.00. You only need 1/4 teaspoon of each per application and each peel should be done at most once a week, so this will last me a while. Far cheaper than going for just one microdermabrasion session with the same results, I say! Oh, and you can get this at Adore Beauty. Who gives out Tim Tams with each parcel. Just sayin'!
What I like about it: It gives me amazingly smooth skin that no typical physical and chemical exfoliant can give me. That smooth skin lasts for about a week.
What I do not like about it: I'm not keen on the instructions to massage each peel 1-2 minutes on the skin. I find that too long and too harsh on the skin. At most, I'd do about 30 seconds, at the very most 45 seconds.
Have you tried microdermabrasions before? Does it work for you? Would you prefer an at-home version like this one to achieve similar results or would you prefer to have proper microdermabrasions done at a salon?
This product was provided for editorial consideration. This post contains an affiliate link. By purchasing something via these affiliate links (at no extra cost to you), you're supporting Beautyholics Anonymous, which I highly appreciate. For more information, please read our
disclosure policy
.