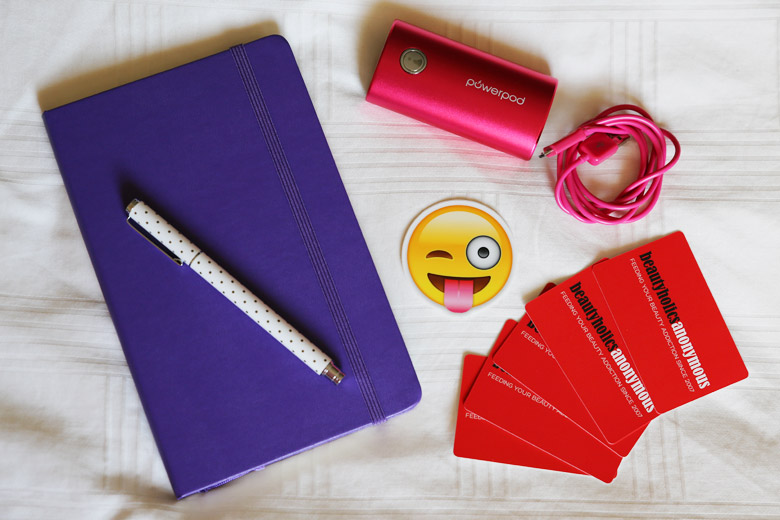 In last week's Bloggie Wednesday, I talked about preparing for a blogging conference. I'll be leaving for Gold Coast next week for the Problogger Event 2015 and I'm so excited about it. But, erm, being the usual last minute packer that I am, as I write and publish this, I have yet to pack anything. And here I am talking to you about packing for a conference.
Yes, I get the irony. 😛
A question that's frequently asked by first-timers are: what the heck should I bring to a blogging conference? Believe you me, before I headed to my first blogging conference, I Googled the heck out of it. What should I bring? What should I wear? How do I keep myself from losing my shit when I see the bloggers I've been admiring from afar for so long that I don't fangirl them like a 13 year old? (I totally did by the way. Fangirled Pat Flynn last year. Ahem. Moving on.)
So, what should you bring to a blogging conference? In my experience, there are some things you should and shouldn't bring. I made the mistake of not bringing enough pens last year and also bringing my iPad along with me, which ended up with me carrying some sort of useless brick around because I never used it one bit. So, lessons learned, at least from the past couple of conferences I've been to.
By the way, this doesn't just apply to the Problogger Event conference. It applies to all blogging conferences too.
Note-taking paraphernalia
If you prefer good ol' notebook and pen like I do, bring it and bring more pens in case you end up writing a lot. If you prefer typing on your laptop or iPad instead, bring that. Having a laptop or tablet makes it easy to live-tweet the conference too if you'd like to do that. Heck, Periscope it too if you want; all the cool kids are doing it these days. Whatever you do, if you intend to take notes, bring your note-taking things.
Portable charger
As bloggers, we use our mobile devices furiously. This is especially so at a blogging conference where plenty of photos will be taken, sessions live-tweeted, videos taken via Snapchat or Periscope and so on. This takes a huge toll on our device's battery. Bring a portable charger with you. If you tend to use your phone heavily throughout the day, bring a charger with a high mAh. You can even charge your tablet or two phones at once with those.
Powerboard
In a room with over 500 people, you're going to be really hard-pressed to find a free power point to charge your devices because there'll be plenty of people who need a quick charge of their mobile devices but didn't bring a portable charger. If you happen to chance upon a free power point, use a powerboard instead of directly charging your device on said power point. You're going to help a fellow blogger or two out who can share the power point with you. The charging time is a good time to generate conversations too. Exchange your business cards and who knows, you may have a new reader/follower thanks to your kindness. I've been on the receiving end of kindness like this where I shared someone's powerboard and I couldn't be more grateful at the time. A USB powerboard would be even better!
Business cards
There are questions on whether you should bring 500 business cards with you if the number of attendees are going to be 500. There'll be different opinions about this from blogger to blogger but personally, I don't bring 500 cards if there are going to be 500 attendees because I know I won't literally be talking to every single attendee in the conference. Who has time for that? I'd like to be able to have a proper conversation with someone before whipping out my card. A few years ago, when I was a newbie attendee, I actually left my cards on every table in the conference room. I even left my cards in the restrooms. I didn't know who took the cards or if any of them were even taken. I was casting a net hoping fish would bite. Guess what? It was a waste of cards, my traffic didn't increase and none of those people who took my cards (if any did) contacted me at all.
It was a valuable lesson learned. I learned to actually strike a proper conversation with a blogger first and at the end of the conversation, only whip my card out. I found that a lot of conversations sort of end when cards are exchanged, so it wouldn't be a good idea to start giving out cards at the start of the conversation. I liken it to receiving blanket press release emails from PRs that don't address me by name. By giving out my card willy nilly to anyone who would take it doesn't do me nor the recipient any favours other than having to bring home heaps of cards. Mind you, I'm not being stingy with my cards but I feel that one should have a proper conversation with another, to get to know the other person before shoving my card in his/her face. The bloggers whom I remember from their business cards at conferences are the ones whom I had proper conversations with.
I usually bring half the number of cards to the number of attendees and even then, I'm being optimistic. Of course, this varies from blogger to blogger so if you're not sure, go ahead and bring more cards than you need. But please don't be disappointed if you didn't give many cards away. Quality over quantity, always.
Dress comfortably for the occasion
You meet a lot of people at a blogging conference and the last thing you'd want is to show up in your sweatpants. So dress well for the occasion. You don't have to bring out your diamonds or dress your Sunday best but present yourself well. Having said that, it's also important to dress comfortably because you may be moving from room to room in between sessions or you may be standing up for your meals. Super high heels may not be the best idea. Conference rooms are also notoriously cold even if it can be stinking hot outside so bring a cardigan or blazer with you.
Bring a bag that you can easily toss on the floor and can keep your hands free like a messenger bag or backpack. I'm quite precious with my bags and I really don't like to put them on the floor but in a busy conference room, you don't have the luxury of putting your bag on a seat (plus it's rude to other attendees). It's not typically a time for me to bring my best bags, so I bring ones that I'm happy to put on the floor.
Small tokens from your blog/business
This is optional but I've seen bloggers do this and it's wildly successful. People remember those bloggers, even years later. One year, Danimezza brought lots of mini badges and gave them away. Last year, Carly from Smaggle gave away little bottles of mints that contained her blog name and website link. It's a small gesture but it's what makes you memorable.
Your smile
Very important, this one. Even if you're nervous as hell. Even if it's your first time. It opens doors to conversations and opportunities. If you've been blogging and attending blogging conferences for a long time now, and you see a blogger standing alone and look unsure of her surroundings, please do go over, smile and say hi. If you're attending the same workshops/sessions, offer to go in together and thus, sit together. Don't just stick with your own flock the entire conference.
Last but not least, there's the usual stuff you'd pack for a weekend away, so I'll leave you to do that on your own. If you have more to add to the list, please share with us in the comments below. If you've attended blogging conferences before, do share any tips you have with us. Or share something valuable you learned at the conference!
Oh, and let me know if you're going to the Problogger Event next week! I'd love to catch up with you. 🙂
Bloggie Wednesdays
is a series of articles just on blogging. They contain tips, how-tos, discussions about anything and everything you need to know about blogging and how we can be better bloggers. If you have any suggestions, tips and tricks about blogging you would like to share with us, or if you have any questions you would like me to address, please let us know in the comments.