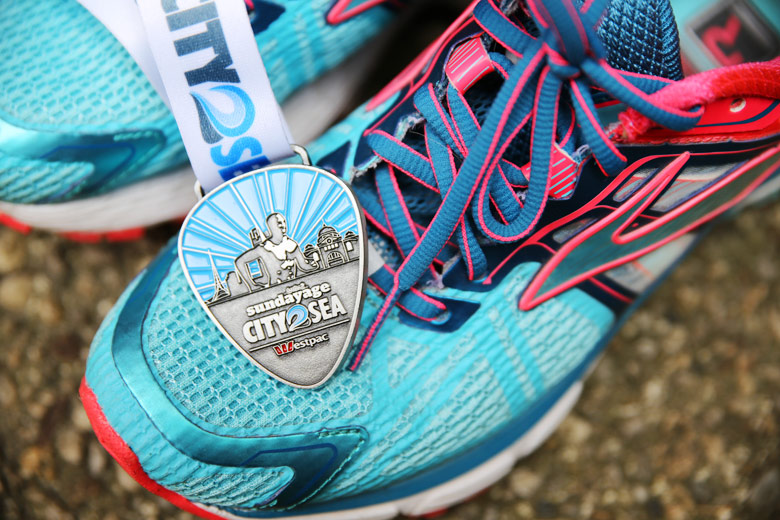 To seasoned runners or those who run regularly, 5km is probably chump change in distance compared to the minimum 10km runs and above. But for someone like me who had never deemed to run more than 100 metres unless absolutely necessary (e.g. being chased by someone or catching the bus. Fingers crossed I don't need to do the former) and who had her arse permanently planted to something soft, it was like running a bloody marathon.
Now that my first 5km run is done and dusted, I thought I'd share some of the things I've learned about going from zero (by zero I mean leaving-arse-prints-on-couch sort of thing) to actually running running a 5km race. The whole process has changed the way I live my life and I'm so grateful for it. If you've led a sedentary lifestyle for years but would like to get off your bum and try this running thing, here are some tips I learned along the way. It's really not as hard as I thought it would be.
Start a training program like Couch 2 5K
God bless the person who came up with the C25K training program. It's a very doable program that will get you putting on your running shoes and go.
The easiest would be to download a C25K app on your phone and run with it. There are plenty of C25K apps for iOS and Android. Just choose the one that you like best (preferably with high ratings). I used the one by Active.com. The core of the training program is the same; you start off by alternating your walks and runs at short intervals and as the days and weeks progress, the running time will get longer and the walking intervals shorter. By the final month, you should be able to run 5km comfortably.
I'm still not able to completely run 5km without short walking intervals but to me, that's fine. Don't beat yourself up for not being able to fully run 5km without running because it's okay. In fact, seasoned runners and experts recommend having walking intervals to build up energy and strength to push the distance further. I have 2-3 10-20 seconds walking intervals throughout my 5km runs.
There'll also be times in the training program when you don't feel as though you can push forward to the next week (it gets progressively harder as the days go by). Feel free to repeat past weeks' of training. It's very important to listen to your body. If you're still sore from your last run, do an easy one. It's better to do an easy one than to give up and not run at all. As you train, it will get better and you'll want to push yourself further.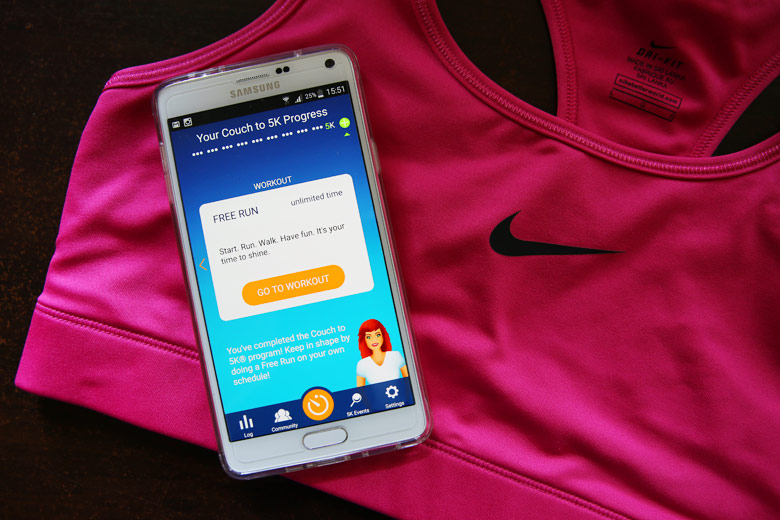 Get proper running shoes
This is very important. Not all sports shoes that you see at Rebel Sport or Foot Locker are meant for running. Some are meant for indoor exercises, some for running and a lot are what I call "fashion runners" that look very good but don't offer much support. I started out with my Nike Free Run 5.0 sneakers but to be honest, I bought that pair of runners mainly to wear with my jeans and shorts. They were never meant to be used for running because when I bought it, I couldn't even fathom the thought of running. I started the C25K training program with those runners and towards my 3rd week, I decided to get proper running shoes instead. I went to Activefeet to get fitted with proper running shoes. They measured my gait and monitored the way I ran on a treadmill and suggested a pair of Brooks runners for me. It was very different to my Nikes and in the beginning, I found them quite uncomfortable to run in.
But after running longer in those shoes, I realised that I don't twist my ankles like I would with my Nikes. The Brooks runners I was fitted with offered much better suspension and support. There was less strain and stress on my knees. So if you're serious about running or even starting to run, get a pair of proper running shoes. Most importantly, they reduce the risks of injury.
Determine your goal: pace or distance?
Different people have different goals when it comes to running. Some have goals to run under a certain amount of time, some have goals to run towards a certain amount of distance. For me, my goal is the latter. I'm not a fast runner and I know that at the time of writing, I'm still not able to run 5km in under 30 minutes. And that's okay. My goal was to finish the 5km with as little walking as possible and I achieved it. As you keep up with your training, you'll find your pace improving week by week. You'll have the choice to decide to run a certain distance under a certain time. Me, I just want to go the distance, so I don't pay much attention to my time. As long as I'm not going slower than when I started and still able to reach my goal distance with as little walking as possible, then I'd have hit my mark.
Sign up for a run
When I first started running, I didn't have anything to work towards. I started the C25K program, repeated the first two weeks several times as I wasn't ready to push past the 3-min walking and running interval. However, when I registered for the City2Sea 5km run, I calculated the amount of weeks I had to train towards the 5k and it got me off my complacent backside and pushed forward. If you're a newbie runner, I highly recommend signing up for a run. You can also give park runs a go. They're free and you'll get the experience of running in a group.
Alternate running days with other forms of exercise
If you think that I run everyday, haha you're sorely mistaken. I run only 3 times a week and in between run days, I either rest or do other forms of exercises like yoga and HIIT workouts (high intensity interval training). Running puts a tremendous amount of stress on the joints and it's not recommended to run daily. Yoga is great for stretching in between run days and HIIT workouts for that cardio hit. Strength training is important to strengthen your core too. On rest days, I take Janey for longer walks.
Listen to your body
This was a big mistake I made in the beginning of the training. I got overexcited about all the new forms of exercises that I was taking on that I forgot to take it easy on rest days. At one point, I overdid the amount of exercises I did and stressed my knees out. Even though they're recovering, they're still sore from time to time. It's very important to listen to your body. It's okay to be sore in certain areas but it's not okay when they're hurting badly. You've probably heard of personal trainers or even on reality TV shows to "dig deep and push through the pain". They'll think I'm wrong and maybe I am but I call bullshit on it. If it hurts, for goodness' sake slow down or better yet, stop for a while.
Above all, enjoy it!
I never thought there would come a day when I can say I actually enjoy running but I do. The soaring endorphines in my body feel fantastic after a run. When I'm running, I block almost everything out and just go with the flow. As I'm not too bothered about pace, it feels good to just keep running. It's true when they say running is addictive because it really is. It has come to a point when I'll feel really antsy if I've missed a week of running. I must say that I've never observed my surroundings or explored my neighbourhood more ever since I picked up running.
These are just some of the things I've learned throughout this past 6 months. I'm so thankful for Norlin and LeGeeque for spreading the running bug to me because if it wasn't for them, I wouldn't have gotten off my bum and started running. I'm going to push my distance past 5km bit by bit from now on and I strive towards at least a 10km run next year.
Don't know how to start? Just get your sneakers, leave your house and start running! Good luck! 😀
Are you a beginner runner too? How did you get past your fear of running? Did you use the C25K running program? Seasoned runners, any tips to share with us newbies?