A couple of weeks ago, in the interest of *ahem* research, I signed up for Beauty Box as I was curious to know what it was all about. Ah the things I do for the blog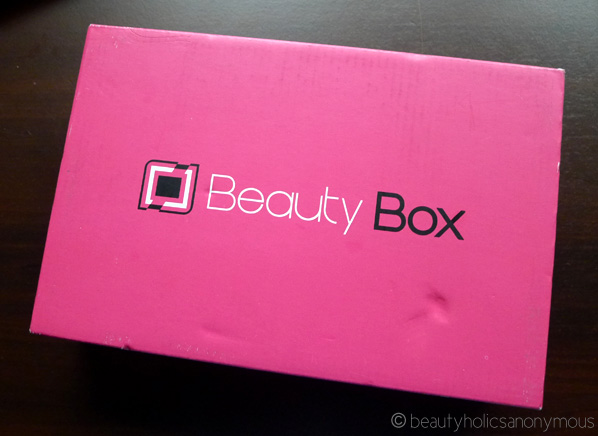 Beauty Box is a subscription service that handpicks the best and latest beauty products for members to try. At AU$14.95 a month, members will receive a beautifully wrapped box in the mail that has a great mix of 4 to 5 deluxe beauty samples.
This service is equivalent to the popular BirchBox in the US. There are other very recent sample subscription services like this in Australia too, like Lust Have It and Bellabox. At the moment, Beauty Box is the only service I signed up to.
I received my first box earlier in the week. Come open the box with me, won't you?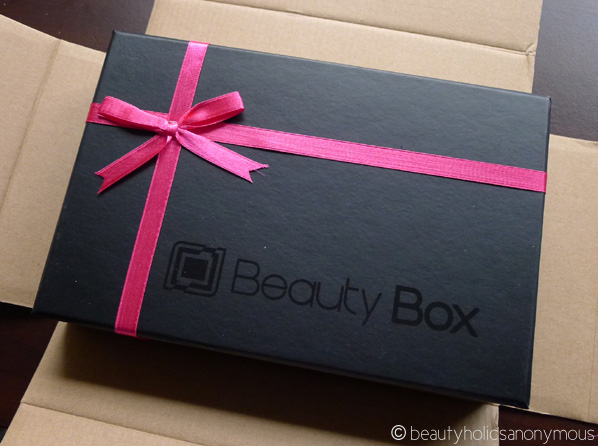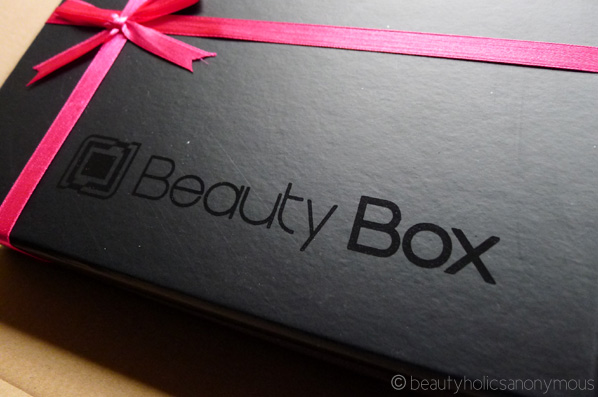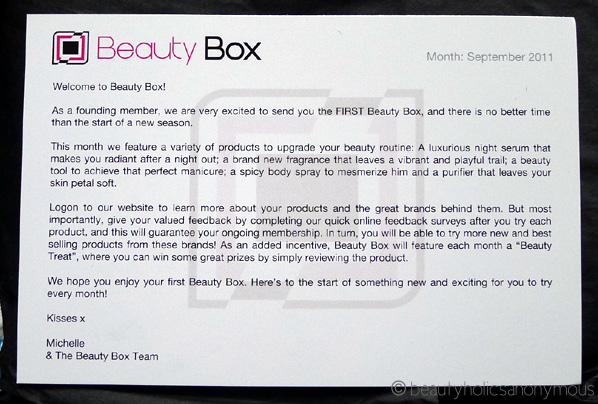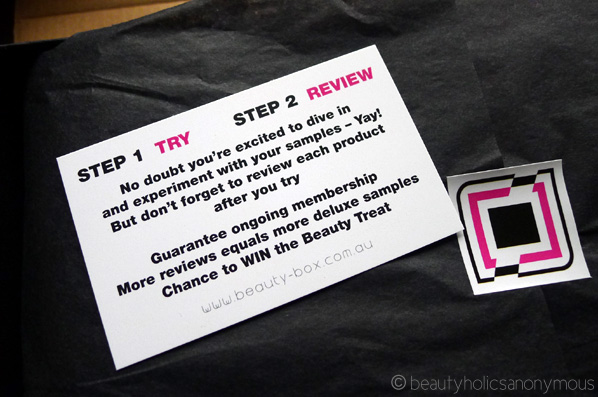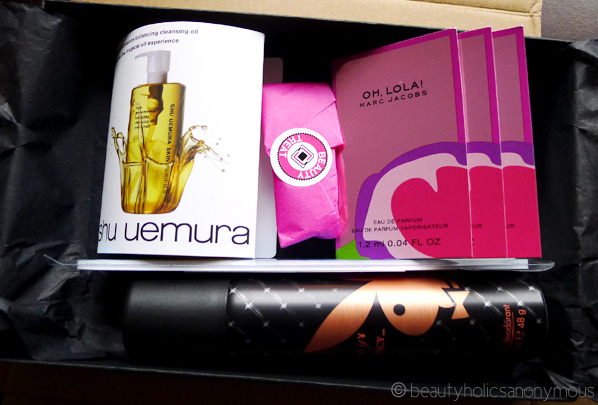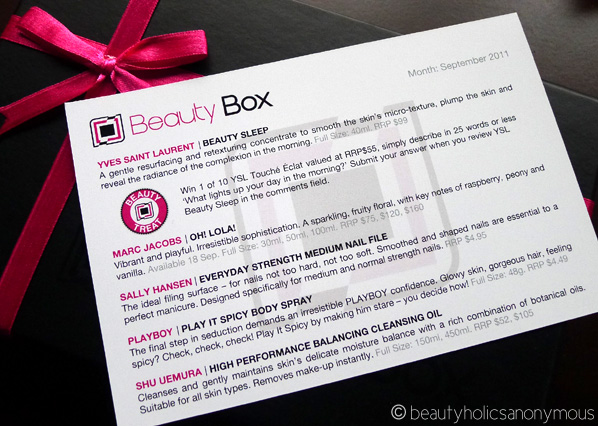 A card describing the products. In the box we have Playboy's Play It Spicy Body Spray, Sally Hansen Everyday Strength Medium Nail File, Yves Saint Laurent Beauty Sleep, Marc Jacobs Oh! Lola! (3 vials) and a bottle of Shu Uemura High Performance Balancing Cleansing Oil.
I believe that for samples subscriptions like this, the very first box sent to the members has to completely blow them over. It has to be so good that the members will look forward to the next one.
To tell you the truth, I found this…meh. I guess I had higher expectations, and the first box was just so-so. The only items I liked from the box was the Shu Uemura Cleansing Oil and the Marc Jacobs perfume samples (good for traveling). Still, I should count my blessings I didn't get any self-tanning products, which really isn't my thing

A cute thing about the box is that high-end brand samples will be wrapped in pink paper with a sticker "Beauty Treat" on it. Not bad, I suppose, that the first one was from YSL.
Will I continue my subscription after this? To give Beauty Box the benefit of the doubt, I will continue for the next couple of months. Hopefully by the third month, they would have gotten their bearings straight and improve with better samples.
Beauty Box's current brand partners are Jurlique, Shiseido, Biotherm, Shu Uemura, Bobbi Brown, John Frieda, Marc Jacobs Fragrances, Sally Hansen, Garnier, Playboy fragrances and YSL.
Did you sign up for Beauty Box or an equivalent service? How did you find it?
Update: Beauty Box has been taken over by Glossybox, and is now defunct. Please check out Glossybox instead.