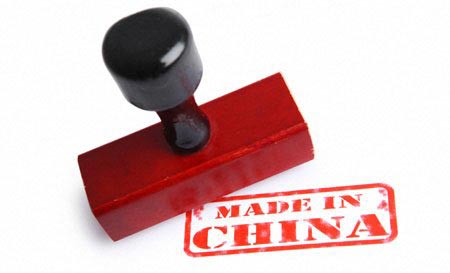 This is a topic I've been mulling over for a while now, and I've been contemplating on posting it because of the repercussions it might cause. I cannot help but think that I am not the only one who thinks this way. I think I can safely say that most, if not all, of us own something that was made in China.
Here's a funny story about something I have that's made in China. I purchased a beautiful Coach leather tote in the US on my honeymoon a few years ago. This wasn't bought at a flea market, but at a proper retail outlet. After I brought it home, I found this in the bag.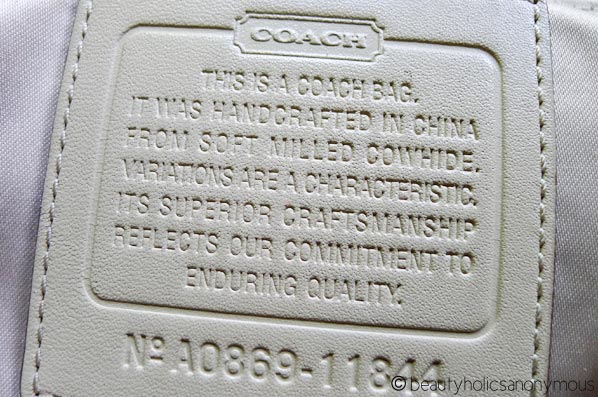 Was I disappointed? To tell you the truth, I was a little. I shouldn't be surprised that a lot of brands now outsource their luxury leather goods to China for manufacture. Still, it was a bit of a letdown. Nevertheless it's a beautifully made bag in buttery-soft leather, so I soon forgot about it.
A year later, when I was in Malaysia for my annual vacation, I happened to be at one of the flea markets in Penang, which is very popular for selling fake designer bags. Louis Vuitton, Prada and Coach were aplenty. I had a look at one of the "Coach" bags, and I was very amused to find a similar tag as shown above sewn into the lining the bag. However, this time, it said that the bag was "made in the USA". So, real Coach bags are made in China, and the fake ones are made in the USA! 😉
I'm a snob when it comes to skincare products and where it's made. Many months ago, I was sent a product for review, a very expensive night cream I might add, and on the side of the box it was stamped "Made in China". I was apprehensive in slathering that on my face, so it's currently going on my neck. I'm glad to say that my neck did not break out in hives, and the cream is working well. But I did judge the product initially because of where it was made.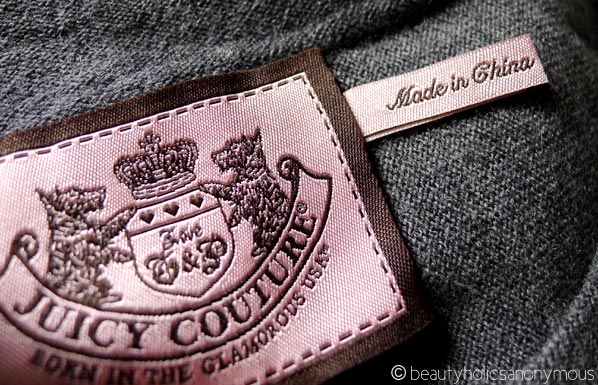 A Juicy Couture merino dress I bought from Net-a-porter
A similar issue that irks me is purchasing clothes in Australia. As many of you know, Australian brands like Portmans, Sportsgirl, etc are expensive compared to brands like Zara, Topshop, ASOS, Forever21 etc. However, when you check the Aussie labels, you'll find that you're paying a premium for clothes made in China. I've seen this on Australian designer labels as well, and it's something I don't understand. If the clothes are made in Australia, then yes, I understand why we pay a premium, because labour costs are high. However, labour costs are significantly lower in China, so why are we paying so much for designer goods that are outsourced to China?
You'll think that this whole post in about China-bashing. I don't oppose to the fact that yes, it is far cheaper to outsource products to China to be manufactured, but it stings greatly when we have to pay a premium for them when it only cost them a fraction of the cost to make.
Still, you cannot beat globalization, and I simply cannot avoid the fact that if I wanted something, 90% of the time, it will be made in China. I've made my peace with that. As long as I don't have to pay an arm and a leg for it, I"m good. But I do draw the line at skincare products.
What about you? Are you a made-in-China snob? Does it matter to you where the product is made?
Recommended reading: Deluxe – How Luxury Lost Its Lustre by Dana Thomas
Update: I'm afraid I wasn't clear as to the objective of the post, which also means I have inadvertently caused offence to some. It should have been worded better and explained further. My apologies.
I know what the Chinese are paid for their labour; a mere pittance, and it's a sad and cruel fact. It isn't a practice we should condone.
However, I was writing as an Australian consumer, and I question the reason we pay a premium for things here that are made in China. The old saying "You get what you pay for" doesn't really work here. E.g if I were to pay $100 for a dress from a popular Australian high-street label, I expect good quality wear, right? That's often not the case. Many-a-time, the fabric is cheap, the sewing shoddy, and lo-and-behold, the label says "made in China". But it's not a designer label! So why does it cost $100? I don't know.
As a consumer in Australia, I often find myself on the short end of the stick, because I find that I have no choice but to purchase low quality items at high prices. Surely I can buy something else; buy Australian-made goods then, if I'm too big for my britches to buy China-made goods. I would love more than anything to support the local industries and buy locally-made goods, but that's not always possible as Australian-made goods are expensive.
We don't know what goes on behind the scenes (and we're not supposed to know!), but at the end of the day, our hard-earned dollars should go to something that is of good/reasonable quality. And if it's high-priced and low quality, my answer is no. Regardless of where it's made.