Hello chickens!
What a great start to the weekend. I have a brand new computer all set up (finally, after 4 years of using a 5 year old laptop) with a whopping 24″ monitor (I foresee further damaged eyes from watching one too many episodes of Gossip Girl on that baby), AND my husband found out that he passed a very important exam yesterday. Good times 🙂
On another note, and I'm coming to the subject of my post for today, a few weeks ago, in between window-shopping on the Internet, I did something I've never done before for the blog. I submitted it for a competition. It's the Best Australian Blogs 2012 competition by the Sydney Writers' Centre, to be exact.
Gulp.
I'd be lying if I told you I wasn't nervous and excited about it at the same time. This wee blog will be competing against a staggering 1024 blogs in Australia, and it's freakin' mind-blowing to be even shortlisted for anything. I'm getting butterflies in my stomach just thinking about it!
Here's where you come in, dear readers. The first round of the competition will be the People's Choice Round where you (and *ahem* hopefully your friends, family, 2nd auntie, 5th uncle, 7th cousin twice-removed) will be able to vote for your favourite blogs. In other words, please vote for yours truly 😛
If you click on the image below, you'll see a short survey where all the blogs which have entered the competition. Assuming you will vote for me *ahem ahem*, just click on Find on your browser (or press Ctrl-F on your keyboard if you're using a PC, Cmd+F for MAC) and type "beautyholics anonymous", and you'll be able to see my blog 🙂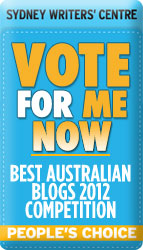 Voting will close on Thursday, 9 May 2012 at 5pm.
If you're on Twitter, the competition hashtag is #bestblogs2012.
It's a great opportunity for my blog and I to grow, and I highly appreciate any votes I get. Your support means a great deal to me 🙂
Thanking you in advance and wishing you a great weekend,
Tine xx