Last week, there was a slew of emails going on in my inbox amongst the #evurl girls (a group of Malaysian beauty bloggers. I'm an honorary Aussie member!). The subject was on beauty box subscriptions, how it's growing these days and here's the fun bit – what it would be like if we had our own beauty boxes? How cool is that?
I thought it was a fantastic idea. Hmm, what if Beautyholics Anonymous does beauty boxes? What would that be like? With all the things that I like and would love for you to try, erm, let's just say it's not going to be just $15 a month 😛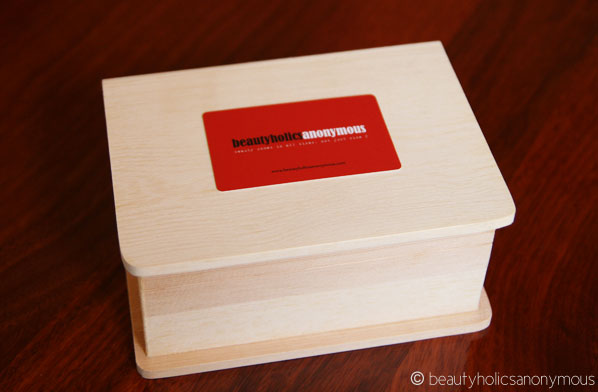 So let's just imagine for today, that I too am making a beauty box for you. A box that contains the things I like and would love for you to try too. I've decided on 5 items in the box (just like the rest of the beauty boxes out there), and have divided them into 5 categories. There will be one product per category – skincare, makeup, nails, hair and body.
Okay, imagine these items came in deluxe samples if you will. If not, the box is going to cost a bomb 😛
It will also come in an unfinished wooden box, which you can reuse to put your trinkets in. The box will contain the following items: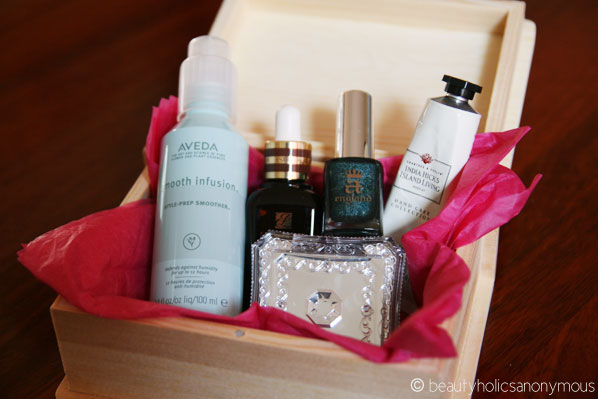 Skincare: Estee Lauder Advanced Night Repair Synchronized Recovery Complex (my favourite anti-aging serum)
Makeup: Jill Stuart quad blush
Nails: a-england nail polish in Saint George (because the colour and shine will blow you away)
Hair: Aveda Smooth Infusion Style-Prep Smoother (great for prepping frizzy hair for styling)
Body: Crabtree & Evelyn India Hicks Island Living Ultra Moisturising Hand Therapy (non-greasy, good portable size, and I love the smell!)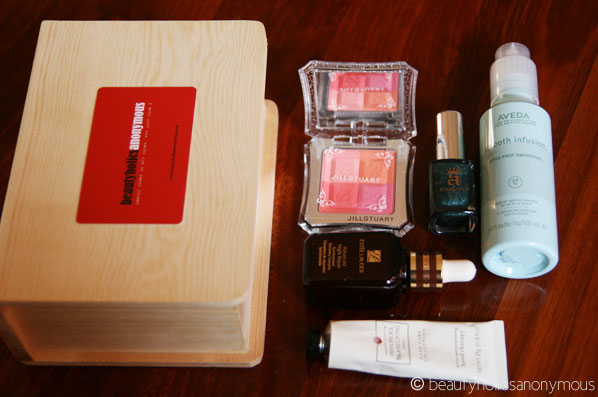 Everything would come in deluxe samples except the Jill Stuart blush. I've seen beauty boxes in Taiwan offering Jill Stuart makeup, and it drives me nuts that we don't get that here in Australia. So in my version of a beauty box, there WILL be Jill Stuart, and it will sure as hell be full-sized 😉
That's my take on my very own beauty box, if I ever did one. I had a lot of fun going through my beauty stash, wondering what I would debut in my version of a beauty box.
Hmm what do you think? Is this a beauty box you'd be interested in? 🙂
****************************************
Do check out what the beauty boxes from the rest of the #evurl girls are like!
Beautycabby
Red Luscious Lips
Rinnah's Consumer Reviews
Skin Deco